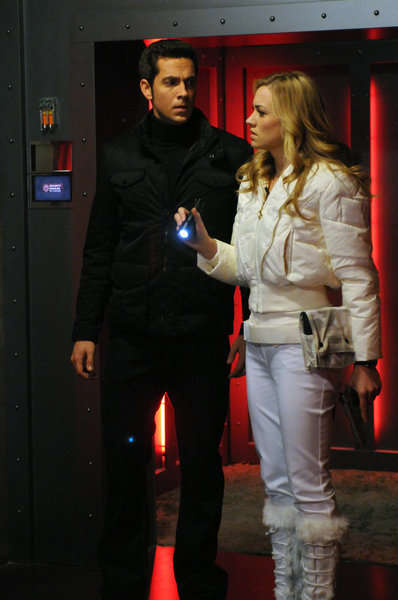 Despite some seriously dismal ratings, word has it NBC is giving a 13 episode order to its spy spoof Chuck, to the show's rabid fan base's delight. As a former Chuck fan, even I can admit that it might be time for Agent Bartowski to pack up his things and say goodbye -- the show's hit some serious snags this season -- yet, with a fan base that would probably sit you down in an interrogation room and convince you until you crack and buy every season on DVD, it makes sense that NBC would aim to please if they can afford it. (Thanks, Chuck's rampant Subway sandwich product placement.)
Also getting a shot at the big time on the fourth place network are Smash and Prime Suspect. Smash, oft described as "Glee for adults" stars Debra Messing, is backed by Steven Spielberg, and could actually be kind of fun. Prime Suspect finds Maria Bello in the lead as a female detective trying to hold her own in a profession dominated by men, which sounds oddly like The Closer with someone less charming that Keira Sedgwick, but I'll reserve my judgement until I see the final product. Vulture also reports that two yet-to-be-titled comedies from Whitney Cummings and Emily Spivey (with Christina Applegate and Will Arnett) are on their way to series as well.
Even though I'm sure not all of these shows will stick, it's nice to see that NBC is really getting outside of their normal fare (15 different spinoffs of Biggest Loser! ... and The Apprentice! ...and Law and Order!) and trying something a little different and if we're lucky, we'll find something worth watching.
Source: Vulture