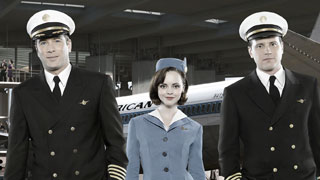 And the network parade continues with ABC's latest offerings. We haven't got full-length trailers for their new material for 2011/2012, but we have got a few clips and boy, do they run the gamut. Unfortunately, many of them run on the weak side, but there are a few gems. As we've done with Fox and NBC, here's video evidence with a little context and a few thoughts on each new prospect.
Pan Am
Starring: Christina Ricci, Kelli Garner
Basics: Another 1960s throwback is upon us. Enter the sexy, scandalous, cutthroat world of a top 60s airline.
Potential: Alright
Why: It's tough with so many 60s shows hitting television, and while this certainly looks sexy and a little more serious than NBC's 60s romp, The Playboy Club, it seems to fall in middle ground between Mad Men and the salacious soap. Unless audiences are more into that era than we think, it's likely that one of the major networks' period pieces is going to falter.
Apartment 23
Starring: Krysten Ritter, Dreama Walker, James Van Der Beek (as himself)
Basics: Brand new Manhattanite gets schemed by her new roommate but earns mutual respect when she schemes her back. Also, James Van Der Beek plays a womanizing version of himself.
Potential: Pretty good
Why: From what we've seen, this looks pretty cute but the real clincher here is Van Der Beek's presence. As long as that doesn't wear thin -- and it may -- this could be a nice addition to other successful ABC sitcoms like Modern Family and recently, Happy Endings.
Work It
Starring: Ben Koldyke, Amaury Nolasco
Basics: Two out-of-work guys have trouble finding jobs to support their families until they overhear a woman saying her company is looking to hire more women. Naturally, the pair cross-dress and try to keep the lie alive to earn some dough.
Potential: Ugly
Why: Are they kidding? It's Bosom Buddies 2.0 and it doesn't even have the decency to add someone as charming as Tom Hanks. There is a reason we make jokes about that show and about White Chicks: because they're awful. No. Not at all.
Scandal
Starring: Kerry Washington, Henry Ian Cusick
Basics: It's a Shonda Rhimes take on a crisis management professional and the dysfunctional folks she works with.
Potential: Not Bad
Why: It's Shonda Rhimes. Grey's Anatomy may have taken a dive in the last few seasons, but it was once the most talked about show on television. Private Practice never reached that level, but it has its place. This follows the Rhimes formula, has a charismatic lead and this clip even has a baby. It'll be fine.
Charlie's Angels
Starring: Minka Kelly, Rachael Taylor, Annie Ilonzeh
Basics: A modern take on the classic television show.
Potential: Not Bad
Why: Hot girls kicking ass with great costumes and sweeping shots of Miami: a recipe for success. If Hawaii 5-0 can succeed, there's no reason this show can't. Even with awful lines like the one at the end of this clip.
Suburgatory
Starring: Jeremy Sisto, Jane Levy, Cheryl Hines
Basics: A father and daughter move from New York City to the suburbs in search of wholesome living, but instantly experience some serious culture clash. Of course, as the show goes on, they start to figure things out.
Potential: Not great
Why: Let's hope this clip is no indication of the rest of the show, because if it is, this is going to be painful.
Last Man Standing
Starring: Tim Allen, Nancy Travis
Basics: Tim (yep, just like Home Improvement) finds life a little more difficult when the women around him are more successful and ambitious than he is.
Potential: Not great
Why: Despite being led by a writer from 30 Rock, this doesn't look that promising. Allen is back to his old tricks and this clip is pretty awful. Then again, we must keep in mind, it's just a single clip.
Once Upon a Time
Starring: Ginnifer Goodwin, Jennifer Morrison
Basics: Emma's estranged son believes she is a lost storybook character. When he finds her, she ends up living in Storybrooke, a town where fairytale creatures live, even if they don't remember where they came from.
Potential: Nope
Why: I had hoped this would have a Pushing Daisies feel to it, but from what we've been shown, we're looking at a rambling show with too many directions. Remember that embarrassment you felt when you caught yourself watching reruns of Charmed, even though you were home alone and no one would ever know? That's what this clip is like.
Revenge
Starring: Emily Van De Camp, Madeleine Stowe
Basics: It's simply Gossip Girl permanently set in the Hamptons. Think of Van De Camp as the Jenny Humphrey in this situation...well before she started designing punk duds and pissing off socialites.
Potential: Alright
Why: Gossip Girl is losing it's grip and like so many New Yorkers who leave the city for The Hamptons when the going gets rough, fans may find themselves flocking to this Hamptons soap...that is, if they can figure out what the hell is going on in this clip.
Man Up
Starring: Christopher Moynihan, Dan Fogler
Basics: Will is a man's man. He doesn't manscape and he loves playing video games and he finds himself at odds with a world in which men are getting a little more in touch with their feminine side.
Potential: Not great
Why: I'm not sure Dan Fogler knows why he's in this show and I'm pretty sure ABC doesn't need two shows about men having issues with a more feminine world (see: Last Man Standing). We just don't see much weight to this multicamera sitcom, but once again, we're only seeing clips here.
The River
Starring: Bruce Greenwood, Joe Anderson
Basics: Dr. Emmet Cole went searching through the Amazon, never to be heard from again. When his emergency beacon suddenly goes off, his wife and his son join an expedition to find him and uncover the shocking secret behind his disappearance.
Potential: Alright
Why: This wannabe J.J. Abrams style mystery is punctuated with shaky Blair Witch style camera work and seems to play more to The Paranormal Activity set than the serial mystery lover. We're not really sure how this one will pan out, but we aren't that excited to find out either.