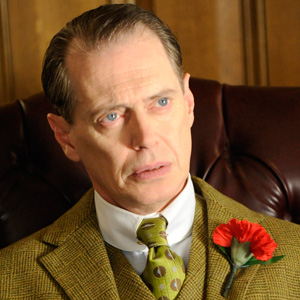 The most important thing to note about this boundlessly impressive series is that Boardwalk Empire delivers everything it promises—in spades.
Boardwalk Empire is a charming, intimidating and unflappable series that seats the very modern character of Nucky Thompson in the throne of 1920s Atlantic County, New Jersey. The series' performances are immaculate: Michael Shannon as Prohibition Detective Nelson van Alden heads the team with his weird and mystifying portrayal of the agent with the poisoned mind. Stephen Graham as a small-time Al Capone is perhaps the most fun character in dramatic television. And Steve Buscemi's solemn, even-tempered Nucky Thompson is both a departure for the actor in his rigidity and sophistication and a triumph reminiscent of his entirely admirable career. Furthermore, it's bewildering just to watch the scenes unfurl. The life of the Atlantic City boardwalk is tirelessly magical—although few of us can say one way or another whether they "accurately capture" the spirit of the times, they are surely illustrative of something fantastical: a different, magnificent world ostentatiously, with the toxic pit of a familiar evil rotting it from within.
There's something about the feel of the show that is different than those of even some of the finest programs television has to offer. More than intelligence and sophistication, Boardwalk Empire has a quality to it that I'd actually describe as literary. It melds history with fiction in a universe with an immensely "written" sensibility. The show flows and develops almost poetically—whenever I finish watching an episode of the series, it's as if I'm concluding a chapter in a Boardwalk Empire novel. It's not a show that relies on performances, style, or even its enthralling concept (although it could; it excels in each of those areas), but on writing—its storytelling, its formation of characters, its always-thinking-five-steps-head-of-the-viewer mentality in crafting arcs.
All in all, Boardwalk Empire is exciting and fun. It's not especially action-heavy; in fact, it spends more time teasing us and planting ideas in our heads than it does actually relinquishing explosive scenes (although when those do come—and they do—they're usually worth the lengthy buildup). You enjoy rooting both for and against Nucky; it's the kind of show where you want anything to happen, just to see it play out, despite at whose expense it might be. All of the characters are rich and engrossing. All of the events are like carnival rides. The dialogue, the aesthetics, the music, the density of the setting, the melding of reality and fiction, the contrast of the sweet and the dark… it all works. So very well.
One might wonder how Boardwalk Empire could in fact pack so much into a series without spreading itself too thin. Wonder away—I'm right there with you. But make no mistake: it does—in spades.
Related Content:
Emmys 2011: Making a Case for 'Game of Thrones'
Emmys 2011: Making a Case for Jon Hamm