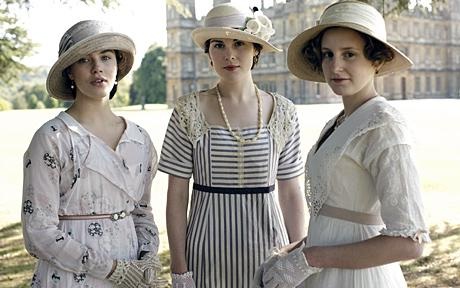 As many of us know, things are done a bit differently over in the United Kingdom when it comes to television. On the one hand, you've got comedy series like Ricky Gervais' The Office and Extras, which are limited to two seasons (by the creators, not networks listening to ailing ratings). On the other end of the spectrum, however, there's Doctor Who, which has been on television since before the dawn of the space-time continuum it so cheerfully manipulates. The Emmy-winning Downton Abbey falls somewhere closer to the former type of series. The show is in its second season in the UK, and creator Julian Fellowes is hoping for a third season.
America only received the first season of Downton Abbey so far—its six Emmy wins and five nominations suggest that we'll eagerly welcome as many seasons as possible.
Downton Abbey follows the aristocratic Crawley family in the years proceeding and pervading World War I. The second season, already airing in the UK and coming to the United States in 2012, will explore several WWI battles and the expansion of women's societal roles on the homefront during the time period. Fellowes told Vulture that he envisions (and always has) the third season exploring the 1920s. Fellowes' explanation of his design for the series seems to indicate that Downton Abbey would not continue past a third season: "The original concept in my optimistic head was for the first series to start towards the end of the Edwardian era, the second to be set during World War One and the third in the 1920s."
Downton Abbey will return to American television with its second season on Jan. 8, 2012.
Source: Vulture