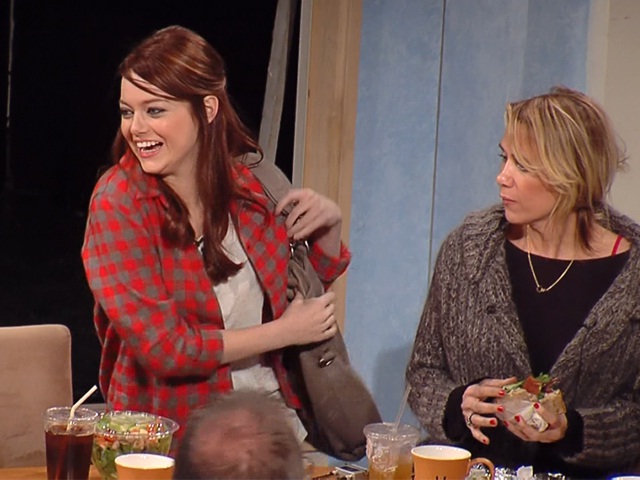 So far so good, Saturday Night Live. This season has been largely a winner, opening with Alec Baldwin's stint on one of the show's funniest nights in quite a long time, and lasting through the episodes starring Melissa McCarthy, Ben Stiller and Anna Faris. But the real triumphs will take place next month, when three comic goldmines: Charlie Day, Emma Stone and Jason Segel. These will be first-time hosting gigs for Day and Segel, and Stone's second run on the SNL stage.
Charlie Day is the Golden Goose of It's Always Sunny in Philadelphia and his first big movie Horrible Bosses. We all know what he's great at: a sort of desparate, borderline-psychotic hysteria that would be tragic if you were watching it happen to a real person. Day will grace Saturday Night Live on Nov. 5, likely keeping a few voice-cracking tantrums in his back pocket for the occasion. Maroon 5 will serve as musical guest.
Emma Stone did well last time around on Saturday Night Live, embracing her legion of nerdy admirers and launching herself full force into the comedy. Stone's second SNL gig will air on Nov. 12, backed up by Coldplay.
Finally, the man who we can't really believe hasn't already hosted: Jason Segel. Segel is a tour de force of self-deprecating comedic roles, both on television (we recall his Freaks & Geeks glory days with heartfelt sigh) and in films. Perhaps the most versatile of these three skilled performers, Segel's might be the most promising episode on the horizon for Saturday Night Live. And that's saying a lot, considering this company of talent. Segel's episode will air on Nov. 19, with the glorious Florence and the Machine as musical guest.
Source: TVLine