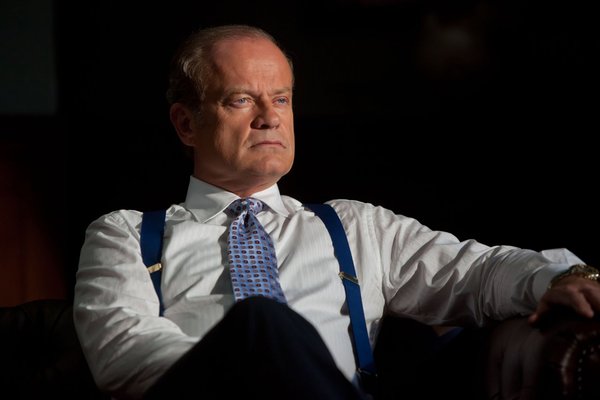 This Friday, Kelsey Grammer returns to television with the Starz political drama Boss -- and Gus Van Sant's first foray into directing for television. Though the network has yet to nab a stronghold on pay-network premium programming the way HBO or Showtime have, Starz has a knack for putting faith in smart, well-written series and Boss fits that pattern. Though the network's cult hit Party Down eventually went under, they did give it a full two seasons to keep its head above water and it seems they're even more willing to give Grammer's new series a chance as they've already ordered a second season long before Friday's series premiere. We had a chance to speak to Grammer about his new venture and he shed some light on the second season pickup, his character, and the series' Shakespearean plot, heady dialogue, and Chicago setting.
Grammer's Chicago mayor, Tom Kane, is loosely modeled after the tragic Shakespearean character King Lear; Kane learns in the first two minutes of the series that he's battling a degenerative neurological disorder. The underlying conflict comes in when Kane hides his disorder from absolutely everyone – his wife, his advisors, and his estranged daughter. And though he's enduring a mental and physical battle, the intense political games typical of Chicago rage on around him, creating a wealth of intrigue for the new series.
But who is Tom Kane? Grammer gave a little context. "I think [the series] says a lot more about human nature than politics," he said. This distinction is what allows him to fully explore Kane, who he calls a "fascinating" character. He explained further that the series' Chicago setting lends a great deal of weight to the character. Grammer said, "Tom Kane's life energy, if you will, comes from Chicago. I mean, it is his relationship with that city, his relationship with the history of that city that makes him a remarkable guy."
While Kane is the fictional mayor of The Windy City and the series does play on the location's wealth of political history, Grammer says the plot has no bearing in the city's contemporary politics, as relevant to national politics as they may be. "Chicago has the storied history of colorful mayors and but it goes back for hundreds of years actually, it's not just the last two generations. And that's really what we draw on. I mean, I think it's the history of the mayor's office in Chicago that, you know, maybe we're taking as inspiration to the story." And just to be safe, he's also spoken with Chicago Mayor Rahm Emanuel and his predecessor Richard M. Daley, "I assured both of them that I was not portraying either one of them."
That being said, Grammer did note that his own reality does help color the character a bit, stating "In this case, my personal life has had an opportunity to kind of take a nice little ride along with Tom Kane." This is likely a bit of a veiled reference to his marriage to his ex-wife Camille Grammer and the fact that Tom Kane's relationship is just as empty as Grammer claims his was, and not the rumor that he was planning a run for New York City mayor (which is says is a groundless claim).
As for the premature success of the series, Grammer is confident. Boss is scheduled on a Friday night – a timeslot in which Sci-Fi, camp and fluff flourish – and it doesn't really fit the mold. It pulls its story from Shakespearean lore, dives straight into intelligent, fast-paced dialogue and for the most part lacks significant musical cues to guide the audience. It's a delightfully academic show, which could be a sadly be a detriment, but that doesn't seem to bother Grammer. "As a sort of innocent bystander I will say that I think any show, no matter what night it's on, if it has a unique and appealing, you know, set of values or production values there will be an audience for it," he said. He says "the world of politics is about the spoken word" and that while it's an unconventional choice, the prominence of speech over manipulative effects like transition music really works. And it seems Starz thinks so too.
With Season Two already a done deal, Grammer and crew are free to think about the Season One finale – which he says will be a "cliffhanger" – and what will follow. The show can only run as long as Tom Kane's disorder allows him to live, but Grammer assures us the plot won't go stale in the meantime, "Our approach to this show is going to be almost as though it's each season is a unique and individual show within a show so that each season will have its own kind of arc and independent storytelling style that may not necessarily seem like it came out of the first season."
Grammer's return to television – and potentially his claim to a new reputation outside of his beloved role on Frasier – airs this Friday, Oct. 21 at 10 p.m. ET/PT on Starz.