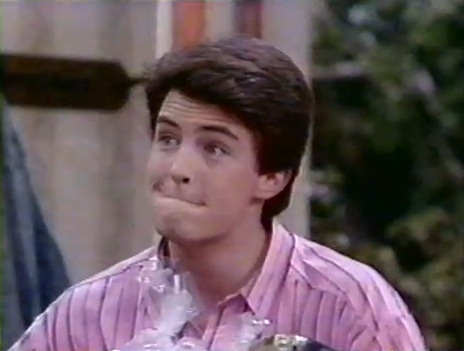 Well, this is probably the weirdest news I have reported yet in my time at Hollywood.com. As those of you with an Internet connection know (and I'm not sure how the rest of you are reading this), Libya's autocrat Muammar Gaddafi was declared dead today. Gaddafi had ruled the country since 1969; by many, his removal from power has been long-awaited. But a select few predicted when this day would come.
And one of those select few was none other than Matthew Perry. Yep, it's getting pretty weird.
For two brief months in 1987, Fox aired the sitcom Second Chance, which starred Kiel Martin as Charles Russell, a recently deceased man who must go back and steer the younger version of himself (Perry) on a more righteous path, so that he may eventually be admitted to Heaven.
But here's the interesting part: the Kiel Martin version of the Russell was depicted (in the below scene) as visiting St. Peter at the gates to the afterlife in the "future" of 2011. Before Martin entered the scene, the theme was introduced through two other visitors: the first was a dim but sweet-natured beauty pageant queen who was inevitably admitted to Heaven. The second, however, was none other than Muammar Gadaffi, gunned down in warfare and sentenced to hell.
Could this just be a strange coincidence? How could a simple, corny '80s sitcom predict that Gaddafi would fall from power and die twenty-four years later? It sure is eerie. Of course, Charles Russell was killed in a hover-car accident, so I guess this show didn't foresee everything correctly.
Gaddafi's entry into the scene begins around the 2:20 mark.
Source: Reddit via AOLTV