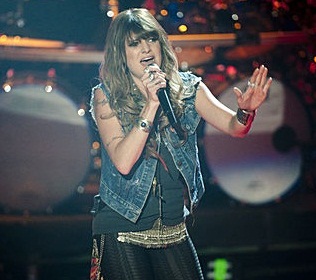 S2E1: When one door closes, another always opens up. Right after the Giants finished off the Pats in a sensational Super Bowl for the ages, another epic battle was underway on NBC with the season premiere of The Voice. At the end of the night, the tally has Christina Aguilera slightly leading the pack with two team members and the rest each trail behind with one. It is a refreshing change from shows like American Idol to only see the cream of the crop with one potential superstar after another. No William Hung types here. Last night marked the beginning of the blind auditions with Adam consistently gloating and trying to utilize last year's win, Blake coughing insults under his breath and Cee-Lo making sexual references to contestants (which actually worked). Feels like Thanksgiving dinner at the Rothman household, except Carson Daily makes an appearance. Let the singing begin!
"I'm already irritated because I know Adam is going to say over and over again 'I won last year.'" – Blake
Oh, Blake. How right you were. But Mr. Shelton spoke too soon, because he took the early lead by grabbing the first singer in RaeLynn, a 17-year-old blonde country vixen who warmed up to Blake by singing his wife Miranda Lambert's "Hell on Heels." Adam jumped on RaeLynn first (that came out wrong) but never stood a chance. Competition was amped right from the start as Blake and Adam went back and forth with low blows, especially coming from the Maroon 5 frontman. "Why would you just want to be a country star? ... you're more than that," Adam barked. Come on man, you are more than that, and I don't even like country music.
Blake was the center of attention again, realizing he was a "dumbass" (his words not mine) for being the last to buzz in for our next contestant Jesse Campbell, a single father who admitted to sleeping in his car with his daughter before getting back on his feet. He was the first to get all four judges on his side. He had Cee-Lo yelling "Yes!" and Christina raising her arms in the air during his performance of "A Song For You." Cee-Lo tried to use his smooth dialect and choice words like "brother" but Christina was having none of it. The best line of the night came next as Cee-Lo said, "Everybody is the same color with the lights off," alluding to his obvious playing of the race card. Jesse picked the "Fighter" herself: Christina, who said she would bring it for this touching story.
"Christina Aguilera is one of the best singers on earth, but I can assure you that she is not one of the best coaches." – Adam
Damn, Adam. The claws came out early and often but this did come on the heels of Christina calling Adam a used car salesman. The next contestant chosen was tattooed rocker Juliet Simms, who sounded like a young Joan Jett. Even though she wasn't high on my list, her unique sound caught the eye of Cee, Adam and Christina. The coaches said her voice had a unique "dirt" to it but I think this was the first time of many more to come, where our Fantastic Four let the contest get the best of them. You could just see the itchy trigger finger on both Cee and Adam waiting for the other to buzz in first. Cee-Lo followed the little tiff between Adam and Christina by simply telling Juliet that she turned him on with her performance. She quickly chose him, nuff said.
Chris Mann was another contestant and story you absolutely have to root for unless you have no soul. Mann braved the judges and national TV even though his mother is battling pancreatic cancer. He was also the most unique performer of the night busting out an opera "Because We Believe". Has The Voice gone Italian? Well, it has now with this rendition and it rocked. This boy has pipes and Adam literally mouthed "Wow!" during the performance. Christina even went as far as to say Mann epitomized a competition with a namesake like The Voice. Pipes picked pipes as he chose to go with Christina, her second of the night.
"Please, please, for the love of God, pick me." – Adam
You wanted him, you got him and this is my (very, very) early pick to possibly win it all. If not, someone "please, please for the love of god" sign this man to a record deal. Tony Lucca, a vet of the Mickey Mouse Club, alongside Christina back in the day, chose a tough song with Ray Lamontagne's "Trouble" and nailed it. Even Ray would be proud as he earned an "I Want You" from all four coaches. Christina was dead-on by saying that Tony had a silky tone to his voice, later followed by realizing it was her old friend from the Mouse Club. Then, backstage Aguilera let it slip that Britney Spears once had a crush on Lucca (I think he dodged a bullet there). But if he sang like this as a teen, I would have a crush on him too.
By the end of the night The Voice had whet all our appetites for tonight's two-hour special, where we get to see our four superstars performing Prince classics. Usually, I am against back to back episodes to avoid a show from getting stale but The Voice is unique and had me excited to see who will be added to the teams. With opera added into the mix, the slots REALLY are up for grabs and the contestants better bring it!
What did you think of the season premier? Do you like who was chosen for the teams? Are the coaches getting a little too personal with the comments back and forth? Let us know with some comments below and find me on Twitter @TheRealRothman.