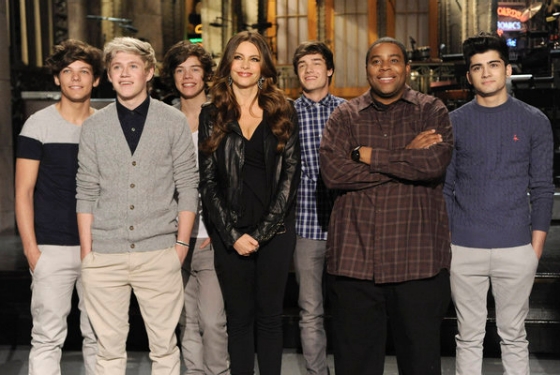 When it comes to Sofia Vergara, what you see is what you get. What you see is someone unfathomably gorgeous, and what you get is someone who can make you laugh, even if you didn't quite understand what she just said. So it was of no real surprise that Saturday Night Live banked heavily on Vergara's stunning looks and broken accent for last night's episode. (Hey, if Modern Family can rely on it every week, why not SNL?) 
After a too-long Mitt Romney cold open featuring (the-soon-to-be-
departed
?)
Jason Sudeikis
(though his botched "Hey New York, let's start the show" served as a funny alternative to the classic "Live from New York, it's Saturday night"), Vergara took the stage at Studio 8H for her first time as host. In a slinky black dress, Vergara talked about the town in Colombia she grew up in (it translated roughly to "Cleveland"), her son Manolo (who was in the audience), her stare-causing cleavage, and, of course, her ability to "make anything sexy," including "gonorrhea," "Rick Santorum," and "New Jersey." So, yeah, her looks and her accent. Watch it here: 
This isn't to say that even if Vergara's brand of comedy is predictable, it's not enjoyable or funny. There's something infinitely likable about the actress (yes, fellas,
we know
what you like about her) and her willingness to have fun on camera. (Quick sidebar, did anyone else notice there were no less than five commercials featuring Vergara during the breaks, including a
Three Stooges
preview, which got nary a mention in the actual show?)
Following up a silly new pre-recorded bit with Sudeikis and fellow rumored exiting cast member
Andy Samberg
as "not gay" friends sporting "Not Gay" booty shorts and tank tops,
SNL
wisely opted to bring back Abby Elliott's "Quirky Girl with Zooey Deschanel." While the effort wasn't nearly as strong as when Deschanel herself appeared in the sketch when she hosted earlier this year, it was still hilarious to watch Elliott poke fun at her mannerisms ("I look like a guilty baby") and
Taran Killam's
delightfully squeaky Michael Cera impression. This time around, 
Kristen Wiig
(who previously played Bjork) did a spot-on impression of Drew Barrymore, Samberg took a shot at "Jewish Strawberry Shortcake" Mayim Bialik, and Vergara got her first shot at a sketch by playing another amplified comedienne, Fran Drescher. Vergara knocked it out of the park, but if you were watching in a household where anyone was asleep, there's no question Vergara's imitation of Drescher's infamous laugh woke them up. If Vergara's comedy is one-note, that note is incredibly loud. Watch it below. Though, you may want to turn the volume on your computer down. 
The other new pre-recorded segment of the night was a fake commercial for a food (?) product called Almost Pizza, in which the always-top notch Bill Hader and his family try to figure out the mystery product. It was a short, effective, funny bit peppered into an even with sketches that couldn't quite pull that off. Case in point: The groan-worthy sketch featuring Fred Armisen as a newscaster who can't figure out how to smile for the camera. Not only did
SNL
try out a sketch just like this already this season with
SportsCenter
broadcasters, but Armisen already realized the hard way that repeating an already ho-hum concept (remember when he kept getting hit by a car in the dreadful 
Lindsay Lohan ep
?) doesn't make it funnier if you keep going. Although the sketch did accomplish the near-impossible: It made Vergara fade in the background. Aside from Vergara -- who, unsurprisingly, played a sexy sex ed teacher who mispronounced words in the Gilly sketch -- there were some other newbies to the
SNL
family last night.
Kate McKinnon
began her new gig as a cast member (more on that later) while wildly popular Brit import boy band
One Direction
made their
SNL
musical guest debut. Despite looking a little nervous (who could blame them?), the group sounded quite good as they crooned their hits "What Makes You Beautiful" and "One Thing," much to the delight of their hardcore fans. One Direction may look a little different from the boy bands of yore, but the vibe, and those ruthlessly catchy songs, are still very much the same. Seriously, between the return of the boy bands and the fact that both
Titanic
and the
American Pie
gang are back in theaters, it's pretty safe to say the '90s are back. 
SNL decided not to waste the appearance of the young stars (there's no question there were some kids up far past their bedtime last night) and had the five singers appear in "The Manuel Ortiz Show." In fact, the members of One Direction managed to upstage a blonde Vergara and a mustached Hader for the predictable recurring sketch. (Yes, I realize I skipped right over the recycled "Lil Poundcake" commercial and "Weekend Update," but with the exception of a visit from Bobby Moynihan's consistently hilarious Drunk Uncle, not much else happened.) But, back to McKinnon. The newbie didn't get a chance to show her stuff until later in the show when she appeared as the testy Tabatha from Bravo's Tabatha Takes Over for Killam's funny send-up of Andy Cohen ("I'm like a shark, if I stop moving, I die") and Watch What Happens Live. While McKinnon may have been trumped by Killam's impression of the excitable, cute Cohen and Kenan Thompson playing Bishop Desmond Tutu (would anybody else totally watch Tutu Hot Tutu Handle?), she still made an impression. Watch her debut here: 
McKinnon relied on doing an impression again for the next sketch, a send-up of Pantene commercials that featured Vergara as herself and McKinnon as Penelope Cruz. In it, Cruz appeared in a commercial with Vergara, who seems to be getting all the easy words to pronounce. Even though the sketch was predictably on-par with most of the night's bits that relied on the humor of Vergara's mangled accent, it was fascinating to watch and consider what's next for McKinnon. With Wiig possibly leaving, the show will be in dire need for a strong female performer than can pull off impressions as flawlessly as she does. McKinnon looks like she could be up for the task, but she could fall into the Jay Pharoah impressions-only trap. It's too soon to tell, but her brief introduction hinted at more of the former than the latter. 
The episode wrapped with a suprisingly weak
Hunger Games
sketch (though Hader as Caeser Flickerman could give Stanley Tucci a run for his money) in which Vergara played a newscaster thrust into the middle of the murderous action. Sorry, but
The Hunger Games
Puppy Bowl would have been much better. While last night wasn't the strongest outing of the season (no one has trumped Jimmy Fallon or Maya Rudolph yet), credit has to be given to a game Sofia Vergara and a squeal-inducing One Direction. Next week Josh Brolin and musical guest Gotye will have their shot at getting the last few episodes of the season to end on a high note. 
What did you think of last night's SNL? What did you think of Sofia Vergara as host? Anyone else notice Bill Hader sweetly congratulating McKinnon during the closing credits? Would you agree One Direction stole the whole show? More importantly, what was louder, Vergara's screams or the screams One Direction's fans?
[Photo credit: NBC] 
More: