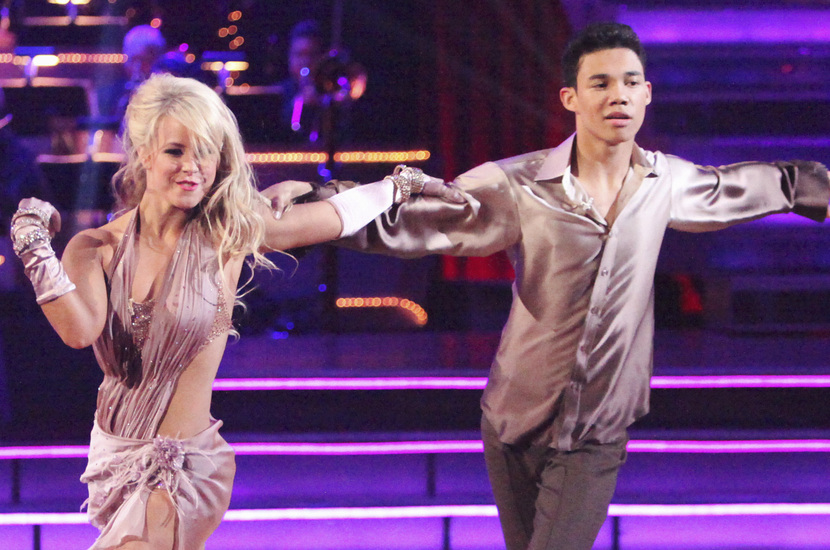 This week Dancing With the Stars paid tribute to the legends of Motown, but even that couldn't guarantee Gladys Knight from being shown the door after her less than impressive Rumba left her at the bottom of the leaderboard. The Queen of Soul faced off in the second Dance Duel of the season against fellow contestant Roshon Fegan, where the two of them battled it out on the dance floor while performing the Jive.
From day one the singing sensation has always been the weakest dancer, so there's no doubt the judges made the right decision. What puzzles me the most about all of this is how often Roshon Fegan has ended up in the bottom two. One week he's safe while the next week he's in jeopardy again. Are his fans really that sporadic?And if that's the case, why? Throughout the entire season he's shown enormous potential as a dancer and earned some impressive scores (aside from this week, of course). He's also extremely likable. Sure, he doesn't have the sex appeal of William Levy or Donald Driver, but he's charismatic in his own unique way. Again, why is America voting this way?
In my humble opinion, this just continues to show how evenly matched all of these dancers are. They can't even go one week without a talented contestant being placed in the bottom two because they're all talented. And now that the weakest dancer has been sent packing, it's going to be harder than ever to decide who deserves to go home next week.
I know some people are having a hard time accepting this whole Dance Duel concept, but so far it really has made the more deserving contestants leave the dance floor. As much as I love Gladys and all the enthusiasm she brings into her performances, Roshon deserves his chance to dance another day. Let's show the poor boy some love, people!
What did you think of this week's result show? Did you think Gladys Knight deserved to go home or do you think the judges made the wrong call? Who would you have liked to see in the bottom two? Sound off below!
More:
'DWTS': The Results Are In — Find Out Who Got The Boot!
'DWTS' Recap: The Judges Get Technical