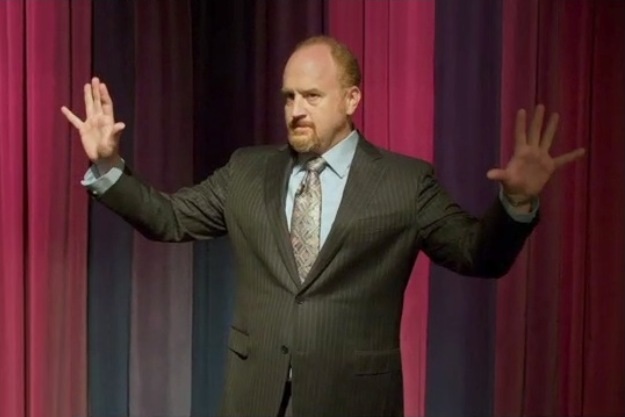 Back in June, the stellar third season of Louie opened up with an episode titled "Something Is Wrong". And something was wrong, something has been wrong with our flawed hero throughout most of the season. Louie (played by the Emmy-poised Louis C.K.) has been wanting and hoping to connect all season. Be it with a lover (parts 1 and 2 of "Daddy's Girlfriend") or a friend (the poignant "Miami") or with himself (as evident with his midlife motorcycle meltdown in "Something Is Wrong"), Louie has been looking for something bigger than himself. 
When
the "Late Show" saga
started, Louie was skeptical and nervous. All of his looming insecurities and unfair bouts of s**t luck put Louie's most dangerous obstacle in front of him once again: himself. But, against all odds, and with some not-so-gentle nudging from his ex-wife, Louie pushed through. He made it to "Late Show: Part 3", the penultimate episode of Season 3. 
The devastatingly great episode was all about lessons. Lessons in life and in disappointment and in starting all over again. But it wasn't just about Louie learning lessons (though he certainly walked away with some big ones) it was about him teaching them to his wonderful daughters Lilly and Jane (the tremendously talented
Hadley Delany
and
Ursula Parker
). Everything Louie does is for his girls, they're the reason why he pushed himself to really try for
The Late Show with David Letterman
gig. Louie teaches his girls something every time they're together; in "Late Show: Part 3" he taught them that you have to try hard and make sacrifices and do things you wouldn't necessarily do. The girls could see it in their father's eyes and his newfound determination to turn from a "fat Daddy" to talk show host, that he wanted his job. Not just for him, but for them. But Louie still had to keep climbing, he hadn't reached the peak just yet. 
He still had to meet with the intimidating, unreadable Jack Dole (the return of the dryly hilarious
David Lynch
, who had one of the best lines all season with "Here's the thing with that champ…that's short for champion") and Jack Dole's intimidating, unreadable hair. Jack wondered when Louie, who he thought was a newsman on par with Tom Snyder or Ted Koppel, was going to be funny. In fact, he asked him in the most devastatingly straight-forward way possible, "Have you ever had experience being funny?" After Louie cried that he wasn't the type of comedian that could turn it on on a dime, Jack shot his excuse right down. "You're whatever you have to be to make people laugh… get that belly moving," he told him, before comparing him to a "kid at a talent show with a number on his shirt". It was a comment that cut Louie to his core. Jack may have had him pegged, but he wasn't ready to let his fear get the best of him. Not this time. 
"This is either a door or a wall for me," he told Jack, and really, himself. Louie always has at least one kick-in-the-gut moment in an episode, but for anyone who has ever hit a major crossroad in their lives, that line didn't just make your heart sink, but your whole being. And in 3…2…1, Louie made it happen. He stepped out of himself and out of his insecurity and went for a laugh, no matter what the cost. "Pencil penis parade," he sang, accompanied by a silly dance and fart noises, making it my second favorite
Louie
original number after
this gem
. Was it beneath his sharp comedy style? Of course. But it got him out of his comfort zone and earned him another week of training with Jack. And in 3…2…1, Lynch earned the funniest moment of the night, when, completely deadpan, he told Louie's agent, "Please leave this room". 
The next week with Jack, Louie learned what it was like to sit at the host's desks, conduct an interview (albeit a disastrous one with a cleaning lady named Elaine who he made cry) and continue to get his ass kicked at the boxing gym. But Jack's giant-haired bizarro-world Mr. Miayagi was working on Louie. Louie practiced in front of the camera and put on a suit and just wanted get this damn thing right the night before his test show. And the minute doubt set it (well, a string of gloriously hilarious expletives, anyway) his girls showed up, as if on cue, in a moment he needed them most. Showing up unexpectedly at his door, his ex-wife explained that his girls insisted they see him the night before his big day. Louie is undoubtedly a show that taps into the psyche of cynics but if the moment in which Lilly and Jane handed their father encouraging paintings they made for him didn't make you as misty-eyed Louie, you're not a cynic, you're just plain cold. 
In fact, any and all cynicism went right out the door for the conclusion of the "Late Show" trilogy. By the time Louie got to the day of his test show, there was only overwhelming hope and faith that our hero would pull through. After receiving a suit, encouragement ("You're a good guy…I hope you get it") and the three rules of show business from Jack, which were "1. Look 'em in the eye and speak from the heart, 2. You gotta go away to come back, and 3. If someone asks you to keep a secret their secret is a lie" Louie was as ready as he'd ever be. 
That was until
Jerry Seinfeld
(hey, we wouldn't lie to you about
that
 sort of thing) came in to tell him that the Letterman job was a done deal, he had already signed the contract. CBS was still making him do this as a negotiation tactic, that they were simply putting on a show to put on a show. The news clearly gutted Louie, who saw a future for himself and his daughters disappear right before his eyes. Then, a saving grace. "Keep it a secret, nobody knows about this yet" Seinfeld told his friend with a knowing glint in his eye. Louie knew he wasn't out of the running just yet, so he went out there and gave it his all. 
And the weeks of agonizing and doubt and practice paid off as Louie put on one hell of show. He was a natural, from a fast and loose opening monologue to funny and sincere interviews with guests
Susan Sarandon
and
Paul Rudd
. Louie was born to do this. When they cut to the CBS head (a quick return from guest
Garry Marshall
) telling someone over the phone "I got an option" hope was still beating out cynicism. Even Louie looked as hopeful as ever, a few hours later at the bar to celebrate, despite being surrounded by his cynical comedy buddies (played by Louis C.K.'s real life stand up comedy cohorts
Jim Norton
,
Todd Barry
, and
Nick DiPaolo
) and his perpetually nervous-looking agent Doug. The five men then watched with baited breath as
Maria Menounous
announced on TV that Letterman's
Late Show
gig would go to…
David Letterman
. 
The Late Show host would stay at his post for another decade. Doug informed Louie that he was used as nothing more than a pawn to get Letterman's asking price down from $60 million to $14 million. That taking money out of Letterman's pocket ensured he'd never come close to that show again. The moment that followed was an all too familiar scene for Louie. A deflated-looking Louie walked the unforgiving streets of Manhattan wondering how he got here. Louie found himself right in front of the Ed Sullivan theater, home of The Late Show. A pensive Louie looked up at the marquee, a shining symbol of a terrible lesson learned, cursed Letterman's name and vicariously cried, "I did it!" 
He did do it in his own way, really. He didn't go out sulking or running to the bodega to buy a pint of ice cream like old Louie would have done, he'd come too far and turned a page. He didn't get Letterman's coveted post and he learned that even in our greatest disappointments, if you gave it your all and put your heart into it, it couldn't be considered a failure at all. And what better lesson could Louie have taught his children than that? 
As far as bittersweet episodes of Louie go, this one was about as sweet as they come. While it was devastating to watch Louie's dream slip away from him, this won't be a wall for our hero as he feared it might be. Louie has been looking to turn a corner all season and he's finally there. The finale act of "Late Show" was three strongest of three, not to mention one of the strongest of Season 3 — and the entire series — as a whole. 
[Photo credit: FX] 
More: