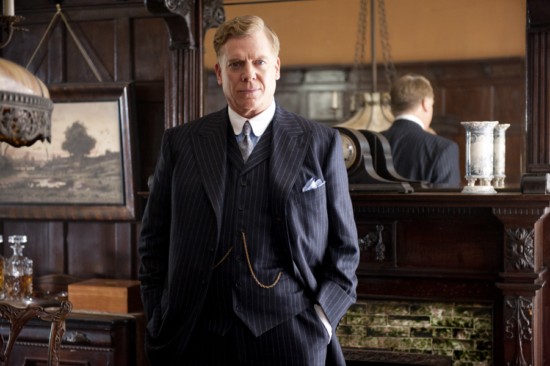 Five dollars. That's how much Nucky Thompson, the perpetrator of any number of criminal monstrosities, is charged by the United States justice system upon finally facing trial on this week's episode of Boardwalk Empire: five dollars for the illegal sale of alcohol, money laundering, and countless murders. A penalty that would barely faze most working class men of the era, let alone the filthy rich former treasurer. But even though he gets off as scot-free as humanly possible, Nucky still isn't satisfied — and neither is his enemy in litigation, one Esther Randolph, who returns to the series this week, though with a notable lack of the room-commanding vigor that we've seen her carry in the past. Although Esther might be able to stifle the insubordination of her chauvinistic colleagues down at the detectives' office with some exercise of her superior intellect, she doesn't quite have this power over a court judge. When Esther seeks to seek justice for Nucky's long array of criminal activity, she is scoffed to silence by the apathetic authority and told that this venue is no place for her aspirations of self-importance — a remark this judge seems unlikely to have dealt any of Esther's male counterparts.
Enemies at the stand, Nucky and Esther come together (the latter reluctantly) to discuss a new means of achieving justice: taking down Harry Daugherty. Allies since the first season, Nucky comes to understand just how thin his bonds with Harry are this week when the U.S. Attorney General makes it clear that he'd sell Nucky down the river in favor of protecting his spineless politician lackey Jess Smith. Nucky wants to prevent this, and presents Esther with the opportunity to land a "career-making case" by putting Harry (her boss) behind bars — promising to seek the support of a higher authority, i.e. President Warren G. Harding. Helping the duo is another "ally" of Daugherty's: Special Investigator Gaston Means, the eccentric, Tennessee Williams-esque fishbowl fiend who acts as Harry's criminal liaison, but is clearly willing to get in on the game of putting him behind bars (if, in fact, he is to be trusted by Nucky, Esther, and the audience).
Nucky is squared pretty accurately during his meeting with Esther — she identifies his need to feel like the knight in shining armor for a damsel in distress (a role he once tried to embody for Margaret and has more recently failed in taking on for Billie Kent). So it's not for entirely fiscal reasons that Nucky is undertaking this new mission. He also wants a new young woman to infantilize and rescue. Of course, he's bound to fail properly, as Nucky has a penchant for underestimating the strength of his female correspondents. Esther, especially, is not someone to be taken too lightly.
Back at home, Margaret is awakened by young Teddy, who informs her the greenhouse is on fire. Teddy informs his mother and Owen that he saw a gypsy vagrant start the fire, but he is later found in the possession of a gasoline tank and matches, buslting around in the neighbors' shed — this earns him corporal punishment on behalf of Margaret.
What is interesting about this story is that we never actually find out the truth of the matter. Owen says he found the vagrant responsible and "took care of the issue," but it's not as though Teddy setting a fire would spring out of nowhere. His fascination with fire was borne when he was the sole party to witness Nucky burning down his father's own house in a cathartic rage. Ever since, Teddy has been shown, subtly, to foster inklings of pyromania. And it is duly possible that Owen just found some other homeless guy who likes to break into people's sheds and garages and take insulated naps.
But it doesn't seem that Teddy is aware that he is the one who started the fire. His wild imagination seems to be grabbing from every which place to create this monster who he believes did the deed — could the show be planting the seeds of some kind of mental illness story? Or was a vagrant truly responsible, and the story was simply a means to showcase Margaret's loosening grip on her ability to raise her kids? … Or it might just have been to get Margaret and Owen to sleep together again, because that happens, too.
Speaking of old flames rekindling, Gillian takes on her own disturbing version of this trope when a slick haired young man comes to Atlantic City from out West. A man who looks a lot like a young, nubile Jimmy. A man whom she takes a liking to, and even begins calling James… right after they sleep together. Sometimes, as evil as she is, you can't help but feel horribly bad for the demented Gillian — she's genuinely compelled by her feelings for her son, not at all in control of them. Now that she's coming to realize that he is, in fact, dead, she has found a "replacement Jimmy," to love and hire. Someone who'll probably find out the truth of his new moniker soon enough, and likely not take too well to it.
And lastly, a spurt of new love: Richard Harrow, who is seen visiting a union of mistreated veterans, nurses the wounds of an older man who gets into a fight with a younger, sprier barkeep after mouthing off to him and the rest of the soldiers. Kindly Richard never leaves anyone in peril, and helps the older gent (the father of a deceased veteran himself) until his daughter shows up to retrieve him, and to snatch up Richard's heart. She's the first character in quite a while not to make mention of Richard's facial condition. Beyond this, she seems to reignite some of the affection he once had for his sister — her questions about family provokes Richard to look through some old photo albums of he and his sister, reminiscing fondly. Maybe Richard has found someone new to whom he might devote himself.
One old romance restarted. One new one in the works. And one very sick, odd one that is a combination of both. Quite a passionate episode of Boardwalk, burning buildings aside.
[Photo Credit: HBO]
More:
'Saturday Night Live' Recap: Bruno Mars Was Out Of This World
'Two and a Half Men': Miley Cyrus' Bizarre 22-Minute Monologue
Leanne's Spoiler List: Thrills and Kills on 'Pretty Little Liars', 'Glee' Adds a New Twist
From Our Partners:

Justin Timberlake and Jessica Biel Celebrate Wedding Weekend in Italy — PHOTOS
(Celebuzz)

'Hunger Games' Stars Jennifer Lawrence, Josh Hutcherson Pose With Fans at Atlanta Movie Theater — PHOTOS
(Celebuzz)