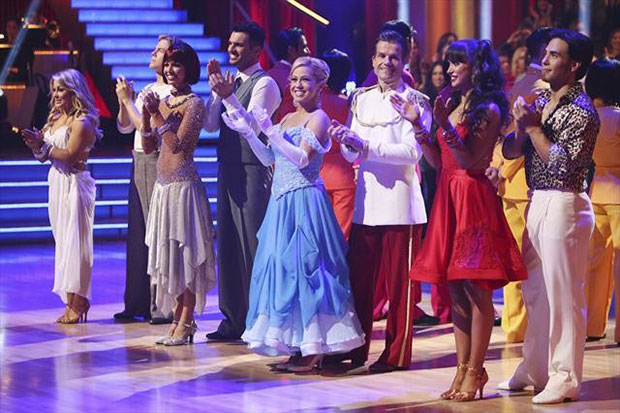 Well, it's about time for Part 2 of the DWTS freestyle week. Or, as I like to think the ABC execs call it, "That Week Where No One Gets Kicked Off But We Make The Show Last Two Nights Anyway."
This time around, everyone's roles got reversed: the four couples who danced on Monday performed a group number, while the other four pairs did their normal routines. The skinny: this week, the scores will be combined, so each pair gets points for the group number as well as their individual routines. That means Monday's group dancers got a nice little cushion going into tonight's show, with each pair sitting on a cool 29.5 from the Glee-ified rendition of "Call Me Maybe."
Melissa & Tony
I get that Melissa was trying to be all sensual and Britney Spears circa 2004-esque, but I'm a little confused: what was going on with Tony in that opener? I was getting a weird Willy Wonka vibe, if Willy Wonka owned a very feminine hamster. If anybody can clear that up for me, I'd love to hear your thoughts.
Carrie Ann: 9
Len: 9
Bruno: 9
Shawn & Derek
Okay, full disclosure here:
Titanic
is my favorite movie. Like, of all time. In no world could I ever say anything bad about this number, because not only did the pair dance to "My Heart Will Go On," but Derek dressed as Jack and ohmygod he DISAPPEARED INTO THE OCEAN AT THE END. My only complaint? No prop door. It just, you know, would have been great to prove once and for all that if Rose had just moved her butt, Jack would have lived and I wouldn't be sitting here silently weeping during
Dancing With the Stars.
Carrie Ann: 9
Len: 8
Bruno: 10
Apolo & Karina
Here are some things that made me uncomfortable: Apolo in a shiny leopard-print shirt, Apolo and Karina frolicking in that bed from Austin Powers' airplane, Apolo's facial hair, the implication of Apolo saying "give it to me, baby" to Karina, Apolo dancing ever…I could go on. I don't know why, but there's something about Apolo dancing that just gives me the heebie-jeebies. It just doesn't feel right. This week was no different, but at least Karina didn't have another nervous breakdown. Yet.
Carrie Ann: 8.5
Sabrina & Louis
Ugh, you guys, I love Sabrina so much. She literally looked like she had hired the Walt Disney company to design her wardrobe. Although I guess she was a Cheetah Girl, so she's basically sponsored by them anyway. But seriously: the girl was an angel on the dance floor. I'm just disappointed nothing turned into a pumpkin at midnight.
Carrie Ann: 10
Len: 9.5
Bruno: 9.5
Team Dance: "Gangnam Style"
You know, I whined a lot about last night's high school-themed "Call Me Maybe" performance, but maybe I spoke too soon: at least it had a discernible theme. Tonight's group dance was unquestionably hilarious, but also disorganized and confusing. And I'm not just talking about Kirstie's cartwheels. I wish we'd gotten a reaction shot from Shawn – I'm sure she shed a tear or two. From glitter-lapel suits to Gilles and Peta dancing around in towels, it was kind of a mess. Although I guess if you're dancing to "Gangnam Style," you don't really need to make a whole lot of sense. But really, Peta, I say it every week and you keep ignoring me: PUT SOME CLOTHES ON. Seriously, did your mother teach you nothing? (I'm sorry, Mrs. Murgatroyd, I'm sure you're a good person.)
Carrie Ann: 9
Len: 9
Bruno: 9
So overall, it looks like Team "Call Me Maybe" bested Team "Gangnam Style" in this week's DWTS freestyle round. But then again, when those are your song choices, does anyone really win? [Image Credit: ABC]
More:
Dancing With the Stars Recap: Guilty Pleasures
Melissa Rycroft Hospitalized with Head Injury During 'DWTS' Rehearsals
Dancing With the Stars: All-Stars Recap: Peter Pan, Living Statues, and a Donkey
From Our Partners:

Donald Trump Speaks Out on Ripping Kristen Stewart on Twitter, Warns Robert Pattinson: 'Back Off...She's Bad News!' — EXCLUSIVE
(Celebuzz)

Emily VanCamp, Lea Michele, January Jones: Celebrities Who Show Major Cleavage in GQ — GALLERY
(Celebuzz)