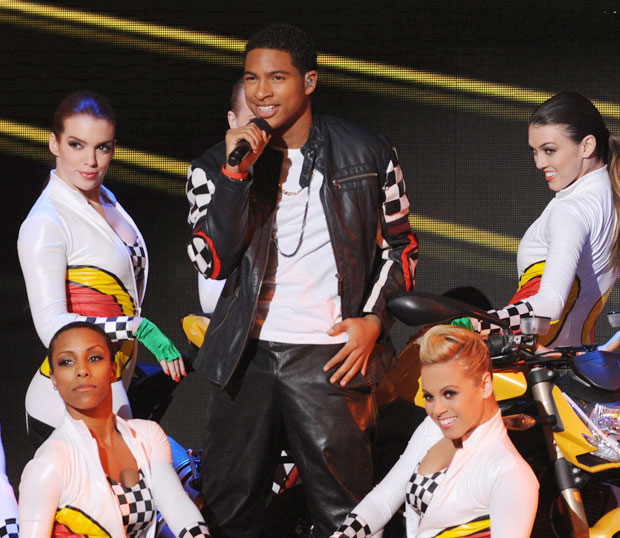 Welcome back to another round of live performances on The X Factor. After giving four acts their walking papers last week, the contestants have now been dwindled down to an even dozen — bringing them one step closer to their very own Pepsi contract and the chance at a music career of a lifetime. No reason to be nervous though, right?
But wait! Tonight's episode held a special twist. Looking back on last week's results show, the judges felt they sent one contestant home prematurely and have decided to re-induct someone back into the competition. "We believe we made a mistake with one act," Simon mysteriously reveals. So who did they choose to save? It's none other than Miss Diamond White! And just like, the Top 12 become the Top Lucky Number 13!
Of course, one can't help but experience a certain sense of déjà vu. If you recall, Melanie Amaro went through a very similar experience last year where she was eliminated and then brought back during the live shows (and eventually won the competition entirely). If this pattern continues, then does that mean we've already found our Season 2 winner?
But before we start making any hasty predictions, let's take a look at how the Top 12 13 fared under the judges' scrutiny…
Theme of the Week: Songs From the Movies
Arin Ray (Teens — Team Britney Spears): In keeping with this week's "Movies" theme, Arin kicked things off by singing "American Boy" featured in the movie Obsessed. It turned out to be quite the appropriate song choice, since that's exactly what this guy is becoming. Unlike last week, Arin focused more on his vocals rather than excessive amounts of Chris Brown-like choreography, making not only made his performance stronger, but more memorable as well. This is the type of song he should be singing all the time! Plus, you gotta admit this guy looks real good on a motorcycle. The judges loved everything about it, as they should. But it wouldn't be The X Factor without some incredibly awkward moment to showcase, so Khloe made sure to pipe in with a very suggestive (and possibly illegal) remark: "Well, you can definitely be my American boy." And cue the sexual harassment lawsuit.
Paige Thomas (Young Adults — Team Demi Lovato): Next up was Paige, singing "Take My Breath Away," featured in Top Gun. And her incredibly elaborate set really did take our breath away. (She descended from the ceiling, for crying out loud!) It was a beautiful performance and proved once again how strong her vocals can be. However, Simon found it all to be a little too excessive. "Demi, I don't think you could have put any more on that stage," he remarked. In other words, Simon thinks she should go for a "less is more" approach that would focus more on the talent and less on the theatrics. Makes sense, right? You'd think. But since the judges are completely biased of their own teams, Demi completely disagreed with his advice and took none of it to heart. Let's place nice, children!
Vino Alan (Over 25 — Team L.A. Reid): Vino opted to sing the classic "When A Man Loves A Woman" (properly featured in the film When A Man Loves A Woman), which really helped play to his strengths: soul singing! This guy may look rough and tough with all those tattoos, but, man, can he carry a heartfelt tune. And the judges seemed to agree. Simon remarked that he went from "zero to hero" in the span of one week. (Does anyone else wish he had picked that Hercules song now or is it just me?) Either way, it was great. Let's hope America decides to keep this guy around for a while.
Emblem3 (Groups — Team Simon Cowell): These hotties gave us yet another reason to swoon by belting out a strong mash-up of "My Girl" and "California Girls" (featured in the 1991 hit My Girl and Katy Perry's 2012 flick Katy Perry: Part of Me). Normally, you wouldn't think a combination like this would work, but of course the all-knowing Simon knew better. Plus, it doesn't hurt that these guys really know how to work a crowd of ladies (aka the majority of all X Factor fans). Even L.A. called their performance "perfect." One Direction and The Wanted better look out because they're about to have some serious competition on their hands. Naturally, Demi and Simon started bickering immediately afterward, but it's just not the same without Steve Jones there to blatantly cut everyone off.
Beatrice Miller (Teens — Team Britney Spears): Beatrice decided to tackle "Iris," featured in City of Angels, all while wearing what looks like every item found in a Hot Topic store. Regardless, she makes it work. Normally, I'm not really for the whole "raspy voice" type of thing, but it actually sounds really good with her. You can totally see this girl selling records and she's only 13! (Sorry, I just can't get over it.) The judges agree that they can really see her becoming a star. Let's hope America feels the same way.
Jennel Garcia (Young Adults — Team Demi Lovato): Singing "I Love Rock 'N Roll" (featured in both Wayne's World 2 and Crossroads), Jennel made an attempt at channeling her inner Joan Jett, but it resulted in mixed reviews. L.A. thought it lacked "originality" and "inventiveness" since it was complete Joan Jett mimicry. Simon was more discouraged about her makeover than anything else. He feels she's changed from who she really is: a sweet, charming, fun girl. But Demi countered, saying that the crowd is going crazy for her. (Though, to be fair, they go crazy for pretty much everyone, so that's a hard point to argue.) Oh, and Britney liked it, so I guess that's helpful.
Tate Stevens (Over 25 — Team L.A. Reid): Tate took on the challenging role of replicating Bon Jovi's "Wanted Dead or Alive," featured in Harley Davidson and the Marlboro Man (proving that everyone pretty much has free reign with these theme weeks). He's got a great country voice, but it was just a poor song choice, in my opinion. (But I'm probably just biased because no one can perform this song better than Mr. Bon Jovi in my eyes.) The judges, however, don't seem to share my feelings on the matter and absolutely loved his performance and think he has what it takes to be a superstar.
Lyric 145 (Groups — Team Simon Cowell): In a unique twist, this group performed the Mary Poppins classic "Supercalifragilisticexpialidocious." Ordinarily I'd call this an odd song choice, but due to this group's eccentric personality and style, it turned out to be pretty perfect (they were even able to pronounce the song title in reverse, which is impressive in and of itself). Granted, it's not really something I'd go out and buy, but that's just my own personal preference. The judges gave them nothing but praise and the audience's cheers spoke volumes.
Next: Diamond makes her grand debut (again).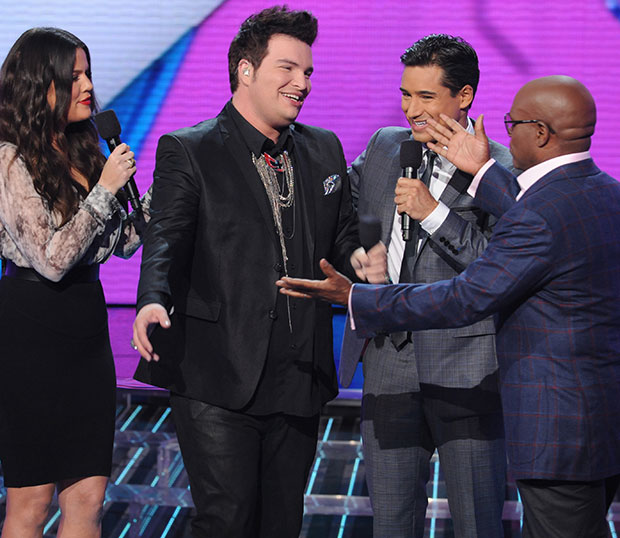 Diamond White (Teens — Team Britney Spears): As a way to commemorate her return to the competition, Diamond appropriately sang "I Have Nothing," featured in the hit film The Bodyguard. It was a great song choice, a great wardrobe choice (I don't care if it's after Labor Day, this girl knows how to pull off a white ensemble), and she sounded absolutely amazing. Basically, Diamond proved why she deserves to be back in this competition and we couldn't be happier that she is. Her name alone sounds like superstar potential.
CeCe Frey (Young Adults — Team Demi Lovato): Demi has a knack for surrounding her acts with so many theatrics that it's difficult to get a firm grasp of their actual vocal talents. It's almost like the extravagant sets are being used as distractions rather than a way to showcase their talents. CeCe's performance was no different. She sang Rocky's famous theme song, "Eye of the Tiger" and while the set seemed larger than life, it completely overshadowed her vocals. I appreciate a good spectacle just as much as the next music buff, but sometimes less really is more.
Carly Rose Sonenclar (Teens — Team Britney Spears): Next up was Carly who sang "It Will Rain," featured in The Twilight Saga: Breaking Dawn – Part 1. This is exactly the type of thing Demi needs to start doing with some of her singers — strip down all the other gimmicks and the song to its very core, and focus on the singing. It was so simple, yet grand all at the same time. An absolutely gorgeous performance that was just as mesmerizing as Edward Cullen's brooding face (and that's really saying something). The judges loved it; the audience loved it; I loved it. Please, let's keep this girl around.
Jason Brock (Over 25 — Team L.A. Reid): Jason took on R. Kelly's song "I Believe I Can Fly," which was featured in Space Jam. (Man, that brings me back.) It was definitely an improvement from last week's rather risqué performance, but he has yet to truly win over the judges' hearts. Britney said it felt like a Vegas lounge act, while Demi referred to it as being both predictable and cabaret. Overall, things aren't looking too good for our dear Jason. I have a feeling that this performance could very well be his last.
Fifth Harmony (Groups — Team Simon Cowell): After going through their third name change (they originally were LYLAS and then 1432), Fifth Harmony closed out the show with a beautiful rendition of "A Thousand Years," featured in The Twilight Saga: Breaking Dawn – Part 1. And apparently third time's the charm. This was probably my favorite performance of the night. Their harmonizing was spectacular; the song choice was superb — it was a perfect way to end the night. Usually the groups don't hold out very long in shows like this, but they're proving to be a strong force to be reckoned with this season. It's amazing what can happen when you have Simon on your side!
Now it's up to you, America! Who do you think deserves to stay another week and who should be shown the door? If this election week has proven anything, it's that votes really can make a difference. Your favorites need your support now more than ever. Sound off on your thoughts in the comments below and be sure to tune in Thursday night to find out the results!
Follow Kelly on Twitter @KellyBean0415
[Photo credit: Ray Mickshaw/FOX (2)]
More:
The X Factor Recap: Behold...The Top 12
The X Factor Recap: It's A-Live Show!
The X Factor Recap: Who Lived? Who Died?

Kim Kardashian: 'I've Lost 10 lbs'
(Celebuzz)

'Twilight' Stars Kristen Stewart and Robert Pattinson Hop on Private Jet in Matching Outfits (PHOTOS)
(Celebuzz)