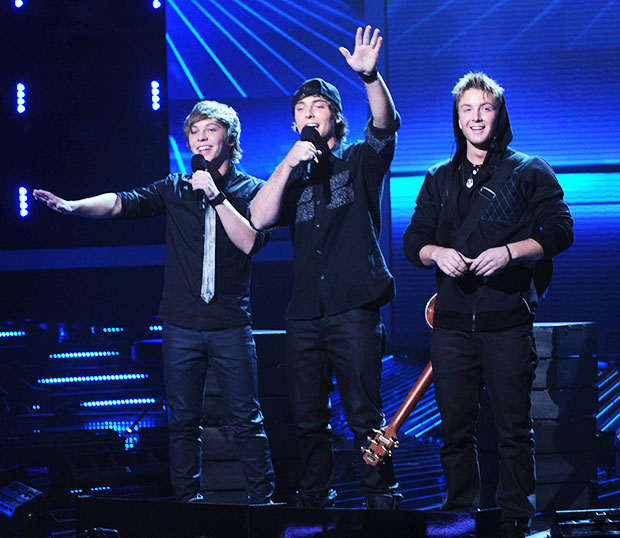 Last night's X Factor results show seemed to be a more generous affair. No elimination before the first commercial break! True, Mario Lopez did promise an "agonizing" hour from the start--as usual, it was hard to tell if he meant the agony would be experienced by the contestants or the audience—but it began a little more gently. X Factor's season one winner Melanie Amaro took to the stage right off the bat to sing her latest single "Long Distance," and show the six remaining acts what a lucrative career they could have via appearances on subsequent reality shows, Thanksgiving Day parades, and Christmas tree lightings. Of course, if they're really lucky, they'll even have their debut single featured in a Pepsi commercial! "I have tons of wonderful people that just love me and take me in," Amaro said, which is pretty much something a homeless woman depending on the kindness of strangers could say.
Even after Amaro, there was still no elimination. Instead, Sony used X Factor for an elaborately cheesy promo video for their new "X" headphones. These are the 'phones X Factor's contestants have been wearing during their rigorously-controlled down time. (Hey, as long as they aren't the inescapable "Beats By Dr. Dre," I'm okay with Sony hawking their eargear.) Actually, this proved one last opportunity for CeCe Frey to articulate her empowerment through glam agenda, before what happened next….Yes, almost immediately after Frey said during the Sony segment that music had always been a refuge for her when she was bullied as a kid, America decided finally to bully her in turn and vote her off the show. At least she got her wish about not having to participate in the sing-off! Hopefully, her leopard-face makeup (and the fact that Demi Lovato wore leopard-face in solidarity) gave her some comfort in the wake of this highly expected outcome.
At least Frey had a performance from her sonic muse Ke$ha to console her. Though perhaps not in the way she would have expected. Ke$ha's performance of "Come On" proved to be far more of a mess than any of Frey's performances in the course of this show. The boozy party girl lethargically shuffled through haphazard choreography and proved to Frey that maybe you can win over legions of fans with facepaint and glitter alone.
But enough with the performances and product placement. There was some eliminatin' to be done. Simon Cowell's girl group Fifth Harmony and Britney Spears' sparkly contender Diamond White were to sing for their reality show lives. Fifth Harmony made the solid, if uninspired, choice of Mariah Carey's "Anytime You Need a Friend," with each girl getting a solo to show-off ever more cascading vocal acrobatics. They should really change their name to Fifth Melisma, because harmonious they're not. If I had been voting, I personally would have sent them packing.
Then Britney introduced the "girl next door who sings like an angel," Diamond White, who I personally feel has become a standout these past few weeks. Unfortunately, she sang Lee Ann Womack's "I Hope You Dance." I found myself involuntarily experiencing sappy flashbacks to 2002, followed by ruminations on whether "I Hope You Dance" is even more cloying than "You Light Up My Life." (FYI: I've determined that it is.)
So Diamond was a goner, with even Demi voting to send her home. "I'm thinking of Cher Lloyd right now," the 13-year-old White said of the U.K. X Factor alum. "She came in fifth and look where she is. I'll be sure to come back with one of my hit songs and I'll perform for you guys." Spunk!
And with that, folks, the Top 4 was revealed. They were ranked as follows.
1. Tate Stevens
2. Carly Rose Sonenclar
3. Emblem3
4. Fifth Harmony
Next up: the semifinals!
Follow Christian Blauvelt on Twitter @Ctblauvelt
[Photo Credit: FOX]
More:
2012: The Year that 'X Factor' and American Idol Stopped Caring About Contestants
'X Factor': Emblem3 on Demi Lovato's Crush: "She Has a Shrine"
'X Factor' Recap: Shine Bright Like a Diamond (White)

Kate Middleton Pregnant: A Look Back at Famous Royal Baby Portraits (PHOTOS)

Pregnant Kate Middleton Leaves Hospital After Four-Day Stay