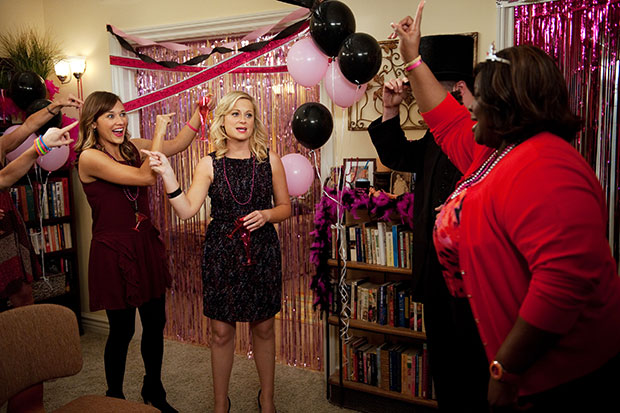 Welcome to Pawnee, Indiana. We are located 90 miles from Indianapolis and we are the state's seventh-largest city. We are a city of kind citizens, green places, and a deep love and respect for the land. For the care and protection of these public outdoor spaces, we turn to the Parks and Recreation Department, headed by the honorable Ronald Ulysses Swanson. In order to ensure that the parks, pools, and public spaces of Pawnee remain in their tip top condition and able to provide good, clean fun for the citizens of Pawnee and their guests, the Parks and Recreation Department asks you to follow the following pertinent rules and regulations. Please and thank you, rest in peace L'il Sebastian.
10 Rules and Regulations for Throwing a Bachelor or Bachelorette Party
1. Bring your own equipment. The following will be provided at the venue, all additional penis paraphernalia, props, costumes, and libations are permitted but must be brought by the visitor.- Provided at the Bachelor's home: Settler's of Catan, "Bachelor Ben" hat, Beer.
- Provided at the Bachelorette's home: Dessert, Candy, Fuzzy blankets.2. Sign up for use of the venue in advance. If unforeseen circumstances (e.g. the construction of a Paunch Burger, ordered to begin by a rival Councilman, on your empty lot) make it impossible for your party to continue as scheduled, please alert the host or suffer a penalty.
3. Register all guests. If additional people or entertainment join your party you must register them with the Parks and Recreation Department. Additional guests may include, but are not limited to: exotic dancers dressed as deceased politicians (e.g. Babe Lincoln), former Presidential candidates (e.g. Newt Gingrich), professional athletes (e.g. NFL team Indianapolis Colts).
4. Refrain from unlawful behavior of all kinds. Unlawful behavior ranges from the possession of an open container to trespassing on government property to bury fake Wamapoke artifacts in order to halt the construction of a local fast food chain.
5. Alert your host to any possible location change. If your Bachelor party moves to molecular mixology bar Essence, Sherm's ice cream parlour, Lucas Oil Stadium, and/or St. Elmo's Steakhouse, alert your host in advance so he can make the proper arrangements and find the appropriate soundtrack (including, but not limited to, a Salt-n-Pepa playlist).
6. Report all unlawful behavior (as outlined above) witnessed to the appropriate authorities.
7. Clean up after your party. Cleanup may include trash pickup, the retrieval of unlawfully placed artifacts, the scheduling of any followup meetings — such as a non-denominational pow-wow with rival Councilman and Wamapoke tribal leader — to settle all discrepancies that arose during your scheduled time at the venue.
8. Refrain from all offensive behavior, including, but not limited to, donning a Native American headdress. All City Council members be advised.
9. Thank your host. Politeness is expected in Pawnee! If your host succeeds in throwing the Best Bachelor Party ever (especially if said Bachelor party becomes five Bachelor Parties) he must be rewarded in turn. One Best Man trophy and inspirational speech will serve as adequate acknowledgement of a job well done.
10. Pay it forward! Did you have a great time at your event? Help prepare for the next one by recruiting the appropriate new guests. Please call reporter Shauna Malwae-Tweep to help make arrangements.
Follow Abbey Stone on Twitter @abbeystone
[Photo Credit: NBC]
More:
'Parks and Recreation': Gather Your Waffles and Prepare for the New Episodes!
'Parks and Recreation' Recap: Emotional Guardian
'Parks and Recreation' Recap: Down with Eagleton!

The Cutest Celebrity Kids! (Celebuzz)