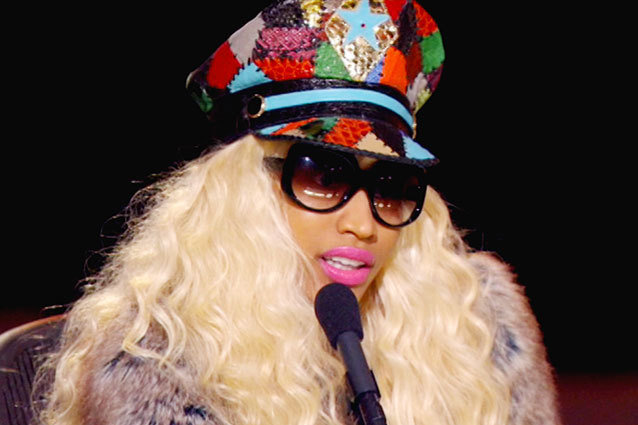 I've had a bone to pick with American Idol for 11 seasons now. Without fail, the series continues to push mediocre singers through the audition process based purely on the fact that their back story provides a great example of inspiration or triumph. While Idol is congratulating itself for breaking down barriers and supporting folks who've been dealt extreme adversity, we're the ones forced to play the bad guy by noticing, hey, that guy with the terrible home life isn't a good singer, and isn't this a competition for amazing singers?
It's a vicious yearly cycle, and it's one that makes us all a little crazy every year. But this time, while some contestants may have ridden too far on the tails of their real life victories, as so many contestants have before them, at least these judges have the guts to nip the cycle in the bud before we're staring down the barrel of that long walk between the top 40 contestants and the top 24.Only those who deserve it should get to the point where Idol lets America decide.
The last thing we need is another judge breaking down Jennifer Lopez style at the final judges' deliberation as 2013's answer to Chris Medina walks away to sad, lonely music. And this year, we can thank the wonderful, talented, perfect Idol judge Nicki Minaj for keeping Hollywood week honest, even when it wasn't the popular or sweet, sugary thing to do. Nicki may tell everyone she loves them, but when it comes to dishing out the cold, hard truth, no one does it more accurately, fully, or respectfully than she does.
RELATED: 'American Idol' Recap: The Guys Are Just Alright
And Nicki comes out swinging as soon as the first singer of the guys' Hollywood Solo Night steps on stage. Paul Jolley, the handsome young man from Tennessee sings "Blown Away" by Idol alum Carrie Underwood, and dressed in all white, Paul is a bit of a singing angel. He's cute, he's sweet, and he's got a good voice, however, Nicki hates everything about the way he presents himself to the judges. "Give us one minute of professionalism," she says. And she's not overreacting.
Paul comes onstage saying how he just hopes they like him because this is his dream, is an act of defeatism before he even opens his mouth that drives Nicki nuts. If he believes he should be there, he should show it onstage. And she's right... even if the woman judging contestants from behind a pair of dark sunglasses and a general hat is remarking on professionalism.
In Paul's judging group (Idol has done away with the cruel Hollywood week waiting room practice) are Lazaro Arbos, whose rendition of "The Edge of Glory" was technically good without hitting any of the high drama of Lady Gaga's powerhouse song, and Curtis Finch, who's earned my ardent dislike after his selfish group night behavior.
Lazaro and Paul are allowed to stay, and Curtis is willed by that power that be Mariah to stay forever in the presence of the judges. It's an exercise in being careful what one wishes for. If you want backstory to be second to talent, you've got to concede that Curtis belongs here. Even if he did act like a selfish child when his teammate fell ill during group performances. And damnit if he didn't just kill his run-happy cover of "Jar of Hearts," overacting and all.
Next up is someone the producers have clearly been hiding all competition: Devin Velez, who apparently got a standing O from Randy during the Hollywood week sudden death round.
The fact that we're just now meeting him could signal that he's going to be increasingly important in the coming weeks. Idol loves to save its top 24 candidates for Hollywood week reveals. And Devin's "What a Wonderful World" is beautiful, ending on a crystalline high falsetto note. Keith says this guy was born to sing, and despite his constant overzealous commentary that we can only assume comes from a need to keep up with Nicki and Mariah, it appears the country star might be very, very right. No sad story needed.
RELATED: 'American Idol' Recap: Yeah, Dude Looks Like a Lady
Devin is followed by Gurpreet Singh Sarin, who gets down to "Georgia on My Mind." He seems a little uncomfortable holding his guitar while perched on a tiny bar stool, and his vocals aren't exemplary, but his sound and style are slightly off in a way that seems deliberate.
Cortez Shaw gives another off-key performance, saved only by his pretty face and his suave stage presence. We can do better than this.
He could be a nice singer with the right vocal coach, but as for now, I'm not sure why he keeps making it through. But Cortez isn't the problem. At least there's some level of appeal to Cortez, even if his off-pitch moments drive me batty. He has some level of star quality about him.
Matheus Fernandes, however, does not. He continually tells stories to the camera about howIdolis his first chance to sing in front of others and in front of famous judges. He makes an excuse during his audition that he's never sung with a band before.
Yet, he's somehow forgetting the fact that we all have the ability to access Google, even if Nev from Catfish makes it sound like some high-tech mystifying secret. It's not hard for your average Internet user to find out that Matheus was on half a season of The Glee Project and that he sang many songs with backing of all sorts.
RELATED: 'American Idol' Recap: The Panel is Haunted... By Complete Civility
He's milking his height for all its worth. And when he approaches the mic to deliver his big solo, he makes not one, but two references to his height as a means of securing his facade as a miracle contestant plucked from obscurity and fighting the odds. And when he finally opens his mouth to sing, the result isn't pleasant.
His version of "Stronger" by Kelly Clarkson held all the playacted emotion of the closing scene of Hamlet in a middle school play, and none of the vocal quality of a singer who deserves a spot onAmerican Idol. When Matheus comes back with excuses about the band, forcing out tears like one might force flavor out of a slice of lime, Nicki, my girl, lays the harsh, harsh truth on him. She notes the various times he's referenced his height before delivering a performance and tells him what we're all thinking, "Sometimes things can go from being inspiring to becoming you wanting a pity party," she says.
Now, her next piece of advice is a puzzle to me, because winter apparently hates my connection to Time Warner Cable, but what I pieced together is something along the lines of, when you're great, no one is going to care about how tall you are, so stop talking about it and just be a good singer. And if that's not what Nicki said and my cable glitch kept me from some other glorious truth, I'm taking that observation as my own.
Next: The necessary cruelty takes another casualty.
Follow Kelsea on Twitter @KelseaStahler
[Photo Credit: Fox]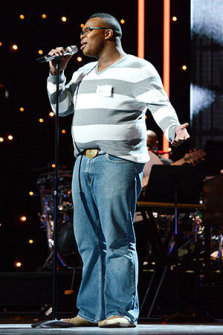 When it comes time for another round of should I stay or should I go (now), Gurpreet, Devin, and Cortez are safe and Matheus is sent packing. It would have been a great time to set aside our differences and feel some sympathy for the guy, but even in his exit interview, he's crying and blaming not knowing how to sing with a band for the fact that he gambled by putting his unique body type ahead of his talent and lost.
But Matheus' mistake doesn't seem to teach the other contestants a lesson. Nicholas Mathis kicks off the next string of solos with "Locked Out of Heaven" by Bruno Mars and it is basically terrible. I really wanted the sweet father of two, was was so considerate of his and Curtis Finch's sick teammate during group performances, to be amazing. He simply wasn't.
And when Keith asked him what was going on, he simply started crying and saying he missed his kids. It's a natural human emotion to miss one's kids, but as Keith points out, artists sacrifice time with their families and those they love very often in order to experience the sheer validation and value of expressing oneself through music.
If Nicholas can't get through an audition without allowing his misgivings about missing his daughter, then he clearly shouldn't be a famous singer or even a contestant on this show; for him, the priority is getting home to his kids. It doesn't make sense for him to stay, when he's not able to give his all to the competition, whether or not it's for a sweet, family-oriented reason.
Of course, Keith twists the knife a little when he tells Nicholas he was "chasing the song" instead of chasing the dream, and Nicholas is a generally sweet guy, so it's hard to see him so torn up over losing out on his dream.
Nicki's precious Papa Peachez is the next to take the stage, telling cameras beforehand that lots of people who try out forIdolare "puppets" and he's not one of them, before taking the stage for "You and I."
His voice defies logic and it's still got that unique, somewhat confounding appeal, but Peachez appears to be sleeping through his own performance. It's something Nicki, who's gone out on a limb for the contestant multiple times, doesn't take kindly to. "That flame is completely burnt out," she says, disappointing that he "let the competition suck it out of you."
But Nicki's not just disappointed, she's angry, turning to her fellow judges and letting a "What the f**k was that?" slip. But who can blame her? She told him not to be so complacent in the competition, and if anything, he turned the complacency up a notch.
That drama is followed by Jimmy Smith, a '90s country superstar out of a Lifetime movie, with "Landslide." It's nice, but he's still missing the star quality they said he was missing during group performances. Mariah says she was wowed. I was not.
But when the eliminations were doled out, Jimmy was safe along with Johnny Keyser and Vincent Powell and it was Nicholas and Peachez who were doing the walk of shame.
After adjusting to the new losses, we move onto Nick Boddington, who was never very interesting before this solo night performance. He decides to sing while playing the piano and it really works.
His unique look, along with his pleasant, nasal quality of his voice, and his all-or-nothing approach to the competition work in his favor, despite the fact that His falsetto range is a little shaky.
Any quirk Nick might have earned, however, is outdone by Charlie Askew, the funny little guy in a shiny suit and blue track shoes. Nicki is obsessed with him, and truth be told, I kind of love him too.He bravely opens his cover of "Somebody That I Used to Know" by pulling a Taylor Swift and connecting the song to his lost love while the band plays the intro; clearly, this kid is a natural showman.
And while it's a tired song, Charlie kind of kills it. He can't reach every high note, which is somewhat worrisome as the competition continues, but he's a natural weirdo onstage and he's infinitely lovable. When the judges reveal who's staying, it's Nick, Charlie "So Weird It's Art" Askew, JDA, and Mathenee who are going through.
Added to that pile of victors are Burnell Taylor and Marvin Calderon who both take on "Jar of Hearts" shortly after Curtis' performance. Marvin gets good news, but it's hard to be wowed by his rendition of the song after Curtis went all gospel on it and Burnell gave it such delicate, emotional nooks and crannies we didn't even know it had during his solo performance. Burnell is more likely the one of watch of the two.
And with that, the judges were back to delivering bad news, even if traditional Idol logic defied it. Micah Johnson, the guy whose speech impediment is completely gone as long as he's singing, takes on "I Told You So" by Randy Travis and technically, everything about it is great.  
It just wasn't awe-inspiring.He played by the rules and hit the right notes when he was supposed to, but there was nothing about the performance that made it unique or exemplary aside from the fact that it is possible despite his personal troubles.
Rather than subject Micah to the group elimination, the judges send him home right then and there. And as if it wasn't already hard enough to turn this poor guy down, he's got a ridiculously upbeat attitude about the whole experience afterward, saying he's thankful for the opportunity and that it will be alright because he's healthy and employed. It's a start contrast to folks like Nicholas who use their last moments on television to disparage their competition mates and cry about how unfair the judges are.
Before the episode comes to a close, we learn that Gabe the baker from Chicago, Sanni the young phenom, and Nate the adorable sign language teacher were also eliminated, but that's not the end of it.
The judges, even with all their harsh (and by some viewers' standards heartless) cuts, still let too many guys stay on past the solo round. Where there should be 20 there are 28, and so after the girls do their (hopefully more dramatic) take on Hollywood week, eight more guys are getting cut.
Of course, it would make sense to make the judges do their job right now since they screwed up, but no. The poor eager singers (and the eager-ish viewers at home) have to wait until next week to find out who makes the surprise second cut.
We would be more excited, but Ryan Seacrest dangles this carrot of a teaser in front of our faces like we don't know what he's up to. We see you, Idol, and this cliffhanger isn't going to make up for a wildly lackluster Guys' Hollywood Week.
All we can do is hope that the girls can deliver where the men failed, and from the looks of the promo, girls are the necessary ingredient for a Heejun-less Hollywood week.
Follow Kelsea on Twitter @KelseaStahler
[Photo Credit: Michael Becker/Fox]
---
From Our Partners:

Young Han Solo Movie: Dave Franco to Star? (Moviefone)