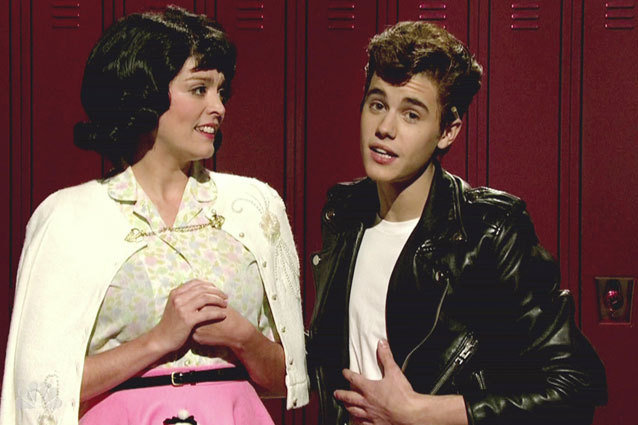 Justin Bieber continued his quest to grow up in the eye of the public when he followed in the footsteps of teen idols Justin Timberlake, Taylor Swift, and Britney Spears before him as both host and musical guest on Saturday Night Live. He's been amusing in the past in guest spots, but could he carry a whole show by himself?
The verdict: Though surely the Biebs would love to duplicate some of the success as frequent SNL guest Timberlake, he just doesn't have the charisma and natural comedic timing as J.T. — or even last week's mediocre musician-turned-host, Adam Levine. After a week full of jokes about how attractive women find Levine, it just seemed icky that every skit focused on how irresistible Bieber is to teen girls.
Cold Open
It's refreshing to see a non-political cold open, so this skit about the desperate vamping CBS' sports analysts had to do to fill the 35 powerless minutes during last week's Super Bowl. An amusing concept, though much like that actual filler, it wore thin very quickly.
RELATED: 'SNL' Recap: Was Adam Levine Marooned?
Justin Bieber's Monologue
The opening monologue and a later skit full of Bieber lookalikes in matching hoodies, leather jackets, and red sneakers both capitalized on Biebs' hearrthrob status. In the monologue, Bieber got an assist from Kenan Thompson as he romantically serenaded young ladies in the audience not about Valentine's Day, but about Black History Month. Because they both fall in the same month, get it? The punchline came when Biebs pulled up Whoopi Goldberg to the stage and serenaded the comedian, whose mere presence was amusing enough to get a few chuckles.
The Californians
This skit becomes increasingly less amusing each time, but Bieber did pull off the show's oddball surfer accent quite well. Although "The Californians" started off pretty funny, by now it's as tedious as any of the show's other relied-upon recurring skits. Let's hope they retire this one alongside "What's Up With That" and only trot it out on special occasions.
Bravo Shows
SNL's pre-taped skits are usually pretty amusing, and this spoof on Bravo's continued employment of spinoffs as a programming strategy was no exception. Coming soon on the Andy Cohen network: shows about houseplants, gay chauffeurs, Francis Ford Coppola's granddaughters' best friends and Justin Bieber as an Austrian lothario.
Weekend Update
Seth Myers is reliably funny as Weekend Update anchor, and this week was no different. His special guests included Vanessa Bayer and Fred Armisen as the gossiping best friends of Richard III, whose body was recently discovered under a British parking lot, and Thompson as Corey, the one black guy in every commercial who likes to high five — or he'll die.
RELATED: 'SNL' Recap: Did Jennifer Lawrence Hit a Bullseye?
'50s Romance
Did you know that girls love Beiber? In case you didn't, this Grease parody reminded you that Biebs, dressed as dim-witted '50s greaser Billy recounting his strange date with Cecily Strong's Angie. It's funny because at the end he reminded her that he wasn't dumb, he was 11, and she was totally cool with it because he's hot.
The Miley Cyrus Show
It's Miley! Bayer's beloved skit returned a little edgier (minor key theme song) and with an all-new haircut (bleach blonde Flock of Seagulls-inspired), much like Miley herself. Biebs played essentially his "Californians" character as the head of Miley's fan club, where he winkingly addressed the pictures of him smoking pot. Bayer's Cyrus is always a delight, and this was no different.
Protective Brother
Meeting the parents — supremely awkward, and a frequent SNL skit topic. Biebs played the new boyfriend Nasim Pedrad brought home to meet her parents — and her bully older brother, played by Taran Killam, who harped on young Bieber nervously stumbling over his words during their introduction. Continuing in the Timberlakian tradition, Biebs couldn't keep a straight face as Killam berated him for saying the word "glice," but in all fairness, we probably couldn't either.
A Valentine's Message from Justin Bieber
Bieber recorded a sexy message for the ladies, but it wasn't that sexy because it's Bieber and also because Bobby Moynihan was there as some sort of adult baby in a heart-adorned onesie.
Performances: "As Long As You Love Me" and "Nothing Like Us"
Bieber can sing quite nicely, but both songs from his just-released "Believe: Acoustic" reeked of his desperate "I am a grown up" schtick. If you like Bieber, you probably really liked the songs. If you don't, you probably didn't.
Principal Frye: Valentine's Day
No show about a teen heartthrob would be complete without an extended abstinence joke — though this one was actually pretty funny. Why was it relegated to the end of the show? That's where the weirdo, experimental skits live, not recurring ones like this, which was amusing but not hilarious, much like Bieber's entire episode.
What did you think of Bieber's hosting ability? Did he reach Timberlake status, or at least compare to this season's other musician/host, Bruno Mars?
Follow Jean on Twitter @hijean
[PHOTO CREDIT: WENN]
---
From Our Partners:

Celebrity Swimsuits Ever (Celebuzz)

Stars: Where Are They Now? (Celebuzz)