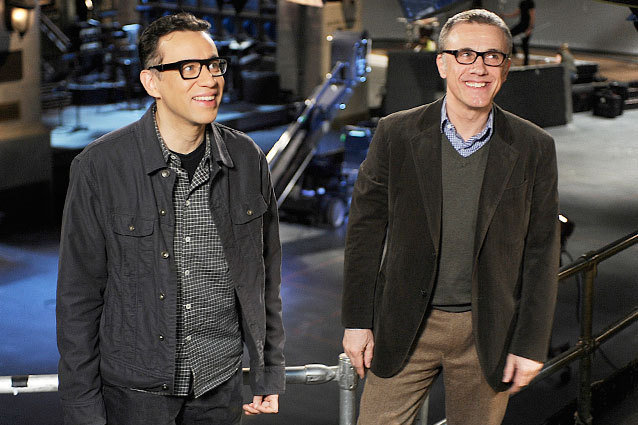 If last night's episode of Saturday Night Live was Sesame Street, it would have been brought to you by the letter "A," for Austrian host Christoph Waltz. The episode also known as "Things that shouldn't be funny, but are". The self-proclaimed serious actor made light of the fact that he didn't think he'd ever get asked to host because well, he's not funny. But he was. So much so in fact that in the majority of his skits he was the reason the cast regulars couldn't keep a straight face. Unfortunately we weren't always laughing with them. Check out the highs — musical act Alabama Shakes — and lows.
Live from the Carnival Cruise Poop Deck 
Nothing says SNL target more than a broken-down cruise ship, so it was fitting that the Carnival Triumph disaster was the premise behind the cold open. Cecily Strong and Jason Sudeikis served as cruise directors trying to comfort passengers with magicians, news from the outside world and a comedian, played by Jay Pharoah. He of course nailed it with his Chris Rock impression and then threw in the word dookie a couple of times for added chuckles.
Are Austrians Funny?
As a European actor who didn't really show up on American radars until he was cast in Quentin Tarantino's Inglourious Basterds, we were hoping Waltz's monologue would have given us more of an insight into him. Instead we got bad Austrian cliches and a song even his fellow countryman, Arnold Schwarzenegger would have been embarassed to sing. 
RELATED: Christoph Waltz on 'SNL': Will He Score Hosting Gold?
The Game Show Equivalent of Depression
This skit — in which Waltz played the wannabe serious host of a game show where the only premise was asking contestants "What have you become?" — was depressing. And speaking of sad, so was the host's attempt at dancing. His last name is Waltz for goodness sake. By the end we were asking ourselves, what has become of the last five minutes of our life?
What Does a Retired Pope Do?
When it comes to pre-taped skits, they always have the most potential because they get to film it during normal hours when the comedians are not so bleary-eyed and half asleep. But this commercial about a financial planning company that helps retiring popes with their future had us hoping our future didn't include any more silly skits.
Tippy: The Character We Wanted to Invite to Leave This Episode
Awkward racist dog walker Tippy made us miss long-time favorite Debbie Downer. Sadly this girl was the exact opposite of one of SNL's most beloved characters. Tippy was the annoying chick at the party trying to jump in every conversation in search of the funny. Keep looking.
NEXT: About That Djesus Sketch....
You Thought Django Was Rough? Wait 'Til You See DJesus!
The second pre-taped skit was a trailer for a new faux movie, Djesus Uncrossed. In it Waltz played resurrected Jesus who goes about exacting his revenge on those who wanted to crucify him. It was so violent and reminiscent of Kill Bill that we're pretty sure Tarantino actually directed it. Though Keenan Thompson's Ving Rhames impersonation as Pontius Pilate deserved more airtime.
The Jamarcus Brothers Three
Thompson and Jay Pharoah are guaranteed laughs together. This musical skit teamed the two in what felt like a nod to a certain R-rated Justin Timberlake/Adam Samberg skit where they sang about a d-ck in a box. Waltz later joined as the "white" brother — and if it is true that Austrians aren't funny, someone should tell Thompson because he couldn't stop laughing every time the host deadpanned his lines.
The Alabama Shakes Get Down With "Hold On" and "Always Alright"
This band has exploded on the musical scene so fast that they are still relatively unknown to the masses. And we bet many viewers were as eager as we were to see what the fuss was all about. Thankfully they didn't disappoint with some high-energy performances of the popular "Hang On" and "Always Alright" that featured the eclectic voice of singer Brittany Howard. For many, it was probably the most watchable segment of the night.
Weekend Update: What Have You Become?
Oh Seth Meyers, how we love thee. Normally. But tonight something was off. In a show sometimes short on laughs, this segment is one we can always count on. This time the chuckles were coming from the guests: Senator Marco Rubio and Olya Povlatsky, the Russian girl whose life in her village was so horrible that she actually wished the falling meteor had taken her life. Another example of something that shouldn't be funny, but is.
NEXT: Fred Arminsen. In a Dress...
Regine: Or Fred Armisen in a Dress
If you thought the host and longtime cast member Fred Armisen had chemistry in the commercials leading up to the show, you should have seen them as a couple. In this skit — one of the few where the regulars were actually laughing at one of their own, versus the host — Armisen dressed in full drag to play Waltz's girlfriend. But that's not even the ugly part. The two proceeded to touch each other in an erotic manner that elicited squeals from Armisen. He then proceeded to writhe over the group so much that he flashed the audience multiple times. Thankfully after we were brave enough to peek from behind the hand over our eyes, we realized it was planned. And Armisen was wearing underwear and stockings, covering all of his comical bits.
Fox and Friends, Now With More Ted Nugent
The gang is back to poke some fun at the easy target of the Fox News show. This skit rarely misses — with so much content to go after. While Ted Nugent mocked crazy people, a UK scientist tried to inform the uneducated anchors that horse meat is not actually harmful for you. Leading them to surmise that one should never leave the good ol' USA.
Not-so Secret Admirer
The final skit of the night poked fun again at Waltz's foreign accent, as he played a creepy security guard named Dmitry who makes an extremely awkward Valentine's pass at Strong. Not realizing it was Dmitry as the author of the love letter she reads aloud to her colleagues, she asks the guard to find out who the culprit is. As Waltz questions the office colleagues, they all seem to break character fighting to contain their laughter. Must be a sign we have reached the end of the show.
[Photo Credit: Dana Edelson/NBC]