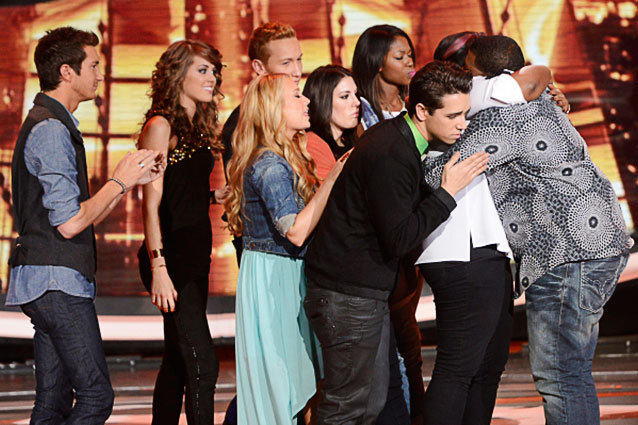 It was a night of firsts on American Idol on Thursday. Ryan Seacrest delivered the specific order in which voters chose the top 10 contestants, Nicki Minaj got so upset that Keith Urban and Randy Jackson had to console her, and judge favorite Curtis Finch Jr. was voted off by America. 
But, Curtis sang "I Believe I Can Fly" and made us believe that for the first time, the judges might expend the Save this early in the competition. Nicki was so adamant that Curtis should stay that she exclaimed, "If you go home, I go home" to the eliminated singer. Unfortunately for Nicki, she couldn't convince her fellow judges to give Curtis the shot and the gospel singer was sent home. After all, if America votes a singer out this early on, the Save is practically a waste because they'll likely just vote the rescued singer off again next week. Randy and Keith were right to reserve the save for another day.
RELATED: Is Candice Glover the Next Jordin Sparks?
Of course, this potential Save situation was only the most important of the strange occurrences on Thursday's wildly different Idol results show. The second most mind-blowing change was the detailed reveal of voters' choices. Not only did Ryan dole out information about whose state gave each singer the most votes, but he revealed the top three (in no particular order) and the subsequent fourth through tenth place singers in a very deliberate and numerical order, down to the eliminated contestant Curtis.
RELATED: Why Was Nicki Minaj Late for the Top 10?
How America Voted:
Top 3: Candice Glover, Kree Harrison, Angie Miller
4: Lazaro Arbos
5: Amber Holcomb
6: Janelle Arthur
7: Burnell Taylor
8: Paul Jolley
9: Devin Velez
10: Curtis Finch, Jr. ELIMINATED
But the weirdness didn't stop there. They also brought in the Mayor of Kree's hometown in Texas to give her the key to the city, something Hollywood taught me can only happen on the steps of City Hall in that town. Producers brought on your mom's favorite band Bon Jovi to turn the Idol stage into a New Jersey dive bar for four minutes after bringing the Idols on to sing the new single from Dreamworks' The Croods like participants in a theme park parade. (Phillip Phillips' performance was expectedly awesome, but that doesn't really help this freaky narrative.)
The final slice of oddity, during the hour-long broadcast was the young man who proudly told Nicki "I glorify weirdness," Charlie Askew, and fellow Top 20 cast-off Aubrey Cleland. The two singers returned to vie for a sponsored spot on the Idols Live! Tour (thanks, cell phone service I'm not going to name on principle!), singing their respective tunes in hopes of attracting votes from the Idol public. It's sweet, especially considering the way in which Charlie, the talented yet fragile songwriter, was cast off last week, but the presence of this extra moving part during the results show just contributes to the disjointed feel of the televised hour.
Were we finding out who our Top 9 are? Or were we paying a visit to the American Idol variety hour and ho-down? For a while, I wasn't sure. I half expected to people eating cotton candy and holding giant stuffed Tweety Birds in the audience like they were at some sort of summer carnival.
Strangeness aside, the first Season 12 elimination proved a few very important points. First: don't try to pull one over on the Idol audience. We are a cutthroat group with photographic memory. Curtis is far more talented than some of the remaining singers (ahem, Paul Jolley, Devin Velez, and Lazaro Arbos), but just as I was turned off by his behavior towards Charlie during group week and allowed it to color my season-long opinion of Curtis, voters appear to be spurned as well. On this show, anything can happen and now that voting has been made easier, all it takes is one false move to take down an otherwise talented contestant.
The second takeaway is an exciting one: The top five consists of four incredible ladies and Lazaro, which means Idol's dream (and I'll admit, my own hope) of seeing a woman win American Idol this year just might come true, especially since voters don't seem to be taking to dynamo Burnell Taylor who is wasting away in seventh place. That disappointment aside, no one deserves those top three spots more than Kree, Angie, and Candice, but now that they've already hit the right notes for both the judges and the voters can they keep this game up?
Did America get it right with Curtis? Were the judges right not to use the save this early?
Follow Kelsea on Twitter @KelseaStahler
[Photo Credit: George Holz/Fox]
---
You Might Also Like:


14 Movies That Are, Surprisingly, Not Porn

Stars Who Have Lost Roles For Being Too Hot (Celebuzz)