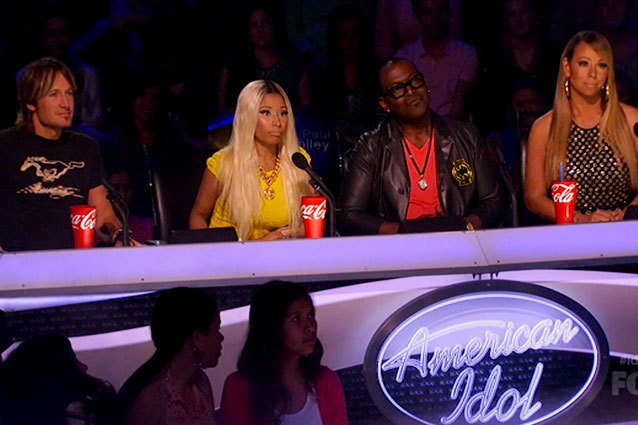 It was Beatles night on American Idol, and with such easy-to-love, iconic songs the evening should be easier than predicting whether or not Randy Jackson is going to use "In it to win it" this week. That was true for most of the contestants, who did as Jimmy Iovine predicted and allowed the incomparable quality of the songs to carry them home. For Lazaro Arbos, however, Beatles week worked the opposite way, and just as Jimmy predicted, he didn't sing his John Lennon and Paul McCartney-written tune well and it was obvious.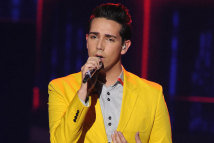 Lazaro, who's been slipping in recent weeks is still at the top of the heap, coming in at number four in last week's rankings about powerhouses Janelle Arthur, Burnell Taylor, and Amber Holcomb. But with a performance that Randy called his "worst ever" can he hold onto his place in the Top 8 on Thursday night? The answer is murky, but if voters make their choices based on the actual Beatles' night performances, the sweet young lad may be at the end of his long and winding road through Idol.
RELATED: Candice Glover: The Next Jordin Sparks?
The tough part was that Lazaro knew he'd just hurt his chances and he cried, leaving Ryan Seacrest at a loss for how to handle the situation. It was enough to remind us of sweet little Charlie Askew's sad moment a few weeks ago, one that we were reminded of when Ryan brought him back on stage at the beginning of the episode to deliver the news that Aubrey Cleland had beat him to the Fan Save sport on the Idols Live tour. It was a tough night for young guys overcoming adversity. And it's only going to get tougher for Lazaro if he doesn't step it up, because the rest of the Top 9 were bringing everything they had on Wednesday night, and they were bringing it well.
1. Burnell Taylor: "Let it Be" Despite not knowing the song beforehand (a fate that also miraculous befell both Amber and Lazaro as well), Burnell managed to not only learn the song, but capture its depth in his own special way. "Let it Be" is so iconic it's almost impossible to perform it without falling prey to the original, but not having great knowledge of the song (however absolutely brain-scrambling that thought might be) may have been the best thing that could have happened. Burnell is joined by a choir of backup singers, but it's like they're not even there because the intimacy of his performance is so overwhelming, they're mere accessories to his communion with the audience.
RELATED: Can a Girl Win 'American Idol'?
2. Janelle Arthur: "I Will"  This girl is smart. After failing to impress last week, Janelle closed the show with a very country, but no so country it would make a die-hard Beatles fan cringe, version of the classic song off the iconic Beatles White Album. It was soft and light, but as Nicki pointed out the honesty of the performance is what made it. Janelle suddenly appeared as if she was a professional singer putting on a show at the Grammys (except the Grammys wouldn't have saddled her with that ridiculous, spinning Lisa Frank heart graphic behind her head). Keith pointed out something very interesting when it came time for his feedback: she's not a singer who's hoping to squeeze his or her way into country (see: Paul Jolley), she just is country, she couldn't help it if she tried.
3. Candice Glover: "Come Together" This girl is great. She owns this song. It's fun, it shows off her voice, it's an experience. And while I was just fanning myself in a fit of disbelief that somehow, we're going to have to start cutting even the good singers soon, Randy made a good point: This song choice was smart because it required just as much of Candice's range as a ballad, and it proved that she's got the ability to do uptempo songs instead of just sweeping ballads. It will her help her keep that edge on the other ballad queens in the competition.
4. Kree Harrison: "A Little Help From My Friends" Let me start off by saying that fourth place, in this group, is still an amazing place to be and that Kree was sick this week, so she had to work through some difficulties. But spring cold or not, it's clear that Kree has gained confidence from her top three placement last week. Her vocals are still incredible, she owns the stage, and she's resolutely herself in every single thing she does. It's impossible not to like this woman. (Even if Mariah managed to convince everyone, even Ryan, that she might not actually like Kree. Thank goodness she only held that scowl for a few seconds before revealing her little ruse.)
5. Angie Miller: "Yesterday" Jimmy told her to keep it simple, and she didn't quite listen, but the upside is that even when Angie goes a little off the rails, she's still amazing Angie. Her vocals are great, even if the style of the song seems a little all over the place. By the time she gets to the second half of the song however, it almost doesn't matter that she switches it up so drastically. It feels weird when she goes from rock goddess to breathy singer-songwriter for the last verse, but perhaps that's because we know the song so well. At the very least, Angie delivered some killer vocals and she attempted to make a well-known song more her own.
6. Amber Holcomb: "She's Leaving Home" Jimmy says she "murders" the song, and she does, but only vocally. There's something missing the entire time she's performing, which is a shame because the song is classic enough that it gives her the chance to finally stop sounding so dated. When we find out she didn't know the song ahead of time it becomes clear: she doesn't feel any connection to the song, and while she's great at selling us salt and calling it sugar with that incredible voice of hers, we knew that something wasn't right. Unlike Burnell, who managed to forge a connection with "Let It Be" without knowing it (which is admittedly an easier song to connect to), it was obvious that Amber had the talent but not the necessary tether to her material.
RELATED: Keith Urban on Why 'Idol' Made Him Cry
7. Devin Velez: "The Long and Winding Road" I get why Randy loves this performance and why Mariah loved this performance: Devin came back, but he came back with an overwhelming sense of '90s R&B. His runs were a little overwrought his "swag" is a little dated, but this is a step up from the last two weeks. I think some credit might be due to the song itself, but Devin knows he needs to bring it now that he's been in the bottom two. Of course, he still lacks the emotional connectedness of Burnell and most of the ladies, so it may not be enough.
8. Paul Jolley: "Eleanor Rigby" Jimmy says he's happy to see the way Paul's developing, but he's still a Broadway style oversinger. He's pushing it too hard. None of the judges seemed to find any merit in his performance, despite his "improvements," but the knife that might have cut the deepest was the fact that Keith told Paul his sound isn't really country (like his idol Carrie Underwood), but more pop rock. Yikes, right in the heart, Keith.
9. Lazaro Arbos: "My Life" This was horrible to watch. Poor Lazaro has trouble from the start. In practice Jimmy thinks Lazaro's take on the song is risky and even has to give him a click track to keep him on the rhythm. And just like last week, the song has control of Lazaro rather than the other way around. It's simply awful. The judges all find ways to compliment the sweet Lazaro, trying desperately not hurt his feelings, but the main gist is that the key he chose did him no favors, that his confidence has somehow been shattered, and that his performance was bad. It's enough to make Lazaro break down in tears on the stage as Ryan tries to get him to answer questions with the stutter that's made him such an inspiring contestant and helped him get this far. It's heartbreaking, but the judges are unfortunately right, even if Ryan tried to later make excuses for Lazaro, the truth is that it's not Jimmy whispering in his ear or that he didn't know the song ahead of time: it's that he's starting to show that he's not ready for this level of competition, but the voters love him as a person too much to let him go when he needs to go. I love the kid, but if he thought this helpful critique was too much to bear, there's no way he could handle the ruthlessness of the actual music industry.
Do you think Lazaro should stay? Or is it better for him to be sent home now before the competition gets even fiercer?
Follow Kelsea on Twitter @KelseaStahler
[Photo Credit: Fox (2)]
---
You Might Also Like:


Topanga's Revealing Lingerie Shoot: Hello '90s!


25 Stars Before They Were Famous