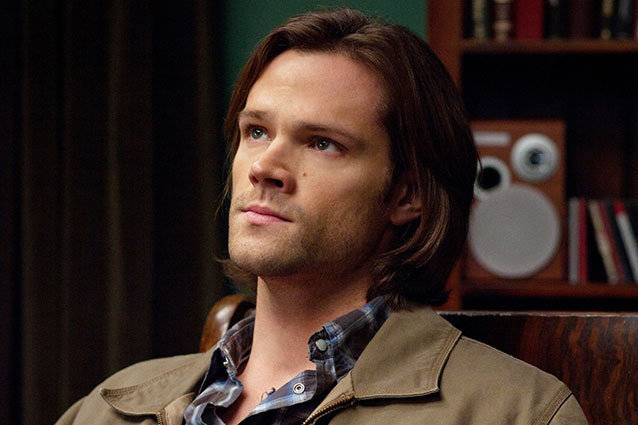 Supernatural is one extremely unique show. Even during a fast-paced and high stakes mythology arc like the one currently taking place in Season 8, it found time and a clever way to tie in a minor character from Season 7. Remember Krissy Chambers, from "Adventures in Babysitting?" She was back in last night's episode, "Freaks and Geeks," but she had grown up and changed a lot more than just a regular year's worth. 
The last time we saw Krissy, Sam and Dean had convinced her father to give up the hunting life so she could lead a normal, safe life. But when Sam and Dean found her and two other teens hunting a nest of vamps during one of their cases, they realized she wasn't as safe in suburbia as they thought.
It seems that another hunter from Sam and Dean's past created a school for young hunters: Victor believed that with the right upbringing and training, he could create the next generation of hunters, but better. He recruited three teens (Krissy, Aiden, and Josephine) whose families had been murdered by vampires and helped them get revenge for the promise to keep hunting for Victor after they achieved their personal goals. That's right: Krissy's father was killed during their "normal" life, and she was back in the game for revenge. Welcome to Hunter University!
RELATED: 'Supernatural' Recap: What's Wrong With Castiel?
While on the surface, Hunter University actually seems like a great set up with its homely atmosphere, normal schooling and chores mixed in with highly trained hunting, but this is Supernatural. If something seems too good to be true, there is something insidious brewing beneath the shiny veneer on the surface. Victor was so desperate to build his family back up (his wife and kids were murdered by supernatural creatures) that he actually ordered a vampire to kill the teens' families, and set up other vampires to take the fall. Once he helped the teens orchestrate their revenge, they would be fully committed to Victor's schooling and his makeshift family.
Dean and Sam obviously figured out the truth behind Victor's nefarious plans – because they truly are the best damn hunters out there – and helped reveal the truth to Krissy, Aiden, and Josephine. Dean even imparted his wisdom to the kids that hunting isn't always about killing and there are shades of grey to good/evil when he taught them how to cure a vampire who hadn't fed yet. Sometimes, you can save people instead of just killing them. And his teachings caught on: instead of shooting Victor for revenge, Krissy left him alive to live with his pain and regret. She took the high road, but Victor took the low road and he shot himself in the head. Intense.
It was interesting to see Dean's new attitude spelled out, since he hadn't yet vocalized it ever since he changed in Purgatory and throughout his bond with Benny. He truly has evolved from his bloodthirsty, shoot 'em up attitude from earlier seasons, and it was great to see him pass along this more reasonable and human way of hunting,  especially since this is the next generation of hunters. Krissy, Aiden, and Josephine have seen too much to leave the life, but they did promise not to go out looking for evil. If it wandered into their town, it was fair game.
RELATED: 'Supernatural' Recap: Angry Gods Are the Least of Sam and Dean's Problems
It always hits me during episodes like "Freaks and Geeks" that Supernatural is a truly loyal show, both to its fans and its history. Last night demonstrated how nothing in the past is forgotten. Rather, everything the Winchester brothers have been through adds up and is always in play. From the reemergence of Krissy and Victor (both separate occurrences in Sam and Dean's past hunting days), as well as vampire lore from previous seasons,  including the cure for the condition that came about when soulless Sam let Dean get turned into a vamp, Supernatural is committed to everything it has served up over the past 8 seasons, and is constantly proving that no detail goes unnoticed and no plot line unresolved. It even tied it all into the current issue with a neat little bow that never felt forced.
This week's lesson reinforced Sam and Dean's desire to close the gates of hell now more than ever, since they've seen the newest generation of hunters already too entrenched in the life to ever leave it voluntarily. Sam and Dean know the only way out of the hunting life is to die early, and bloody. These three teens may be good hunters, but there's no guarantee in this life. The only way to make sure everyone's safe and no one has to live like the Winchesters have is if there is nothing out there to hunt in the first place. 
Dean was renewed with purpose to save Krissy and all the others like her out there whose lives have been turned upside down by hunting, while Sam was renewed with purpose to find a way to have a cookie-cutter, suburbia-loving, white picket fence with kids and a wife lifestyle. The only way both brothers could achieve their goals is to finish the trials and close the gates of hell. And from next week's promos, it seems like we are going to continue that process with the next trial... let's hope Sam lets Dean help him live through it!
Follow Sydney on Twitter: @SydneyBucksbaum
[Photo Credit: Liane Hentscher]
---
You Might Also Like:


Topanga's Revealing Lingerie Shoot: Hello '90s!


13 Most WTF Fan Tributes