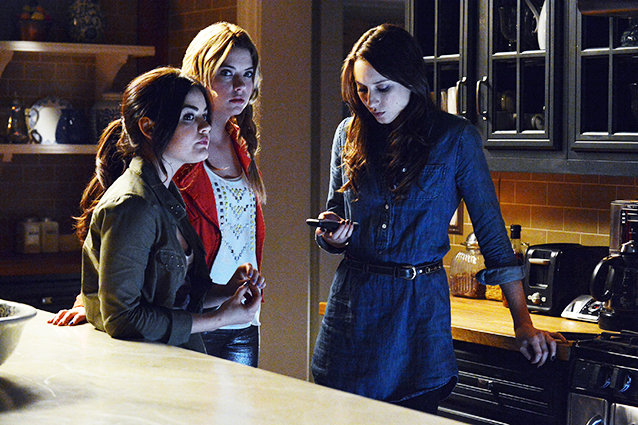 When compared to last week's jaw-dropping, answer-filled Season 4 premiere, this week's episode of Pretty Little Liars was pretty tame. Then again "tame" in Rosewood means a surprise chokehold, nearly getting hit with a car, stolen kisses, family secrets, and a loud-mouth bird. Read on for all the pretty little spoilers from "Turn of the Shoe."
WARNING: The following recap contains each and every spoiler from this episode of Pretty Little Liars (because, duh, it's a recap). Friends share secrets, that's what keeps us close.
Mona Gets (Wo)Manhandled: The girls are still skeptical of Mona, so to once again attempt to prove her loyalty, she takes the liars back to her trailer lair — but of course, it's long gone. Mona fails to convince the girls that she doesn't know what happened and storms back to her car and attempts to drive away in frustration. Unfortunately, she has a deadly passenger in her back seat, and someone in an Ali mask nearly strangles Mona to death. Mona manages to escape the clutches of "A," but then dives across the road to avoid being run over with her own car. Just another typical night in Rosewood…
Spencer and Toby's Internal Turmoil: Spencer discovers that she did not get into her family's alma mater, University of Pennsylvania, and she turns to one man to calm her nerves: Ezra. He advises Spencer on her college essays and sweetly mentions that maybe she should not include the fact that her friend was murdered, or that she has had a mental breakdown. (Side-note: Umm, shouldn't that have been obvious? You want to get into college, Spencer, not terrify some old administrator with the tales from your effed up town.)
Last week we watched as Toby handed over Mona's trailer to "A" in exchange for something connected to his mother, and we now know what that something is: Toby is rewarded with his mother's final mental health evaluation from her time at Radley before she committed suicide. He confides in Spencer and the two read over the notes together as we learn that Toby's mom was dramatically improving, and her outlook on life was becoming increasingly more positive. Toby refuses to believe that his mother actually killed herself and he is now convinced that some other factor — perhaps "A" — was involved.
Go For It, Aria, He's Cute: Aria is trying to live in a post-Ezria world. After watching Mona helplessly struggle against the attacks of "A," she's feeling a little unprepared. So our fashion-savvy liar signs up for private martial arts lessons, and her new instructor Jake is exactly what Aria needs right now to distract her lingering Ezra feelings. In a sweet twist, Aria surprises Jake with a short and surprising kiss before promptly running out of the room in embarrassment. Clearly, the kiss made an impression, and after asking Aria if she'd be weirded out by the whole "student/teacher thing" (Hah!), the new duo plan a coffee date. Looks like we've got a new romance blossoming, so I'd like to introduce: Jaria.
Hanna, Your Mom's a Horrible Liar: Ashley Marin claims that she has been in New York for the past five days, but it's clear that Hanna's mom is hiding something more. First, we learn that on the night of Detective Wilden's death, his footprints are in the woods alongside some very high heels. And then we see that Ashley's swanky Manolos are covered in mud, and after getting defensive with her daughter ("They're just shoes, Hanna!'), we find Mrs. Marin attempting to throw the heels away. But of course, "A" was watching the whole time. Hmm... I wonder if "A" is the person that Ashley was feverously texting?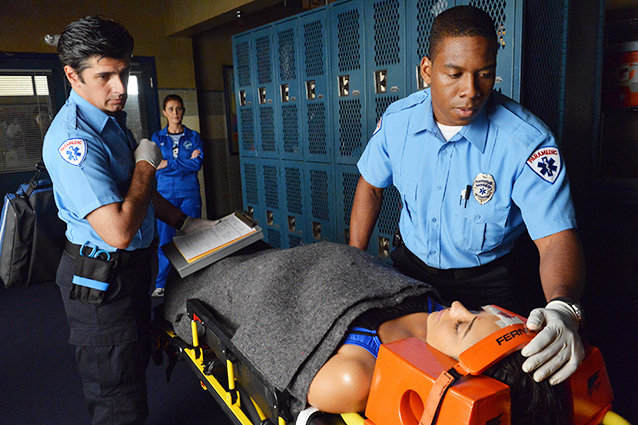 Seriously, Emily, Stop Swimming: After diving directly onto a rock to escape "A's" deadly joyride, Emily's shoulder is battered, bruised and hurts like hell — just in time for her most important swim meet ever. With Paige not-so-subtly pressuring her to make that last spot on Stanford's swim team, Emily pops a few pain killers and lines up to try and beat Shana in the race. (Side-note: Doesn't Shana look like she's way too old to be competing in a high school swim meet? Stick to shuffle board, honey.)
The race begins, and of course Emily only makes it one length of the pool before smacking her head into the wall, cutting open her pretty little noggin, and knocking herself out. Despite her very polite pleas to finish the race, the paramedics whisk our little mermaid away, and she loses her shot at her Barbie and Teresa's dream house with Paige next year.
And Then There Was a Bird: Hanna stumbles upon Mrs. DiLaurentus trying to revamp her old house, and Ali's mom recalls a lunch date that she once had with her daughter. Alison threw a fit until her mom agreed that she could invite Hanna, Spencer and Aria over for a sleepover in their beach house in Cape May. Ali never invited the girls, and from the empty beer bottles everywhere, Jessica assumed that her daughter was now running around with an "older crowd" (Ahem, yep! She was sleeping with Detective Wilden!).
Hanna then decides to take home Tippy, a parrot that stayed with Alison at her grandparent's house the summer she as murdered. The bird utters many of Ali's classic lines ("Did you miss me?"), and one very important "song." Spencer realizes that this song is actually a phone number. But before they can record the bird's exact tune to dial the number, "A" snatches up our poor little Polly.
Biggest Jaw-Dropper: Seeing someone in an Ali mask reach forward and attempt to choke the life out of Mona in her own car.
Most Heart-Warming Moment: Ezra consoling Spencer after her U Penn rejection letter was pretty darn sweet.
Most Heart-Breaking Moment: Watching the tears in Toby's eyes as Spencer reads his mom's last psych evaluation before admitting that she committed suicide.
Follow Leanne on Twitter @LeanneAguilera| Follow Hollywood.com on Twitter @hollywood_com
More:
'Pretty Little Liars' Season 4: Marlene King Teases 'Big Twists' And Could Mrs. Dilaurentis Be Headed To Radley?
'Pretty Little Liars': Who Will Be The Next Death In Rosewood? — Vote!
'Pretty Little Liars' Fans Will Get A Shocking Reveal In Season 4 Premiere
---
From Our Partners:


Zoe Saldana Strips Down For Magazine (Celebuzz)


33 Child Stars: Where Are They Now? (Celebuzz)