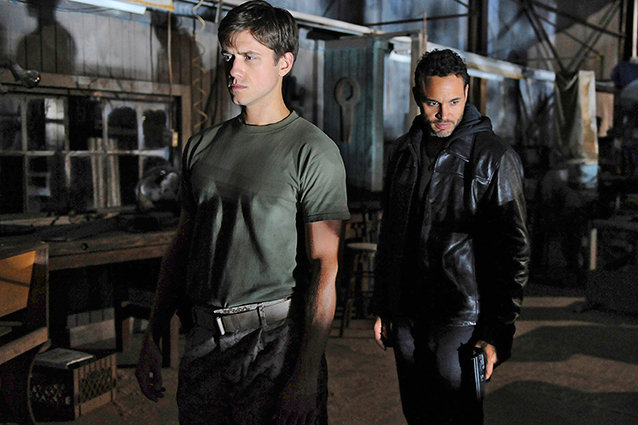 The latest installment in the new USA show Graceland was as action-packed as ever. Last week's cliffhanger left us on the edge of our seats, as FBI Special Agent Paul Briggs pointed a gun at newcomer Mike Warren's head, demanding "Who have you been talking to?" Thursday night's episode picks up right where we left off. 
Like Brando
With Briggs' gun pressed against Mike's temple, we can't help but worry that he has discovered his rookie agent's secret assignment. We soon learn, however, that it's all part of an act to keep their cover. Bello is pretty pissed about his stolen ammunition and suspects that there is a traitor in his midst. Briggs pretends to accuse Mike, and Mike calmly talks his way out of the blame, deflecting it onto Eddie. Ultimately, the boys manage to escape with their lives, they share a nice Perks Of Being A Wallflower moment in the speeding car, and Briggs still does not know that he is the subject of an internal investigation. He even praises Mike for his acting abilities. 
Deep Pockets
Mike meets with Juan to discuss his reports on Briggs, which are apparently too skimpy on the details. Mike says he might be able to spend more time on his reports if he didn't live in such close quarters with the man he's secretly investigating. Juan suggests that he go to Starbucks, and if anyone asks, to say that he's working on a "screenplay about a man's quest to make it back home to D.C." Thus, Juan continues to capitalize on Mike's dream of returning to the capital. We also learn some new information, as Juan suggests that Briggs is under investigation for stealing money.
Undercover Dating
Later in the episode, the Graceland crew goes out to a bar, where they explain to Mike "the subtleties of undercover dating." Once again, we hear the all-important mantra of "You cannot break your cover!", and it turns out that the agents handle this by making up fake careers to tell to their romantic interests. "I'm like a chocolate Jesus," says DJ of his musician alias, but our favorite fake profession is Briggs': an astronaut. After failing to pick up a woman with his golfer alias, Mike decides to be his real self. He subsequently meets and spends the night with a smart, beautiful woman who also happens to be from the D.C. area. While they're out at the bar, Mike also takes advantage of the opportunity to gather some information about Briggs' finances. We're pretty impressed with his ingenuity as he presses his hand on Brigg's credit card to make an indentation of the numbers, which he then photographs with his cell phone.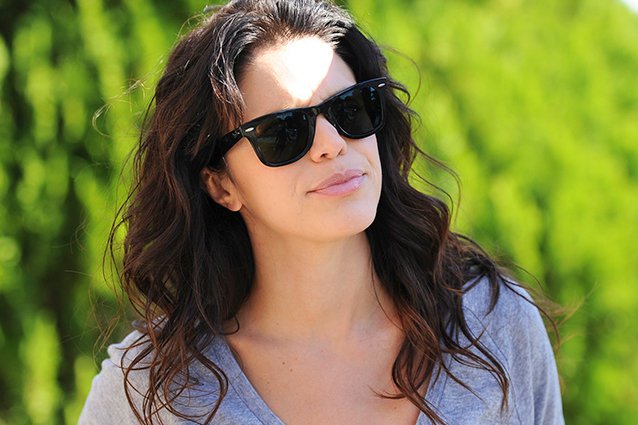 In the Dollhouse
Charlie works on a case with a meth addict CI named Whistler. On the verge of being kicked out of his sister's house, Whistler is hard up for money, and he almost botches the drug bust in his attempt to renegotiate the price. Seeing his talent for carpentry in the dollhouse that he builds for his niece, Charlie helps Whistler find a nice fixer-upper that he can buy with his final $100,000 check from the government. At the end of the episode, we learn that he didn't end up taking the house, but we have a feeling this isn't the last we'll see of Whistler. 
Bye Bye Lauren
This episode also marks the departure of Lauren. Distraught over Donnie's reassignment to Miami, she becomes determined to take down the Russian mafia boss Kuzmanov. Ultimately, her quest for revenge leads her to disobey orders and almost blow her DEA cover. When a GPS tracker planted by the Russians is discovered on Lauren's car, she is forced to leave Graceland and relocate elsewhere. Maybe she'll even be reassigned to Miami, so she can reunite with Donnie.
The Twist
While checking out Briggs' credit card statements, Mike finds out that the GPS tracker on Lauren's car was not from the Russians after all. When he confronts Briggs about the setup, the agent is honest and does not deny that he planted the tracker. Lauren had become to reckless, and her behavior was a threat to the house. Paul Briggs may still be a bit of a mystery to us, but he's made it clear that there's nothing he won't do to protect Graceland.  
Follow Caroline on Twitter @carolinesb | Follow Hollywood.com on Twitter @Hollywood_com
More:
SXSW: 'Graceland' Star Aaron Tveit On Jumping to TV and (Eventually) Returning to the Stage
'Graceland', 'Horizon', 'Sirens', 'Playing House', and 'Modern Family' Join the USA Family 
USA's Summer Lineup: 'Graceland' to Debut, 'Suits' to Return, and More!
---
From Our Partners:


What Happened to 33 Child Stars (Celebuzz)


40 Most Revealing See-Through Red Carpet Looks (Vh1)