We Can't Stop Staring at This Greek Resort
WHERE: Mykonos, Greece
BUILT IN: 1985 by owner/architect Paris Liakos, then renovated thoroughly in 2007
COOL DETAILS: Built into a stunning natural cliffside, the five-star Cavo Tagoo hotel is luxe, minimalist, modern, yet quintessentially Greek.
Some rooms feature rock walls, private pools, and spectacular views of the Aegean Sea. But the real show pony of the "barefoot chic" space? Its crystal clear infinity seawater pool and aquarium bar.
PRICE: Rooms start at about $305 in the low season and go up to $1063 per night for a villa in the high season. A slice of heaven may not cheap but this is one worth saving for. 
GALLERY: Tour Mykonos' Cavo Tagoo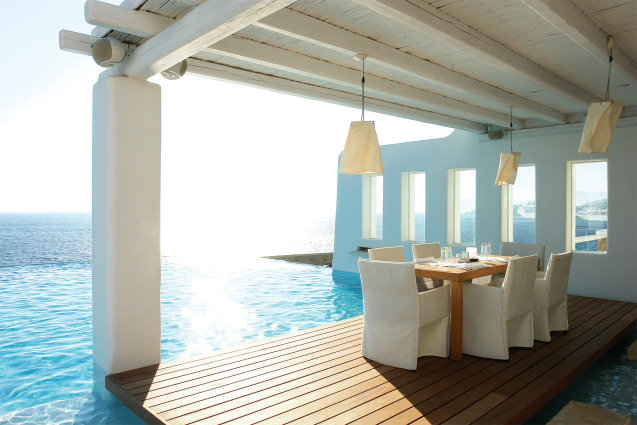 WHAT TO PACK: Sandals, a few breezy sundresses, a scarf (to use as a head wrap or to fancy up a dress for dinner), a turquoise multi-purpose cover-up like this Jonathan Adler pareo, and of course, plenty of bikinis. For poolside reading, we're loving Jojo Moyes' new novel, The Girl You Left Behind. Or skip the book altogether and let your eyes feast on the view.