Ciara's Maternity Fashion Is Everything Right Now
The hosts on E!'s Fashion Police recently got into some hot water for comments they made about Chris Hemsworth's preggerz wifey Elsa Pataky and her choice of maternity wear at the 2014 Academy Awards. A lot of people took offense to their critiquing a pregnant woman, but the truth is, there is such a thing as good and bad maternity wear! There are outfits that flatter your bourgeoning baby bump, and outfits that don't. Today, we celebrate a woman who knows the difference. Enter, Ciara. We've long since said R.I.P. to Ciara's fabulous abs, and we now welcome with open arms the baby bump and the baby that will soon follow. Ciara deserves major props because — on and off the red carpet — her maternity fashion has been everything.
There was that gorgeous, custom bronze, Emilio Pucci gown that she wore to the 2014 Grammy Awards. And if you follow her on Instagram, you've been seeing a lot of beautiful threads like this one: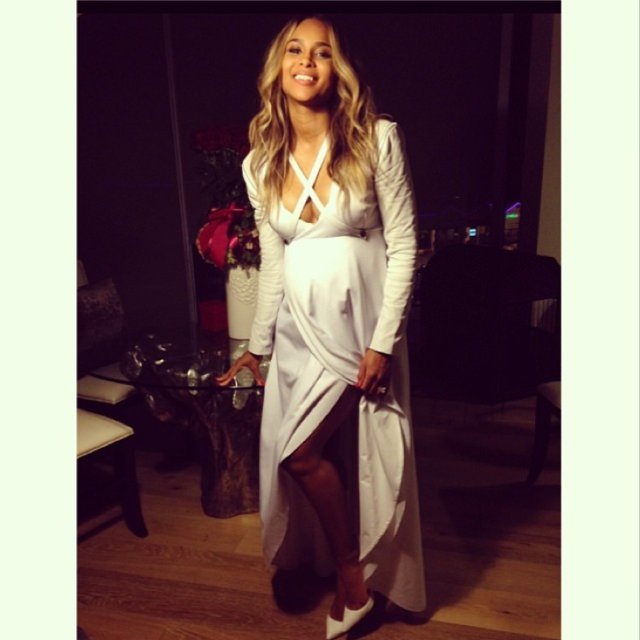 Ciara/Instagram
Ciara knows that one key to maternity fashion is letting that bump breathe! Her dresses drape beautifully over her body, and she always manages to look really comfortable, yet still unbelievably glam. 
But, for many of us women, it's really comforting to know that Ciara also knows to rock true maternity gear. That is, sweat pants and a tank. And for that, we thank her.