TV Characters From The '80s and '90s Who Deserved Spin-Offs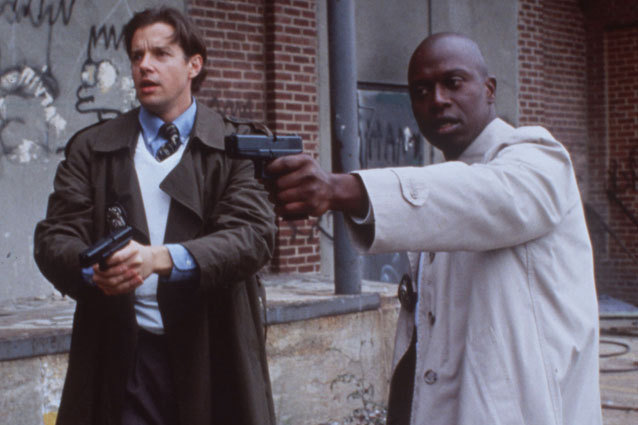 NBC
Hollywood, always at a loss to keep churning out original entertainment often likes to take characters from other shows and give them their own vehicle. Some are successful… but others, you find youself asking – what if they took THIS character and gave them a spin-off instead?
Frank Pembleton/Homicide
After Homicide ended its run, John Munch got to mosey his way from Baltimore to New York to join Law & Order: SVU. Richard Belzer's a fine actor, but Andre Braugher's Pembleton was the backbone of Homicide. Imagine him and Ice-T on the same set?
Laura Winslow/Family Matters
This would have been a reward for Winslow's putting up with Steve Urkel. Urkel could have been on the first episode of the new show…and had a bank safe dropped on his head. Then she could have gone on dates with real interesting people that didn't involve a nerd stepping dangerously close to the line of stalking.
Dylan McKay/Beverly Hills, 90210
Brandon Walsh: too earnest. Kelly Taylor: too annoying. David Silver: Too generic '90s. Steve Sanders: Too many shiny teeth. Donna Martin: Ha ha ha. No. So Dylan, the world-weary fellow would have been perfect for his own show.
Shawn Hunter/Boy Meets World
There's a Girl Meets World spin-off/reboot happening, but Hunter should have had his own show after Boy Meets World. Rider Strong would have had to stop looking constipated when he was supposed to be feeling moody though. He could have ditched his half-brother Jack, but Eric Matthews would need to make appearances just to keep the comedy level high.
Chandler Bing/Friends
Joey Tribbiani got the spin-off, but the witty Bing would have been the better choice. Could it BE any more obvious? Monica would have had to go, but Matthew Perry could carry the show. Perhaps this would have halted Perry's horrible post-Friends  freefall. 
Martin Crane/Frasier
What, you thought I would suggest Niles Crane, which would mean another show featuring a stuffy psychiatrist? They could have had Martin go to Boston to get away from everyone and find a new aide for him. Ted Danson could take a break from  CSI  and reprised Sam Malone. 
Dr. Dick Solomon/3rd Rock From The Sun
Any show with just John Lithgow would have been awesome and I know I don't risk incurring the wrath of the Big Giant Head by saying this. Lithgow has the face and personality to carry his own just as Solomon. He coud have a fake Inception dream scene with Joseph Gordon-Leavitt. 
Jazz/The Fresh Prince of Bel Air
Jazz could barely act his way out of a paper bag sometimes, but it would have been fun to see how many different ways he could get thrown out of houses in his own show. I always had a soft spot for him and his doomed courtship of Hilary Banks. 
Sophia Petrillo/Golden Girls
Let's forget that Golden Palace  dreck, shall we? Sophia deserved better and she could have ruled her own nursing home. Out of the four "girls," she was the most feisty, funny and quotable of them all. Forget Shady Pines – Petrillo Manor would have been infinitely better. 
10. Ricardo Tubbs/Miami Vice
Tubbs was the smoother of the two on Miami Vice. I'm talking the Philip Michael Thomas Tubbs here, not Jamie Foxx. Thomas danced circles around Foxx when it came to suaveness. Tubbs could have opened up an agency in Los Angeles  – that OTHER place with extremely attractive women and high style. 
More:
'Breaking Bad' Recap: Ozymandias
Brooklyn Museum Honors Lena Dunham
Keep The Day Job: Dylan Pastels on Display
---
From Our Partners:


40 Most Revealing See-Through Red Carpet Looks (Vh1)


15 Stars Share Secrets of their Sex Lives (Celebuzz)