10 Athlete TV Cameos from the 1980s and '90s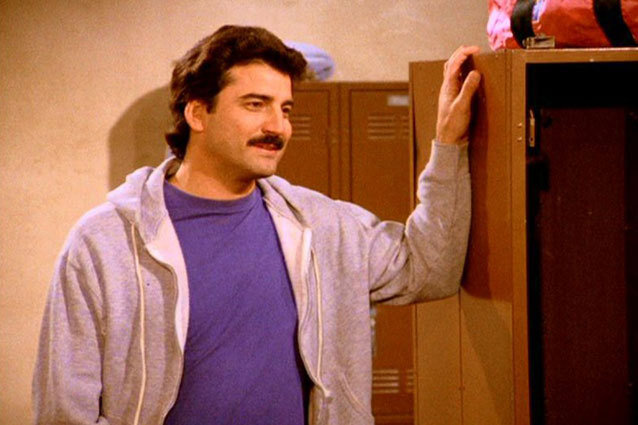 NBC
Let's have a look back at the days when — why not? — a sports star could awkwardly play himself on a sitcom.
1. Keith Hernandez on Seinfeld
This is possibly the best story arc of the show – which is impressive, since the show was famously 'about nothing.'
2. Kevin McHale on Cheers

McHale did a better job as an actor than he has as a NBA general manager and coach. Maybe he should see if his agent can get him any work.
3. Derek Jeter/Bernie Williams on Seinfeld

Jeter did a much better job on here than his wooden stint on Saturday Night Live. Bernie Williams showed he was a better guitar player than actor.
4. Paul O'Neil on Seinfeld

When it came to athlete cameos in the '80s and '90s, Seinfeld had the market down on lock – Entourage took over in the next decade. 
5. Reggie Jackson on The Jeffersons
This was a precursor to Jackson's stellar performace in The Naked Gun.
6. Michael Jordan on SNL

Jordan deserves a mention just for keeping a straight face during his segment with Al Franken's Stuart Smalley character.
7. Joe Namath on The Simpsons
Namath had already appeared on The Brady Bunch almost two decades before, but he redeemed himself in this voiceover work.

8.
Bo Jackson on The Fresh Prince of Bel Air
Bo Knows Comedy.
9.
Don Mattingly on The Simpsons
Mattingly's fu manchu mustache overwhelmed everyone on one of the show's all-time finest episodes.
10. Barry Bonds on Beverly Hills, 90210
Bonds before the whole bulked up body and steroid accusations. 
---
From Our Partners


Stars Pose Naked for 'Allure' (Celebuzz)


20 Grisliest TV Deaths of 2012-2013 (Vulture)