10 Burning Golden Globes Questions: From Tarantino's Fist Bump to…Chad Lowe?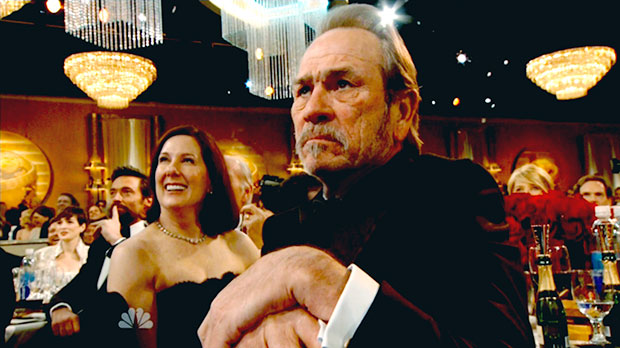 Another year, another Golden Globes. But though the awards have been handed out, the formalwear neatly tucked away, and the attending celebs are starting to recover from their hangovers, we still have some burning questions about the ceremony itself.
1. Why did Lena Dunham thank Chad Lowe?
The Girls creator and star had announced on Twitter that the next time she won an award she would right Hilary Swank's wrong of 13 years ago: forgetting to thank her husband Chad Lowe when accepting her Best Supporting Actress Oscar for Boys Don't Cry. So that's exactly what Dunham did. However, she forgot to name-drop Lowe during her first Globe win last night, for Best Actress in a TV Comedy. Lowe immediately tweeted, "Congrats to @lenadunham on your Golden Globe win. But, seriously? You forget to thank me?! After all we've been through? I'm shocked." Order was restored to the universe when Dunham did thank him after winning for Best Comedy Series. "I also promised myself that if I ever got this chance, I would thank Chad Lowe," Dunham said. That prompted Lowe to respond, "Dearest Lena Dunham, you complete me" and "Now that I'm trending worldwide (finally) does that mean I don't have to give my daughters a bath or change their diapers anymore?"
2. Was Paul Rudd and Salma Hayek's awkward presentation of Best Actor in a TV Drama due to technical difficulties?
Afraid so. Rudd and Hayek started off fine with a joke about the nominees, Bryan Cranston, Damien Lewis, Jon Hamm, Steve Buscemi, and Jeff Daniels. Hayek set up the punchline with, "They drink, they do drugs, they have a huge ego, and they are not to be trusted," followed immediately by Rudd's, "And that's just their agents!" Okay, that kinda bombed since maybe agent-related humor is off-limits at awards shows. But it was better than what followed: silence. After their quip, Hayek and Rudd just stood there. It turns out the teleprompter did not display the names of the nominees they were to rattle off. Rudd tried to fill dead air by saying, "Hello, how's everyone doing?" (Maybe if Tina Fey and Amy Poehler had been around more, they could have salvaged this awkward moment!) Finally, the video of the nominees started to roll, and Rudd and Hayek were spared. But that wasn't the only glitch of the night. A strange buzz was heard over the speech from outgoing HFPA president Aida Takla O'Reilly, which is a shame because she was pretty funny. And on two different occasions the NBC producers' countdown clock was heard after the broadcast had already resumed. Maybe the nominees weren't the only ones drinking….
3. Who did Tarantino fist bump?
The Django Unchained director seemed all smug when he fist-bumped someone at his table after Amy Poehler called movie actors beautiful and TV actors "rat-faced." It was like, "Look at me. I'm a movie director, and I only surround myself with the genetically gifted." Definitely a faux pas. But its severity is lessened when you find out whom exactly he fist-bumped, since the recipient was unfortunately out of frame: Sofia Vergara. If she's "rat-faced," call me a fan of the Order Rodentia. Obviously, Tarantino was joking.
4. Was Savannah Guthrie's red carpet dress the same as the one Hilary Swank wore to the 2005 Oscars?
We'll let you decide for yourself.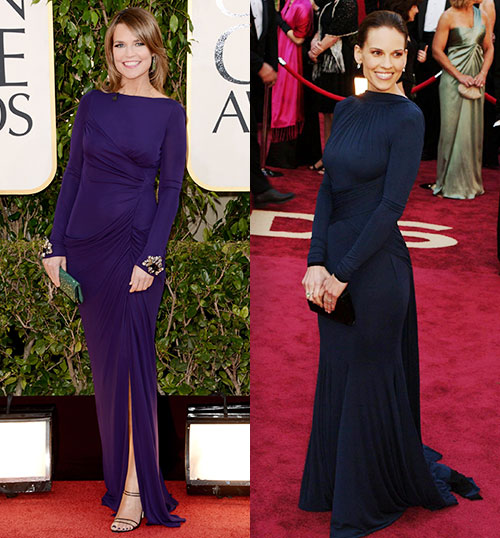 5. Is this the first year that no broadcast network series won anything at the Golden Globes?
Yes. Call it another ominous milestone for the Big Four, but not a single broadcast network took him a Globe on Sunday. That marks a departure from last year when Modern Family won for Best TV Comedy. Even then, that was the only award a broadcast network received. This year, the drama categories were dominated by Showtime's Homeland and PBS' Downton Abbey, the comedy categories by HBO's Girls and Showtime's House of Lies, and the miniseries category by History's Hatfields & McCoys and HBO's Game Change.
6. Were the TV Categories basically just a redo of the Emmys?
Almost entirely — except for the fact that the Television Academy hasn't fully abandoned network TV just yet. Emmy is still hung up on Modern Family, and Julie Bowen and Eric Stonestreet won in September, with the series itself being honored as Best Comedy. And they also awarded Jon Cryer Best Actor in a Comedy. The only other alteration was that Julia Louis-Dreyfus won Best Actress in a Comedy for HBO's Veep, but otherwise the awards are precisely the same.
7. How does Michael J. Fox's son qualify as a "philanthropist"?
The Spin City alum's 23-year-old son, Sam Fox, was Mr. Golden Globe last night, which he meant he shared the duty of handing out the statuettes to the winners alongside Miss Golden Globe, Francesca Eastwood. (Mr. and Miss Golden Globe are traditionally the children of Hollywood A-Listers.) Fox the Younger was described on-air as a "philanthropist." So what exactly does he do? He works for a website called Farmers Web, which is a startup platform that assists small farmers in selling their goods to wholesale buyers like restaurants, so that they can stay competitive against corporate agriculture. As for the tangential burning question, "Can you be a 23-year-old philanthropist, unless you're the child of a Hollywood star, politician, or business leader?" I think we all know the answer to that.
8. What's up with Tommy Lee Jones' Col. Sanders 'stache?
There was quite a bit of odd facial hair on display at the Beverly Hilton. Bill Murray opted for the full walrus effect. Bryan Cranston's Walter White goatee was well under way (meaning that the remaining episodes of Season 5 are about to go into production. Yay!). Idris Elba opted for a Burt Reynolds semi-handlebar. But the strangest bit of face whiskers had to be those worn by Tommy Lee Jones, with a mustache and a patch below his lips. Just when you thought you wouldn't see anything follicle-related from Jones that was more unsettling than his wig in Lincoln! Not to worry, though. He isn't about to enter the fried chicken racket. Jones has just wrapped shooting Luc Besson's mob thriller Malavita (due Oct. 18) and he obviously just hasn't wanted to get a shave yet.
9. Um, why doesn't Maggie Smith ever show up for awards shows?
She's never made a public statement about why she's almost always a no-show, but the most likely reason is that she's just really, really busy. If not on TV or in movies, the 78-year-old is still very frequently to be found on the British stage. In fact, her last appearance at any awards ceremony was at the 2002 BAFTAs when she presented a career achievement honor to Judi Dench. The last time she accepted an award in person in the United States? In 1979, when she won her second Oscar, as Best Supporting Actress for the film California Suite.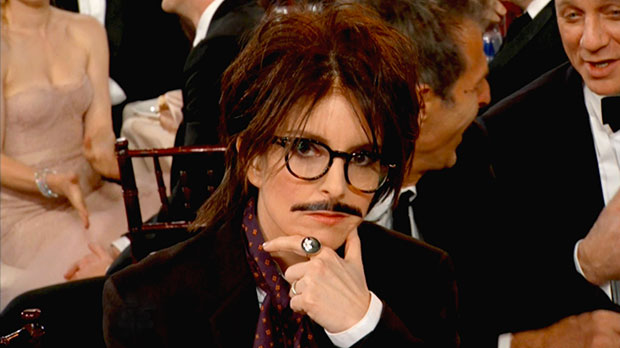 10. Was Damien Francisco robbed of the Globe for Best Actor in a TV Movie or Miniseries for Dog President?
Yes, yes, a thousand times yes! The miniseries' answer to Johnny Depp was up for his stirring turn in Dog President, which we assume is another Quality with a Capital Q HBO production from the makers of Warm Springs. But Francisco lost to Kevin Costner for Hatfields & McCoys. Maybe he'll get another shot if Dog President spinoff Canine-in-Chief ever goes into production.
Follow Christian Blauvelt on Twitter @Ctblauvelt
[Photo Credits: NBC (2); Jason Merritt/Getty Images; Jody Cortes/WENN]
More:
Golden Globes 2013: The Best and Worst Moments
Anne Hathaway Your Turn Is Over!—The Five Biggest Faux Pas of the Golden Globes
'House of Lies': Don Cheadle on Marty Kaan's Reaction to His Globe Win, and What's Next

Megan Fox's 12 Hottest Moments (Moviefone)