10 Reasons To Feel Okay About the Dan Harmon-Less 'Community'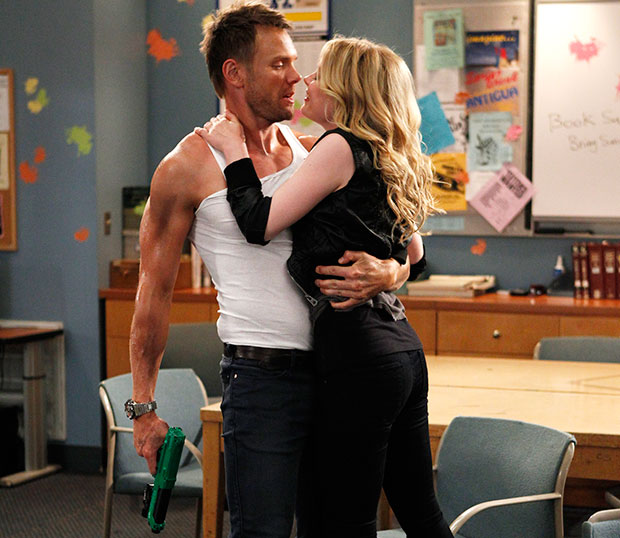 Not to pull a Britta or anything, but we've maybe sort of definitely watched two new episodes of Community — the first (and third) of the series to air since the departure of mastermind/showrunner Dan Harmon. The first episode of Season 4 will (finally) air on Feb. 7th, and even though the show's audience is small, the dedicated fans it does have have been concerned about the series following the Harmon's exit — nothing against Moses Port and David Guarascio, but Harmon's particular, peculiar brand of wacky is not exactly easy to replicate.
RELATED: 'Community' Is Back! Because the Feeling's Right, and It's October 19th – VIDEO
But fans should rest easy (until it becomes time to discuss renewal), because hanging with the Greendale 7 and the almighty Dean still feels like coming home to a warm cup of (spiked) hot cocoa on a winter's day. Troy and Abed's relationship remains super special, Britta still pulls Brittas with aplomb, and although Jeff Winger has debuted a kinder, gentler Jeff 2.0, the sarcastic narcissist underneath is very much there. In short, everything is different, yet nothing's changed: in a good way! And since everyone loves a list (hello, Buzzfeed!), we've narrowed down our 10 reason-iest reasons why you should feel okay about the post-Harmon landscape. (MINOR SPOILERS AHEAD)
1. Less Chang: We think that Ken Jeong's Chang is best in small doses, so we were delighted to see that the little guy doesn't have much screen time in either episode. Let's hope it sticks. Community is best when it's focusing on the characters we love to completely love — not Chang (or, of course, Pierce), who is a strange in-betweener that often drains blood from the main plot's throbbing veins. Ew.
RELATED: 'Community' Cast Spoofs Season 4's Delayed Debut
2: Troy and Britta in the Beddddrooom: Troy and Britta's "interesting" relationship has progressed, but not to the point where the show turns into a variation of Friends and abandons its roots. Trust us, there's a lot of quirk to explore there, and the two seem to be a pretty good (and very comedic) match at the moment. The writers have done a good job at exploring the sweet side of their union without entering into rom-com territory, which is exactly how we like it.
3. An Inspector Deep Dive: You don't have to be a fan of Doctor Who to enjoy this season's third episode, "Conventions of Space and Time," but it certainly helps. The gang's visit to a Doctor Who Inspector Spacetime convention is a long time coming, and features one of Pierce's greatest ideas of all time.
4. Caprica Six: Oh, and did we mention that Tricia Helfer of Battlestar Galactica fame is there, playing an Inspector diehard with a crush on a Greendale-ian that is entirely based on lies? Well, we are now.
5. New Neighbors: Annie has been peacefully coexisting with Troy and Abed for awhile now, so it's only fair that Jeff should have the lens directed at his home life, which has thus far been a giant mystery. The end of episode one introduces us to a particularly eccentric neighbor, and we're greatly looking forward to more interaction.
6. Jeff's Muscles: Still there. Still on display.
7. Abed's Brain: Still there. Still a bastion of brilliance with a seemingly unending river of comedic content. Episode one, "History 101," proves that the new writing team is capable of writing for this unique, probably difficult character. He's Harmon's baby, but that doesn't mean that he can't walk on his own.
RELATED: It Ain't Easy Being a 'Community' Fan
8. Annie's Boobs: Animal Practice was cancelled, so AB will be back and more mischievous than ever at some point this season… probably when we least expect it.
9. Pierce's Exit: The end of the season will find the gang Pierce-less, once and for all. Chase's issue with the show (Harmon in particular) have weighed heavy for years now, so we're excited to see the shifting dynamic without him.
10. Dan Harmon: The man himself still wants you to watch it. Yes, he has little (err, probably nothing) to do with Community 2.0, but he created this world and still wants it to be successful. Port and Guarascio know this, and have done everything in their power to honor his vision. Nobody wants to make a fan base this rabid unhappy, so don't expect a dramatic shift in tone. 
Community premieres Thursday, Feb. 7 at 8PM on NBC.
Follow Shaunna on Twitter @HWShaunna
[PHOTO CREDIT: Jordin Althaus/NBC]
---
You Might Also Like:

Who Wore This Crazy Hat?

Stars Who Changed Their Look