10 Suggestions for Ryan Lochte's Future Reality Show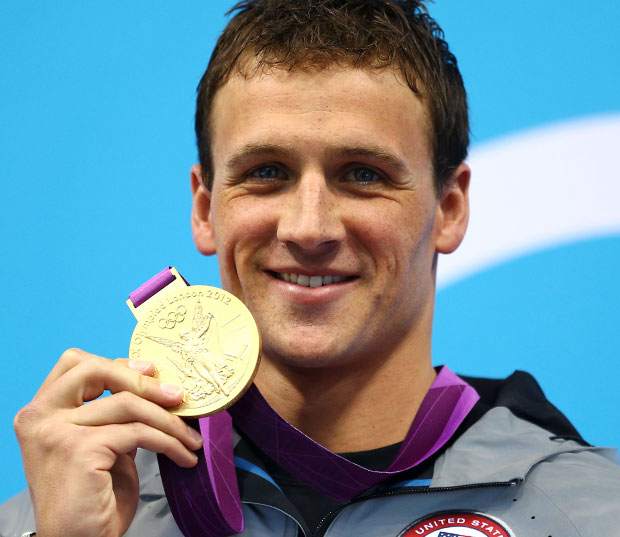 Swimmer Ryan Lochte is officially the Kanye West of the Olympics. Think about it: the enormous talent, the flashy clothing, the inappropriate tweeting, the partying all night with random girls, the confidence not always backed up with intelligence. Yup, sounds just like Kanye. To complete his transformation into the rap star, who is currently tearing up the small screen on Keeping up with the Kardashians, Lochte needs a reality show. What should he do?
His agent told The Hollywood Reporter that he has been offered three different reality shows and he has said he'd love to compete on your mom's favorite show, Dancing with the Stars. Oh, Ryan, we could do so much better than that. Here are some reality concepts for Mr. Lochte, whom we all love so much even though he sometimes comes across as, well, something that rhymes with "smoosh."
Swimming with Sharks: A behind-the-scenes look at the competitive world of professional swimming.
Grillin' with Ryan Lochte: Two chefs face off using only the backyard cooking apparatus to prepare their food.
The Dating Pool: Notorious one-night stand artist Ryan Lochte tries to find the one woman to make his life complete.
If the Shoe Fits: Lochte hosts this Project Runway-style competition where each week contestants must bling out a pair of sneakers in different colored crystals.
Grillz: Like MTV's Cribz, Ryan gives us tours of famous people's teeth.
Lochte and Keys: Ryan Lochte and Alicia Keys play a married couple who investigate suspicious murders. Oh wait, that's not reality. Never mind.
Antiques Roadshow with Ryan Lochte: He seems like a natural fit for host of this long-running PBS rummage sale.
Ryan Lochte and Sprint Present Ryan Lochte's Sprint: Watch the world's fastest swimmer (after Michael Phelps) try to do daily tasks as fast as possible using only his smile and a mobile phone.
Ryan's Hope: A reboot of the classic soap opera about an Irish family that owns a bar, but Ryan Lochte just opens a bar on his own. Of course, there is a wacky staff.
Grills-ah in the Mist: A nature show where we visit a new strange animal in the wild each week.
Follow Brian Moylan on Twitter @BrianJMoylan
[Photo Credit: Getty Images]
More:
Ryan Lochte Pees in the Pool and Other Weird Things Olympians Do
From Gabby Douglas to Ryan Lochte: Breakout Stars From Week 1 of the Olympics
Olympics Round-Up: Lochte Beats Phelps, Archers Take Aim at Silver