'1600 Penn' React: Attempting Old-School Charm in the Oval Office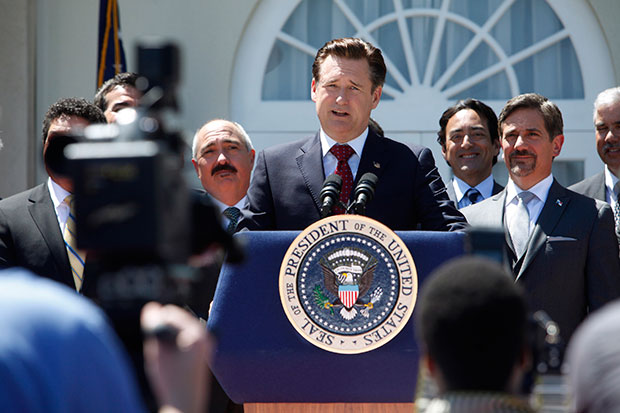 We hold these truths to be self-evident: not all comedies are created equal. And four score and seven years ago (give or take a couple scores and years), Josh Gad and Jason Winer had an idea for a show about an ordinary, modern family in extraordinary circumstances. And what's more extraordinary than growing up at the most famous address in America, 1600 Pennsylvania Avenue, home of the White House? Not much, if you're keeping things terrestrial.
And so is the basic idea of what 1600 Penn is all about: a regular family whose father is also in the running to have his head on a coin — thanks to being the President of the United States. The family Gilchrest is an interesting clan: neither Republican or Democrat in name or actions, the focus is less West Wing and more akin to Growing Pains or a Disneyified Married… with Children. Don't expect too much of the Sorkin-defining walk-and-talk on 1600 Penn, but don't count out the heart the series carries with it, either. With a few tweaks, they might have something.
Comedy and politics seem like a natural marriage, but it's surprising how little the White House has been used in television sitcoms. Outside of the deliriously funny HBO series Veep, the higher offices are often exempt from skewering, and saved for those kooky dramatists.
The show feels out of place in the modern television landscape — a curious notion, considering Winer's previous television family was the Pritchett-Dunphy's of juggernaut Modern Family. Where Veep nails it with its combination of British-style humor and American egoism, 1600 Penn relies far more on goofy shenanigans and schtick than substance. The scandalous and taboo topics stretch as far as the decidedly un-so ones of unwed motherhood and the fleeting mention of a possible (but clearly-never-was-happening) abortion. A potential love interest for unwed single-mom-to-be, daughter Becca (Martha MacIsaac) seems to be set up with Communications Director, Marshall (Andre Holland) that feels like an attempt to elicit memories of the Charlie Young/Zoey Bartlet relationship from the latter seasons of West Wing, and also keep things semi-diverse. The Descendants' Amara Miller, the second-youngest Gilchrest child, admits feelings for a girl (the same girl her younger brother, played by the adorably precocious Benjamin Stockham, also has feelings for) in an offhanded moment over pizza. A lesbian in the White House? Surely enraging for the more conservative Americans in the bunch, no doubt, but seems to be the sort of plot point that should appear after the character is a bit more developed, rather than made her only defining characteristic from the outset. Throwing a label on a character before she's even a fully-developed character feels more like an attempt at being edgy than it does beneficial.
The brightest spot of the bunch is the delightful Jenna Elfman's step-mother and FLOTUS extraordinaire, Emily Nash Gilchrest. Emily's image in the press is that of a Trophy Wife, but all beauty and no brains she is not. As President Dale's better half, Emily was the campaign manager for Bill Pullman's character's gubernatorial bid in his homestate of Nevada years prior. But she's a neurotic people-pleaser sort — out to prove the press corp wrong, while attempting to win over the love of the general public and her four step-children. Her intentions are good and she has the charisma to carry the show in moments that would otherwise fall flat.
Take a clip seen frequently in the advertisements for the show. In it, Emily is hosting a White House event for young girls and math. After one of the kids asks Emily why her father calls the FLOTUS a trophy wife, you see the wheels turn as she's forced to keep it cool while her kneejerk reaction boils up underneath. "Trophies aren't just pretty, they denote accomplishment. Like putting yourself through law school, running a dozen successful political campaigns by the age of 40, and still managing to get to the gym three days a week. And I mean real classes, not just standing there on the elliptical. So if your dad has any further thoughts on trophies, wives, or otherwise, I think you should show him your soccer trophy and tell him to shove it up his—" It seems safe to assume that the depths and complexities of Emily Gilchrest will become a highlight of the show.
Whether the show's attempts to spin heart and values around the decidedly disheartened District is a bad thing or not certainly depends on what you're looking for going into 1600 Penn. It's a breezy sense of humor throughout the first four episodes; one that feels comfortable for those looking for entertainment that seems inoffensive enough to leave on the TV at grandma's house. However, the more cringeworthy, stereotypical jokes (the portrayal of the Latin American political contingency feels like a bunch of prattling children prone to histrionics rather than leaders of government) take so much away from the more humorous ones ("I have robots that roam the skies! Sky robots.") that live beside them.
The show has a lot to work on if it wants to capture the essence of family living in 2013. It's an odd blend of political obligations and dated tomfoolery. There's potential in places: the humor shines in its most relatable moments (Skip's relationship with Becca's baby-daddy D.B. is charming in buddy-comedy way). If they tone down the more buffoon-y moments with Skip (Think of it this way: there's a reason Kramer wasn't the central figure of Seinfeld, you guys.) and focus on the humor of modern living, the show could end up surprising us. But until then, NBC may hover over this one with a veto power of its own — and for the charming and lovely cast and creators of this show (and like our nation in general), we hope the underdog surprises us for the better.
[Photo Credit: NBC]
Follow Alicia on Twitter @alicialutes
More:
Josh Gad, 'Modern Family' Director and Obama Speechwriter Plan NBC Sitcom
Bill Pullman Gets Presidential (Again) For New NBC Sitcom
A 'Book of Mormon' Star to Write 'Triplets' for Schwarzenegger, DeVito, Murphy

Megan Fox's 12 Hottest Moments (Moviefone)

Ryan Gosling's 'Airbrushed' Abs: Plus 19 More Reasons We Love the Actor (Moviefone)