2010 Primetime Emmy Awards Live-Blog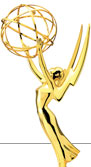 7:50: I'm ready to start this. I've just finished some leftover Chinese food, and now I'm ready to tear some people apart. Good thing I'm not at my own apartment because my old neighbor Madeline would surely stop giving me lemon tarts every week after a full night of screaming for more shots of Christina Hendricks.
7:51: Ah, commercial. Back to Law and Order: SVU to watch Robin Williams reboot his One Hour Photo creep.
7:59: HERE WE GO! BRING ON THE LOSERS!
8:00: OHHHHH snap just show me Tina Fey and I'll play along. Kate Gosselin, not so much. 
8:01: NICE. BETTY WHITE AND JON HAMM. I'm liking this more than the cold noodles I just ate. Oh look! Jane Lynch's wax figure.
8:05: I really like this and everything, but if Conan O'Brien isn't there, I almost don't even want to watch anymore.
8:06 It's funny, I know I'm supposed to be looking at Jimmy Fallon, but I just keep going back to the guy from Lost who was in the news recently about something who had to do with Weezer.
8:07: January Jones is sitting next to Jason OMG CONAN IS THERE! 
8:09: Ah yes, a montage of a year in comedy. Set to Chris Brown. Too perfect.
8:11: Is this the first category? Betty White looks like some kind of gradient you use in a Microsoft paint application.
8:13: Eric Stonestreet's rockin that "what's in his tux pocket?" look. So is Seacrest, incidentally. Aw, parents.
8:15: Can I just say thank Prosecco that it's not Jon Cryer?
8:18: Sofia Vergara's supposed to run naked if Modern Family wins. If she does, I suspect you'll check out a little bit early from this and I'll get to go do something crazy, like put on my Thundercats t-shirt.
8:21: Modern Family won best writing. Cool. Why did we go from Best Supporting Actor to best writing? 
8:23: Every time I update this I just realize how I have 2 more hours to do this. It's like waiting for a plane that keeps getting delayed, and you're not in a cool city like Manhattan, Kansas.
8:25: BADASS, JANE LYNCH! BADASS. Thank your wife, Jane.
8:27: Matthew Perry's coming on? Where has he been? What, they couldn't get the cow that stands outside Stew Leonard's?
8:31: Oh, I see Lauren Graham was available.
8:33: Ryan Murphy for Best Directing, yeah, I see that. I also see that tux. 
8:37: Alright bitches, let's slab some lube on Steve Carell and give him something new to play with.
8:38: WELL SHIT! JIM PARSONS FOR BEST ACTOR IN A COMEDY. I don't get this one. Is he even strong enough to be wearing that tie?
8:40: Do I have any designated pee breaks while I'm doing this? I forgot to ask my boss. Maybe this commercial for "You Again" is the best one I'll get.
8:44: I feel like Jimmy isn't even in this. Where's the tweeting? AAAAND Neil Patrick Harris brings the first funny joke of the night.
8:45: Nice! Edie Falco just schooled Tina Fey and Lea Michele. That's her fourth Emmy! She's tied with Tina now, I think! What's the point of Jimmy Fallon's guitar? Is there a theme? Was I drinking when they tried to make it obvious?
8:49: Ah yes, Top Chef for best reality program. I can really say I've never watched this show because nobody ever breaks up with anybody. Padma looks like she just had Angelina Jolie/Billy Bob Thorton limo sex with the baby-daddy we know but kind of don't — the one who invented Dell or something.
8:52: Lots of commercials for Oprah's last season. I feel like this award show is already so bipolar the Oprah stuff is overkill.
8:59: I will be VERY SURPRISED if Connie Britton and/or Kyle Chandler win. But this cliché montage music…WAIT. THE END OF LOST IS A MASS SUICIDE?! That dog must've been pretty pissed if he'd been there since the plane crashed.
9:04: NICE. Aaron Paul for Breaking Bad. This guy looks so ADD, but cool.
9:05: Did he even thank his mother? I know he told her to stop crying, but that just shows you how ADD he really is. 
9:10: Wow, I have nothing to contribute about Archie Panjabi's win for The Good Wife. So instead, here's some video of a shih tzu puppy. http://www.youtube.com/watch?v=FpjyCE-R4Y4   My boyfriend doesn't have Firefox, so I can't actually put the link in this post. But I promise you, it's worth the trouble of copying and then pasting into a new window. TRUST. 
9:13: AWESOME. Bryan Cranston won his third Emmy. I seriously just started watching Breaking Bad yesterday, and to Michael C. Hall, whom I love: you deserve recognition too. Maybe go have a kid?
9:22: If Dexter only gets an award for Best Director, I will never watch another Emmys again.
9:23: If Jimmy Fallon's going to do this, he might as well go back to SNL. Seriously. JIMMY! HAVE YOU HIDDEN YOUR BALLS IN SOME STRAWBERRY SHORTCAKE? Oh, I take it back. Boys II Men. Very nice.
9:27: AVON AVON AVON.
9:30: AVON AND WHISKIES. 
9:31: These Twitter updates Jimmy Fallon keeps giving almost make me want to quit Twitter. Wow, Kyra Sedgwick for The Closer! Nobody saw that coming. Not even Paul the Octopus! WAIT SHE JUST PASSED HER EMMY OFF TO TINA FEY! Kyra, you got some bitch in you!
9:34: Do you think she's going to make Kevin Bacon do the Footloose dance tonight in celebration? It's such a waste if she doesn't. He even pimped it out for an episode of Will and Grace!
9:35: VARIETY! CONAN'S CATEGORY! WHAT SHALL I DO IF HE WINS? OH GOD, PLEASE LET HIM WIN. I WILL SIT DOWN IN SOMEONE'S BEDBUG-RIDDEN APARTMENT IF HE WINS. 
9:37: Oh, nevermind. Writing for a variety special. Go back to watching some shih tzu puppies.
9:40: Did this asshole just thank Jay Leno?
9:43: How do you guys think Conan is passing the time while he's there? Do you think he's playing Tetris or something? He hasn't been tweeting. 
9:46: Ricky Gervais should just do a vampire show already. Now that he's so skinny, your eyes immediately go to his Edward teeth.
9:47: Ah yes, Ricky Gervais does a Mel Gibson joke. "Not worse than the Jews!" he says! Stellar. Not even worse than when you walk into Pets on Lex because you're hungry and you find every puppy that's there in a dead puppy sleep. 
9:51 OH SNAP IT'S HERE. I HOPE COCO SAVED HIS TETRIS GAME. THAT SHIT'S A BITCH TO START OVER.
9:53: OOOOOOOOOOOOOOOOOOOOOOOOOOOOOOOOOOOOOOOOOOOOOOOOOO'WEFHIAOWR723057208YFJNASDMVNMCXZV.NASDKLJF;EW857429—DWRU I;FDSHAF;ASHG;AGY8EWAOPTY9WPQT5729357Q2PIUE'WJFEIJIAKOFJLAKS;HFLAHREOIWRYOIWEYRDKVNSKLNVLFASKHFOAIWEYRO3YO3ITHASHGDSAKLFNLKSDFOIHOWA;IEHR;WOIH;OAEIHTO;AHW;OIASHGO;ADYG
9:53: JON STEWART. AND HE'S NOT EVEN THERE TO ACCEPT IT. I CAN'T BELIEVE I HAVE AN HOUR LEFT OF THIS. 
9:57: I can't even enjoy a commercial for Nate Berkus' new show now.
10:00: And now I have to watch George Clooney accept something he'll probably lose on a plane when he's going to stay at his villa in Italy? Please.
10:01: Betty White even stood up to honor George. It just got like a vomitorium all up in here.
10:04: Does anybody watch these "mini-series" or "movies" things?
10:10: That commercial for Jimmy Smits playing a lawyer for Outlaw did less for me than Kim Kardashian's Twitter background.
10:17: GAMECHANGER! JEWEL! PLEASE TELL ME SHE'S GOING TO MISUSE THE WORD 'CASUALTY' AGAIN! 
10:26: I think it just hit me that John Slattery didn't win for Mad Men.
10:30: Claire Danes for the win for Temple Grandin. She didn't thank her husband. Downgrade. Now I'm going to go back to googling whether or not Roy Disney was an anti semite.
10:35: Alexander Skaarsgard is officially Jack Skellington. If you don't know who that is, you don't get me and you never will.
10:38: Very nice, Al Pacino for You Don't Know Jack. 
10:45: Laurence Fishburne! How's it going brother?! No Montana tonight? That's okay, she's probably studying algorithms. 
10:51: Mad Men's third Emmy! I'd like to make a joke about how Fred Armisen deserves and Emmy for having been married to Scientologist Elisabeth Moss for 10 months, but I already took a crack at Jewel and I've gotten lazy after doing this for 2 hours and 53 minutes.
10:57: Who's this goat (thanks EB) and what did he do with Ted Danson! AAAND UPSET! MODERN FAMILY FOR BEST COMEDY SERIES!
10:59: AAAAAAAAAND I'm spent. Remember to tip your lobotomist and visit Hollywood.com for the latest and greatest on awards you'll never win.