2011 TV Report Card: Cable Edition

Yesterday, we delivered the TV Scorecard for the Major Networks, naming the most entertaining network, the one with the best writing, and the network with the highest ratings. Now that we've taken care of the big guys, it's time to tackle cable*. We've scored all the original series** from the top cable networks to determine the winners of each category for those networks that occupy the more liberal side of the television universe.
*This scorecard covers FX, AMC, HBO and Showtime.
**To obtain the final score in the entertainment value, quality of writing, and ratings categories for each network, we assigned a numerical value to each original series from that network and then took the average of those score.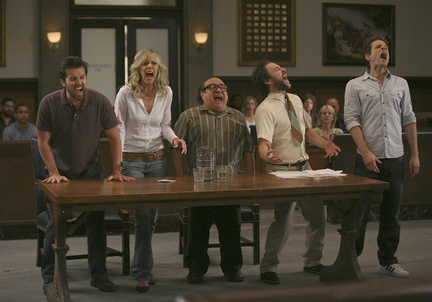 Most Entertaining Network
In this category we scored series for their levels of fun, romance, jealousy, zaniness, suspense, mystery, shock and awe regardless of ratings or quality of writing and acting. Essentially, this category is all about good (and often embarassing) television fun.
Winner: FX
Runner-up: HBO
The Major Culprits: Archer, It's Always Sunny in Philadelphia, American Horror Story, Justified, Sons of Anarchy
Outliers: Nope! Every FX original program scored high in the entertainment category.
Final Rankings:
1. FX (8.7)
2. HBO (7.6)
3. SHO (6.8)
4. AMC (6)
It's pretty to easy to see why FX nabbed this title. From an Australian man dressed as a pot-smoking dog to a cartoon spy spoof to a salacious horror melodrama, the network is stacked with series that deliver nothing but concentrated entertainment. Granted, you have folks like Showtime and HBO who are not too far behind, but their liberal use of sexual content (see: bare breasts) and over-the-top violence can't bring tired series like Weeds and Dexter out of their duldrums (though I will concede that the last scene of the Dexter finale was quite a doozie). And as far as HBO goes, I've got one word for the not-TV network: Entourage. AMC delivers some top-notch entertainment for the most part, but with the lackluster Hell on Wheels and a calmer, more thoughtful season of The Walking Dead and the fact that Mad Men endured that extended hiatus, the heightened entertainment factor is in a bit of a lull. Keep in mind that coming in last in this pack of networks is like being the fourth coolest senior in high school.

Network With The Best Writing
While great writing can often lead to fantastic entertainment, it doesn't always lead to the easy, high entertainment value of a show like American Horror Story. But we choose shows for very different reasons. Sometimes we want an easy gasp or chuckle (hello, The Big Bang Theory), but sometimes we want something a little more challenging. Sometimes we enjoy having to scratch our heads a bit before we finally get that reference on Archer. The winner in this category knows the meaning of substance.
Winner: FX
Runner-up: SHO/HBO
The Major Culprits: Archer, Louie, Sons of Anarchy, Justified
Outliers: American Horror Story
Final Rankings:
1. FX (8.7)
2. SHO/HBO (7)
3. AMC (6.8)
How did that happen? There's a great explaination for this: FX has discovered that sweet spot between high entertainment and fantastic writing. Yes, you can make a sophomoric sex joke and follow it up with a reference to Spanish conquistadors. Yes, you can defend fart jokes and make a drastic point about adult sexuality in the same episode of a show that's technically a comedy. It's a fine line that Showtime and HBO series attempt often, but with minimal success. AMC gets the shaft here because while Breaking Bad and The Walking Dead were fantastic this year, their small slate lost major points when we included The Killing and Hell on Wheels. And if you still don't think FX deserves to win this category, I'll end with yet another one-word argument: Louie.

Ratings King
This one's pretty simple. The network with the highest ratings across the board wins the prize. There's really no dispute here, folks. It is what it is and no matter how much we may disagree, I didn't choose these numbers, folks.
Winner: AMC
Runner-up: FX
The Major Culprits: Breaking Bad, The Walking Dead
Outliers: Hell on Wheels, The Talking Dead
Final Rankings:
1. AMC (2.6)
2. FX (2.3)
3. HBO (1.6)
4. SHO (1.1)
With these cable networks, this competition is almost pointless. Almost all of their main series hover in the one to two million range per episode, but ratings performers like The Walking Dead and Sons of Anarchy are what tip the scales. And in this case, the ratio is what really allowed AMC to eke its way into first – the network has an almost even split between top performers and average ones, whereas the other three networks all carry a slew of series that barely squeeze out a million viewers an episode. Unlike with the networks, this Ratings King title really doesn't seem to matter as much.