2012 Emmy Longshots: 'Happy Endings' Bear-in-Winter Adam Pally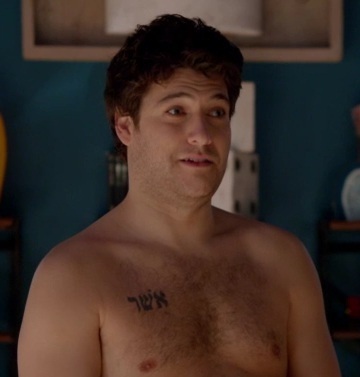 You love them, we love them, and it's high time Emmy recognized them. We're talking about the TV actors and actresses who have yet to be recognized by the Academy of Television Arts & Sciences, despite drawing us in week in and week out with their awe-inspiring ability to make us laugh, cry, or a weird combination of both. So every day here at Hollywood.com, we're going to be saluting those on the small screen who deserve an Emmy nomination, longshot status be damned. Today, we cast our ballot for Happy Endings' own Max Blum, Adam Pally.
"Here we GO!"
That is the sound of pure jubilation. A jubilation derived from the observation of one's closest, and only, confidants' crumbling psyches, as their personal lives slip deeper into the snake pit of unfortunate dejection that has overwhelmed them for years. That is the sound of lazy self-importance and a consistent disregard for social norms, others' feelings, and any real implications of dignity. And all that is the makings of one of the funniest characters on contemporary TV: Max, portrayed by Adam Pally on Happy Endings.
When the lighthearted ABC sitcom debuted, Pally delivered Max as what seemed to be a simple aversion of gay stereotypes. Max, a gay man, prefers sports over fashion, maintains a chunky body frame, and exhibits a pretty limited emotional scope: all things you're unlikely to find in a homosexual character on comedic television. But Max is far more than just a political statement, or a one-note character. As the series has progressed, fans have discovered him to be the most viable source of surface value humor and of legitimate character design that the riveting Happy Endings has to offer. Pally plays Max with a bite that makes him worthy of our attention, even when his friends don't consider him worthy of theirs (and with good reason… he doesn't accomplish much). 
Despite the above description, Max is not pure evil. He may be selfish, insensitive, and unwilling to do just about anything for just about anybody, but those "just abouts" are where his humanity comes in. He took in his college pal Dave (Zachary Knighton) after fiancée Alex (Elisha Cuthbert) left him at the altar, and proceeded to extend a helping hand when Dave was exhibiting signs of a harmful addiction… to v-necks. He has gone to bat for the benefit of well-to-do married couple Brad (Damon Wayans, Jr.) and Jane (Eliza Coupe), although not before taking advantage of their equally unbalanced psyches. But the most indicative of Max's inner heart is his relationship with Penny, played by Casey Wilson.
As Max might be the human version of Garfield, Penny is his Jon Arbuckle. She's unrefined, insecure, and completely incapable of handling her own life. But her rock is Max. He loves her just as she is, and consistently illustrates that in his own begrudging, often sarcasm-laced way.
The humor and the softer side of Max are both attributed to the glorious performance of Pally. He makes the character mean, but lovable. Hilarious, but sad. Max is more than just a wise-cracking sidekick; he's a lonely man, stuck in the only routine with which he's comfortable. The way Pally carries Max through each episode is not only entertaining — it's extremely artistic. He's constantly looking for love all the while pushing it away. And he throws in a handful of Goonies references and sardonic remarks to boot.
While everyone on Happy Endings should be applauded, Pally is the reigning champion. Although we might not see him win an Emmy, he certainly wins our favor week by week.
[Photo Credit: ABC]
More:
'Happy Endings' Renewed for Season 3
'Happy Endings' Season Finale Recap: I Dujardin!