2012 Emmy Longshots: Jason Isaacs Pulls Double Duty in 'Awake'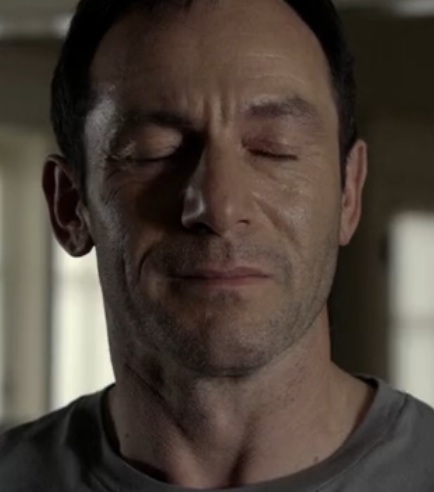 You love them, we love them, and it's high time Emmy recognized them. We're talking about the TV actors and actresses who have yet to be recognized by the Academy of Television Arts & Sciences, despite drawing us in week in and week out with their awe-inspiring ability to make us laugh, cry, or a weird combination of both. So every day here at Hollywood.com, we're going to be saluting those on the small screen who deserve an Emmy nomination, longshot status be damned. Today, we cast our ballot for Awake star Jason Isaacs.
Shows that only live for one season are rarely rewarded by the Emmys — quality being a non-factor. The criminally underseen: rarely thrown a bone. So don't expect this past season's biggest mind-bender, Awake, to see any love come award time.
It's hard to blame the inevitable oversight. Awake wasn't a perfect hour of television (but what show is in its first season?), with creator Kyle Killen taking chances, making mistakes, and working out the heady plot as the 13 episodes unfolded. But even after the show's conclusion, one thing stands out as a truly exemplary achievement in modern television: Jason Isaacs' performance Detective Michael Britten.
In a rarity to network television, full of plot-driven crime dramas and souped up relationship soap operas, Awake's central idea is fundamentally rooted in its character's arc. Sure, Britten solves crimes just like the Law & Order crew, but the mysteries played second fiddle to the internal struggle, Britten's never-ending back and forth between two split realities. Shows of the past have seen central characters dealing with the loss of loved ones (everything from Brothers & Sisters to Six Feet Under to Monk), but like every idea, Awake pushes the conceit the extra step. Two even; Britten loses both his wife and his son, but deals with the emotional trauma that comes along with them each begin alive in the alternate reality. If that makes your head hurt, imagine how Britten feels.
Watching someone be battered around by the confusing complexity of their own mental instability may sound like more a chore than enthralling dramatic entertainment, but that's why Isaacs is truly Emmy-worthy. He never misses a step on his journey to hell and back, displaying empowerment, despair, emotional vacancy, and bliss at all the right moments. Isaacs is a physical performer — at 50, his aging only makes him look tougher — and while he kicks major butt while running and gunning as a detective around the streets of Los Angeles, the commanding presence strikes a greater chord in his quiet moments. Isaacs says so much without saying anything at all — a true feat for a show founded on questions, mysteries and the chaos of the mind.
Television is often cited as a writer's medium, great actors elevating a showrunner's sharp writing. But with Awake, Killen finds the perfect collaborator. Issacs understands Britten in a way that makes him indefinitely malleable — a key to his ability of slipping back and forth between worlds. The perfect example of Killen's curveball-after-curveball strategy comes when Britten "loses" his son's reality. Britten's groove is completely thrown off and Isaac sells it. Sometimes it's breakdown, breakdown, breakdown with Awake, but it always works thanks to Isaac's everyman quality. It's hard to imagine the man as the same guy who embodied the dastardly evil of Harry Potter's Lucius Malfoy.
The Best Actor in a Drama race is particularly fierce this year. A TV newbie like Jason Isaacs is going to have a tough time contending with the likes of Bryan Cranston, Jon Hamm, Steve Buscemi and the rest of the returning favorites, but when compared on a performance level, the actor isn't a longshot at all. Like Britten's own mission to make the people around him believe in his plight, Isaac convinces us that everything on the small screen is real, tangible, terrifyingly true. If Isaacs isn't nominated this year, it's no big deal — he will be in the alternate reality.
More:
'Awake' 101: Star Jason Isaacs Gives Us 5 Reasons to Watch
'Awake' Star Wilmer Valderrama Previews Episode 2
SDCC 2011: Review, 'Awake' Pilot Is Riveting
[Photo Credit: NBC ]