2012 Emmy Longshots: 'Parks & Rec' Deadpan Doyenne Aubrey Plaza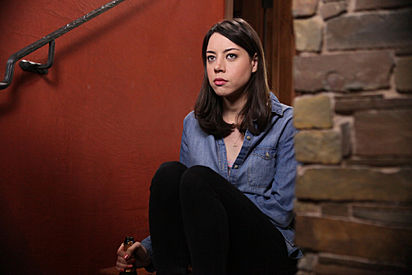 You love them, we love them, and it's high time Emmy recognized them. We're talking about the TV actors and actresses who have yet to be recognized by the Academy of Television Arts & Sciences, despite drawing us in week in and week out with their awe-inspiring ability to make us laugh, cry, or a weird combination of both. So every day here at Hollywood.com, we're going to be saluting those on the small screen who deserve an Emmy nomination, longshot status be damned. Today, we cast our ballot for Parks and Recreation star Aubrey Plaza.
In the world of comedy these days, awkward is king. And no one makes us feel more uncomfortable than Aubrey Plaza. And we mean that as a total compliment. No one has mastered the art of deadpan quite like her — and on a sitcom peppered with the hyper-enthusiasm of Leslie Knope, Tom Haverford, and her own husband (on the show) Andy Dwyer, her distaste for pretty much, well, everything is a fantastic foil for the show.
To make a character like that not seem tedious and overdone is definitely no easy task, and April Ludgate-Dwyer's evolution over the past few seasons has shown her range. She is more than just the sarcastic girl, and for that we love her.
The reason her Emmy nomination is so warranted — nay, necessary — this time around is because of that growth her character has shown, and the deft way with which she handled it. It could've very easily gone into a sappy territory, a complete 180 on where her character was a season and a half ago, but it didn't. This is due largely to Plaza's ability to vacillate between a girl growing up but still staying true to herself.
This season found April in a lot of new situations: as a newlywed to her kooky husband Andy, she still had her deadpan edge, but she found herself growing to care about the people she previously mocked. Her relationship with Rob Lowe's Chris Traeger was especially sweet, as he navigated the waters of actual human emotion this season. (He literally had never felt this way in his entire life.) April allowed Chris into her circle in a way that was truly all her own.
And those quotables of hers! One of my favorites includes a swipe at the always-at-fault Jerry (Well, technically Gary, but we all know he's too nice to correct anyone), when running Leslie's campaign for election. "Oh, I don't know Jerry. It's Sunday night, I'm making phone calls to strangers, and you're in my house. My life couldn't be worse." This line is not only hilarious but it also shows the care that she has for her merry band of misfits. They're in her house–she may be miserable that they're there (or so she says!), but she let them into her home and is helping out. There's heart there, deep down. The complexity of her conflicting emotions is representative of growing up for real. It's a funny take on so many of the emotions young folk in their twenties deal with when coming into the real world, and into their own.
Her father-daughter relationship is also incredible. The way she handles and can hold her own against the epically fantastic Ron Swanson is nothing short of awe-inspiring. Here's a character that steals the show on a minute-by-minute basis. It would be all-too-easy for her to be overshadowed by him, but you never forget April is there when they're performing together. If anything, they complement each other so flawlessly, you almost wish that they would create a spin-off (hey, I'd even take a web series) that involves April, Ron, and Andy living in a house together. The laughs would probably split so many sides, the hospitals would be overrun. That she can hold her own against Nick Offerman's equally Emmy-worthy Swanson means the voters need to take note and get to nominating.
And on the personal side of things, did you know homegirl suffered a stroke in 2004 while studying at Tisch? She was only 20! That Aubrey overcame such a terrifying health scare only to become America's anti-sweetheart (again, a total compliment!)? Impressive doesn't even begin to describe it. Girl's got a story just beyond being pretty and hilarious–she's had to beat the odds across a lot of fronts.
Aubrey is a star that's here to stay, for sure. So why shouldn't the Emmy voters recognize her now? That way, we can all sit back and smile, saying "we knew it from the beginning!" when she's sweeping up awards like a fiend and being commended for her career of comedic gold.
So, please, Emmy voters, cast your ballot for this Best Supporting Actress and get our girl a shiny statue, stat. Knope we can!
[Photo Credit: NBC]
Follow Alicia on Twitter @alicialutes
2012 Emmy Longshots: Jason Isaacs Pulls Double Duty in 'Awake'
2012 Emmy Longshots: The VPOTUS Herself, Julia Louis-Dreyfus
2012 Emmy Longshots: 'Shameless' Star Emmy Rossum, The 20-Something Matriarch