2012 Emmy Longshots: 'Revenge' Diva in Residence Madeline Stowe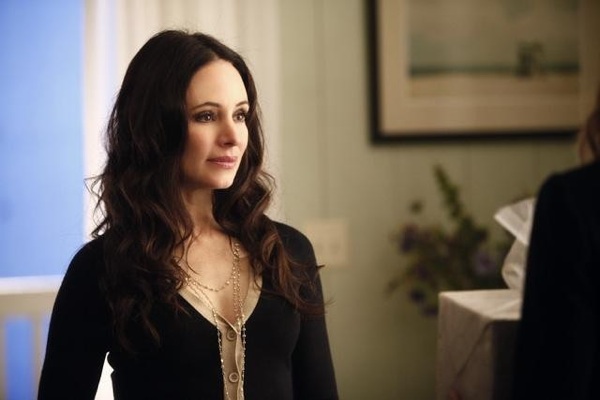 You love them, we love them, and it's high time Emmy recognized them. We're talking about the TV actors and actresses who have yet to be recognized by the Academy of Television Arts & Sciences, despite drawing us in week in and week out with their awe-inspiring ability to make us laugh, cry, or a weird combination of both. So every day here at Hollywood.com, we're going to be saluting those on the small screen who deserve an Emmy nomination, longshot status be damned. Today, we cast our ballot for Revenge's own Victoria Grayson, Madeline Stowe.
Just ask Joan Collins, Madonna, or Elton John — being bitchy isn't easy. Sure, everyone thinks having a harsh rejoinder, icy stare, and snarling rebuke ready at every turn is as easy as putting in a DVD of Mommie Dearest, but it is not. Do it wrong and you end up a camp caricature. Don't give it enough venom and you end up looking like a whiner. Too much awfulness and everyone wants to pelt you with cowpies like you're King Joffrey on Game of Thrones. But Madeline Stowe has found just the right combination of power, vitriol, control, and vulnerability on Revenge. And all without the use of her forehead muscles.
Yes, Victoria Grayson is the perfect character for the Botox age, a villainess whose lack of facial mobility doesn't hinder her reign of terror over the tony Hamptons party set. She has logged enough social capital that even a rich ex-husband, a crazy double-crossing billionaire next door hell bent on destroying her, and the world's worst party planner-turned-personal assistant can't take her down from her throne. All hail Queen Victoria!
Just consider this scene, where Victoria totally destroys her best friend Lydia (Amber Valletta, who is the best horrible actress on television). She does it right there in public with a smile on her face and a glint in her eye. She makes it look like Lydia has won and that everything is sunny and beautiful in their summer paradise, when Victoria is really banishing her from polite society forever. And she brazenly does it in public. Emily Thorne/Amanda Clarke could stand to learn a thing or two from her.
The great thing about the character over the course of the season is that she isn't just a hard-hearted woman out of evil. As we learn more about her thwarted relationships, reluctant participation in a terrorist cover-up, and just how far she'll go to protect her children, we're starting to see that there's something warm deep down in her insides. She has a strength that comes from within and sometimes it boils over as a pang of regret, even though more often you see it as a gloved slap to the face.
So often on television dramas you see the characters boiling over into histrionics and crying jags and pleading scenes where they're just asking for one man to love her. Never Ms. Stowe. It is all about control with her, not only of the other people around her, but over her own emotions. So often the Emmy goes to someone who is completely unhinged (congratulations on your inevitable victory, Claire Danes) but I think it's time that we bestow a trophy for the rarest of dramatic gifts: restraint.
Follow Brian Moylan on Twitter @BrianJMoylan
More:
2012 Emmy Longshots: 'Happy Endings' Bear-in-Winter Adam Pally
2012 Emmy Longshots: 'Once Upon a Time' Wild Card Robert Carlyle