2012 Emmys Longshots: Nick Offerman Had Us At "Meat Tornado"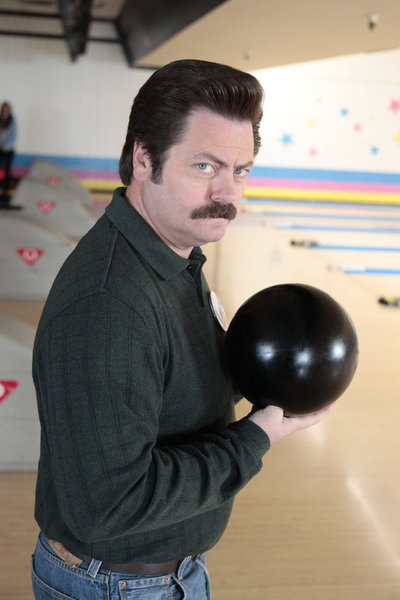 You love them, we love them, and it's high time Emmy recognized them. We're talking about the TV actors and actresses who have yet to be recognized by the Academy of Television Arts & Sciences, despite drawing us in week in and week out with their awe-inspiring ability to make us laugh, cry, or a weird combination of both. So every day here at Hollywood.com, we're going to be saluting those on the small screen who deserve an Emmy nomination, longshot status be damned. Today, we cast our ballot for Parks and Recreation star Nick Offerman.
"I'm Ron F**king Swanson."
That should be all the convincing you need to come to the conclusion that Parks and Recreation's Nick Offerman is worthy of an Emmy nomination, but seeing as he's still without one, perhaps I should elaborate.
After all, behind every great public servant is a gruff, libertarian, mustachioed boss. Okay, maybe that's just Leslie Knope's (Amy Poehler) boss, but man, does he make us wish every Parks and Recreation department director was just like him. And while phrases like "You had me at meat tornado" and "I think that all government is a waste of taxpayer money" are instant classics, that is something we can thank the writers for. But there's something about the way in which Offerman brings Swanson to life that makes him one of the most unique, well-crafted characters of all time. Wait, wait. I'm worried what you read was "He's one of the most well-crafted characters in a long time." What I meant was, "He's one of the most well-crafted characters of all time."
Now that we've cleared that up, let us consider that Offerman's talent extends beyond delivering hilarious one-liners with the anti-gusto that makes his brow-furrowed character who he is — though you've got to love the way he grumbles about anything that isn't steak, whiskey, or breakfast food. His greatest contribution to the character is the fact that he can quite literally steal an entire episode with only a single, fleeting expression.
No scene is more indicative of this talent than Swanson's pivotal scene in the Season 2 episode, "The Stakeout." He's practically immobile for the entire episode due to a hernia, yet his slight facial contortions in each of his short appearances in the episode are some of the funniest moments ever on the series. Likewise, the time Aziz Ansari's Tom Haverford made Ron let a golden retriever puppy lick his face while Offerman's manly mug barely shifted, he did just enough to bring us into his moment of sheer terror and disgust. By all rights, the character almost shouldn't be as hilarious as he is, but wiith Offerman's touch, these moments shift from mere side gags, to memorable pieces of the show's comedic fabric.
And while Offerman clearly has no trouble garnering hearty belly laughs from his audience, an Emmy nominee, even in the comedy category, always needs a layer of sincerity and usually a bit of a gooey center. Voters often seek out the whole package. It may take a significant amount of time and energy to see it, but Offerman's Ron Swanson is no anti-governmental robot; Season 4 is a clear indication of that.
As Leslie rolled towards her campaign for city council, we slowly see Ron betray his affection for his deputy. He offers sincere glances of staunch, proud approval her way through her struggle to defeat the privileged airhead Bobby Newport (Paul Rudd). And where his protege, the seemingly cold April Ludgate (Aubrey Plaza), is concerned, Ron whips out another expression — one whose meaning could only be, "I'm so proud of April right now." When Andy Dwyer (Chris Pratt) does something adorably idiotic, Ron's expression changes with the slight shift of an eyebrow and suddenly he's disappointed slightly and amused in way only Andy's off-kilter character could render him. Armed with little more than two formidable eyebrows and a lower facial region obscured by his iconic mustache, Offerman delivers a full range of emotion to the greatest comedic and emotional effect. He's got more talent in a single forehead wrinkle than most young comedic actors on television, and I've yet to see an episode in which he didn't up the ante.
Finally, there's the matter of impact. There are few television characters who permeate fans' actual lives the way Swanson does. And while, once again, much of that credit goes to the writers, the creation of any great TV character is born out of a symbiotic relationship between an actor and the folks who put words in his mouth. Without Offerman, there is no Ron Swanson.
And without Swanson, the legions of bacon-loving, scotch-drinking lumberjacks he's spawned would still be in hiding, instead of wearing their beefcake statuses with pride. Mustaches would still be just an ironic face accessory for artists and musicians. Eating a steak for dinner would be considered an "unhealthy" choice (instead of the only choice). And America would be without its (unofficial) poster child for practicality, survival, sensemaking, and manliness.
The odds are stacked against the 42-year-old actor, but a nomination thrown Offerman's way would be the least the powers that be could do for a man who so consistently entertains us and touches our hearts (yes, really) — and does so in a way none of us thought possible. If, however, the Academy does answer my prayers and doles out a rightful nomination to Offerman, I solemnly swear to perfect the disarming, brain-tickling Ron Swanson giggle. Or at least devour some form of meat wrapped in bacon.
Follow Kelsea on Twitter @KelseaStahler.
[Image: Courtesy of NBC]
More:
2012 Emmys Longshots: Deadpan Doyenne Aubrey Plaza
2012 Emmys Longshots: The 20-Something Martriarch, Shameless Star Emmy Rossum
Parks and Rec Boss Mike Schur and Cast on the Finale: 'We Went With Our Gut'