2013 Super Bowl Ad Space Already 50 Percent Sold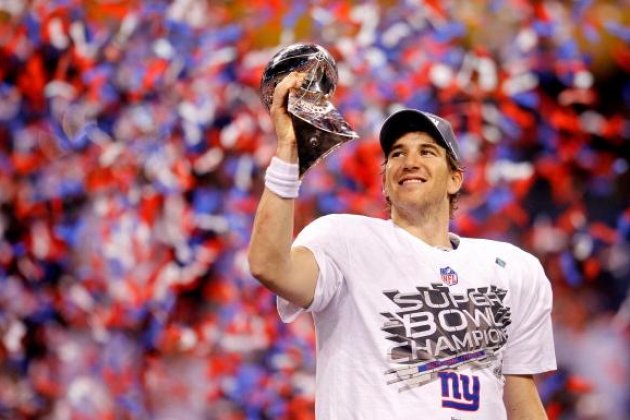 Even though it feels like the 2012 Super Bowl just aired — it was actually Feb. 5 — CBS has already sold more than 50 percent of its advertisement inventory for next year's big game. And, the network — which will air Super Bowl XLVII Feb. 3, 2013, in its host city of New Orleans — said inventory could be almost sold out within the next few weeks.
This news comes despite usual big-time ad buyer General Motors recently announcing that it would not be a part of what is annually the biggest night for TV commercials. The car company cited the rising cost of such TV time as the reason it will not be participating in 2013.
That price tag? Somewhere between $3.7 million and $3.8 million per 30-second spot during the game. If that sounds exorbitant, remember that the Super Bowl is almost always the highest-rated TV broadcast of the year (the most recent game was the most-watched American telecast ever), and a lot of viewers are actually paying attention to those commercials and discussing them the following day. There is no bigger opportunity for a brand to make an impact and leave an imprint.
In 2012, Super Bowl ad space was dominated by attention-hijacking beer promos, celebrity-starring car commercials, and previously unseen movie trailers. What will they think of next year? A safe bet movie-wise would be teasers for Man of Steel, Iron Man 3, and The Hangover Part III. Aside from that, we have a few ideas that might make Super Bowl 2013's better than those of its predecessor.
1. Make some sort of meta-commercial with Mad Men's ad men. Granted, AMC might not have almost $4 million to spend on a 30-second spot, but it could translate to a much-needed ratings spike (and thus increased ad revenue of its own!) for the perpetually critically beloved-but-viewership-starved series.
2. Catch a rising star on the cheap-ish. For example, in February, before anyone knew that Hunger Games would be a mega-blockbuster, Jennifer Lawrence could've presumably starred in some sort of cross-promotional commercial that hawked a product AND her then-upcoming movie — all at a somewhat fair price.
3. Everybody loves nostalgia, and the assault-on-the-senses, gimmicky beer commercials of today are getting old quickly. Perhaps Budweiser could exhibit some restraint and air one of its original ads, when it was just about refreshing beer. Take a page from Coca-Cola's book!
4. Nothing would beat Morgan Spurlock sending up — either seriously or satirically — the ridiculousness of how much money the big corporations spend on air time during the Super Bowl. Although there two problems with that: Who would be willing to foot the bill, and how much could they really squeeze in to a 30-second ad?
5. The E*TRADE baby dies! Or grows up.
[Image: NFL]
More:
Super Bowl Sets All-Time Ratings Record
The Best Super Bowl Commercials 2012
Will Ferrell Did a Super Bowl Commercial That Only Aired in Nebraska