Upfronts for Dummies: The 9 2013 TV Trends You Need to Know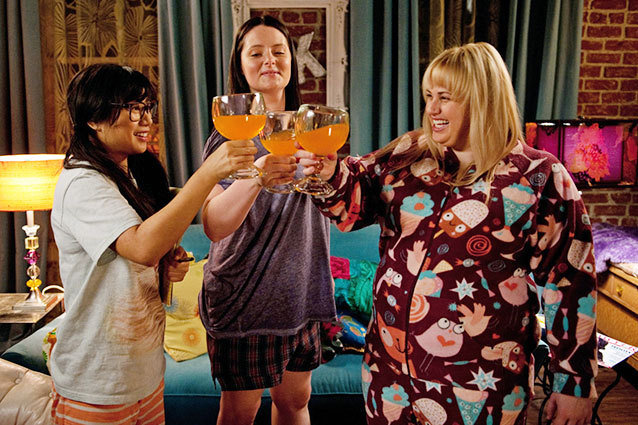 All the champagne has been popped, the confetti swept off the floor, and the entertainment execs shuttled bleary-eyed onto a plane back to LA, because the TV Upfronts are over. This little season where all the channels try to convince advertisers that their new shows are going to be awesome is all done. But other than all the particulars of the new fall lineups and the trailers for all the new shows, what else did we learn? Here are some trends!
Super Powers: Just like in the movies, it's all about the superheroes on TV these days. ABC's Marvel's Agents of S.H.I.E.L.D. is in the same universe as The Avengers, The CW's Tomorrow People is a bit of an X-Men ripoff with mutant powers, ABC's Resurrection has a kid mysteriously coming back to life, and CBS' Intelligence has Josh Holloway (yes, Sawyer from Lost) as a cop with a magic microchip in his brain. Just wait, we're going to find out that Alice in Once Upon a Time in Wonderland has powers too.
The Mini-Series Is Back: Doomed to irrelevance just a decade ago, limited edition programming is in for the fall. NBC has limited series Dracula all lined up, but Fox is betting the farm on a host of one-shot deals including the much-hyped 24 relaunch. They also have Billy the Kidd, Blood Brothers, The People V OJ Simpson, and a remake of classic miniseries Shogun on tap.
Fox Is Busting Up the Schedule: In a seeming response to the threat posed by cable channels and newfangled "TV" networks like Neflix is Hulu, Fox is trying to shake off the traditional September-to-May TV schedule with year-round programming. Between the mini-series and shortened schedules for other shows, the network's roster will be revolving at all times. Is this the start of the end of TV as we know it?
Who Doesn't Love a Rag Tag Group?: Sure, NBC gave Go On, a show about a diverse group of people in therapy, the axe, but the motley crew is back in a big way in a number of sitcoms. ABC's Back in the Game is a new take on the Bad News Bears, ABC's Super Fun Night shows three dorky girls trying to have the time of their lives, ABC's Lucky 7 has a weird group of coworkers winning the lottery (remember when this was called Windfall in 2006?), NBC's Undateable looks into the love lives of nerds, Fox's Enlisted is about the world's worst soldiers, and Andy Samberg leads a silly squad of cops on Brooklyn Nine-Nine.
NBC Is Trying to Change…into CBS: With few shows left on its roster and even fewer hits, NBC is currently TV's whipping boy. But it's trying something different. Well, it's trying to be CBS. Its new comedies are all broad and mostly three-camera (see Sean Saves the World) and they're trying a bunch of procedurals like The Blacklist (with James Spader, which actually looks good), Ironside (a remake of the cop-in-a-wheelchair show), and Chicago PD (a spin-off of Chicago Fire).
It's Always About the Parents: Plenty in this year's crop of shows feature adults dealing with their older parents. Will Arnett's parents move back in on CBS' The Millers, Anna Faris deals with her crazy mom Allison Janney on CBS' Mom, Seth Green and Giovanni Ribisi can't take their Dads on Fox, James Caan and his daughter coach her kid's little league team on ABC's Back in the Game, and Sarah Michelle Gellar is cursed with having Robin Williams as her dad and business partner on CBS' The Crazy Ones.
The Past Is Our Future: Everything old is new again! The CW gets all soapy with Mary Queen of Scots in Reign, the '80s get The Wonder Years treatment (with more camp) in ABC's The Goldbergs, and in Fox's insane Sleepy Hollow Ichibod Crane literally wakes up in the modern day to fight the headless horseman once again. Sometimes the past should stay buried.
The Future Is Also Our Future: Not only are we going to the past, but the future is so bright, we have to wear shades. Or, well, we have to have our cops partner with robots in J.J. Abrams' Fox drama Almost Human. The CW is going all genre all the time and both The 100, where teenage criminals are shipped off to a ruined planet Earth, and Star Crossed, about human and alien integration in high school, are both set in brave new worlds.
The CW Is Sticking to Its Guns: If sci-fi and teen drama shows work for the network, why fix it? All of their new offerings fall into one category or the other. Like someone who wears the same outfit every day, at least they know what looks good on them.
Follow Brian Moylan on Facebook and Twitter @BrianJMoylan
More:
'The Originals' & 'Tomorrow People' Dazzle at CW Upfronts
NBC's Fall Schedule Features Dermot Mulroney, Sean Hayes
The New CBS Trailers Are Totally Awesome
---
From Our Partners:


Zoe Saldana Strips Down For Magazine (Celebuzz)


33 Child Stars: Where Are They Now? (Celebuzz)