'24' May Return (With Kiefer Sutherland) to Fox as Limited Series — REPORT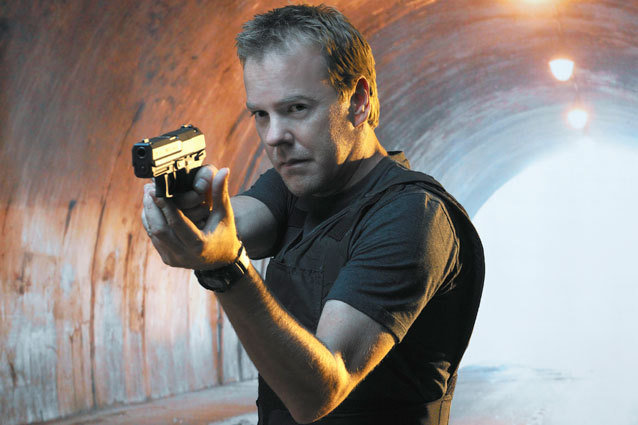 Why didn't anyone tell us that Thursday was Kiefer Sutherland News Day? We would've dressed up or something. Following the cancellation of Sutherland's two-season drama Touch, Fox has allegedly set the wheels in motion for a limited return of his other former Fox show, 24. That's right, the acclaimed series — home to the second-best president on television — may just get a few more hours of life to live, a report from Deadline states. The network seems to have a hard time trying to quit dear Kiefs here: but do we really blame them?
Now, Sutherland may just be in the early talks of reprising his Emmy-winning role of super-cool, badass, takes-no-s**t Agent Jack Bauer, but there's a chance that this idea has potential. We haven't been shy around here about our staunch supporter of the "sometimes you have to let cancelled shows lie" line of thought, but it's the idea of the show's run being a limited series that makes this a bit more appealing. The idea of shorter, miniseries-styled shows is a welcome one that, so far, has done quite well with audiences looking for high-concept drama that is fully-realized by its end — just look at Fox's sister station FX's success with the three very differet seasons of American Horror Story it has produced. In fact, it's probably a better alternative for the oft-maligned TV movie as it allows for a far greater evolution of story and character without the loss of intricacies that inevitably happens when you have a two hour cinematic time limit suggestion. 
A rep for the network could not be reached for comment at the time of publication. Deadline reports that while no deals are in place, the idea to do this came from longtime 24 showrunner and current executive producer of Homeland, Howard Gordon, which is definitely a nice vote of confidence. The idea he pitched would reportedly start a new story arc from scratch. Color us intruiged, Fox.
What do you think of the potential for a new, limited-run return of 24? Let us know in the comments.
Follow Alicia on Twitter @alicialutes
More:
Fox Cancels 'Touch' — Sorry Kiefer Sutherland!
Jed Bartlet vs. David Palmer: Who's The Best TV President?
Kiefer Sutherland Still Keen on A '24' Film
---
From Our Partners:


Watch Justin Bieber Attacked in Dubai (Celebuzz)


33 Child Stars: Where Are They Now? (Celebuzz)