'30 Rock': Chronicling the Final Chapter — Week 2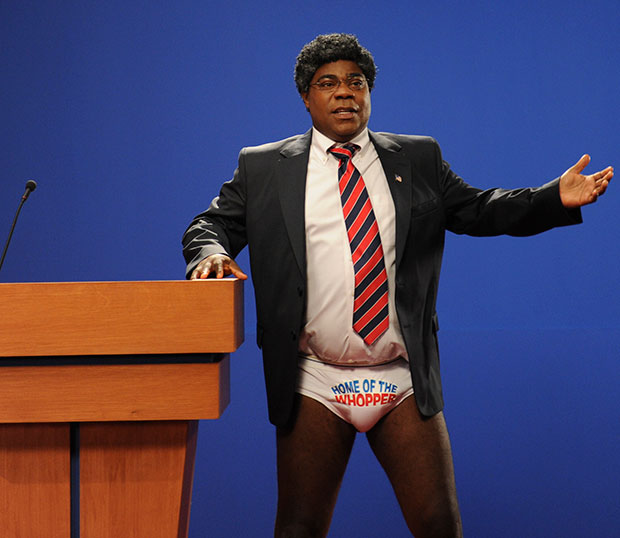 Kenneth Parcell: one of the great mysteries of the universe. Originally a pig farmer's son from Stone Mountain, Georgia, who could smile through any catastrophe and beat the nefarious Jack Donaghy in a high-stakes game of poker, who then transformed into the purveyor of odd tales from his backwoods homeland, to finally an immortal creature whose origins get even more ambivalent with every one of the character's offhand remarks.
But 30 Rock did away with a lot of the mystery that surrounds Kenneth by introducing his parents on this week's episode: mom played by the great Catherine O'Hara and the oft mentioned "mom's friend Ron" taken on by the incomparable Bryan Cranston, back in his hometown of kooky comedy following a particularly fiendish Breaking Bad season.
Kenneth's mother and stepfather (it appears that the two have actually gotten married, much to Kenneth's surprise and chagrin) come to town, but not for some mystical or particularly bizarre reason — they're just visiting. And just as there isn't too much zany about their reasons for coming, there isn't too much zany about them either.
Sure, both O'Hara and Cranston play up the well-meaning, out-of-touch hillbilly angle with great capability, but Kenneth and his family have always been more than your average rubes. They've been almost otherworldly, reigning from a land that never rejoined the union and is riddled with customs the common man would find shocking. But after so many stories about his family life, building his personal history up as something wholly strange, this episode gives us a pretty normal "parents coming to town" story. They're both enamored by the great Jenna Maroney, and both heartily desperate to win back Kenneth's favor after upsetting him with the news of their marriage.
But even more of a blow than "normal" parents is the concrete door-closing on Kenneth's mysticism. For a few seasons now, we've been given increasingly more blatant hints that Kenneth is of a higher plane of existence — an immortal of some kind, an angel maybe. And his mother all but confirms this by repeating a statement he told her on the day he was born: that he is, in fact, an immortal creature sent from above, and that his body is a mere flesh vessel to carry out his mission. Kind of takes the fun out of a particularly strange running joke/30 Rock mythology.
Meanwhile, Jack's and Liz's plan of tearing NBC down hits a roadblock when Mitt Romney (ooh, politics!) chooses a new running mate to replace an apparently Kenya-born Paul Ryan (oh, 30 Rock…). His choice: Gov. Bob Dunston, a bumbling, racist goofball who looks exactly like Tracy Jordan. This gets a little confusing, so is a rundown of Liz's second-act dilemmas:Casting Tracy in a Sketch Mocking Dunston
Pros: By casting Tracy in a sketch mocking Dunston, Liz believes she is sticking it to the republican candidate effectively, as is the reason she got into showbiz.
Cons: However, Liz will also be bolstering appeal and ratings for TGS, which throws a wrench into her and Jack's plan to destroy the show from within.Liz sides with her integrity, vying to "stick it to the man" (or whatever you're supposed to say now), by placing Tracy in the Dunston character. But then, an old pal of Jack's from his D.C. days shows up with a twist — Cooter Burger (Matthew Broderick), still longing for Jack's camaraderie, informs him that the Dunston sketches are actually helping the republican ticket, as no one is actually focusing on the candidate's horrible policies (condoning sexual assault and segregation), and are just talking about Tracy's impression. TGS is inadvertently humanizing him.
So here's Jack's dilemma rundown:Keeping Tracy on the Show as Dunston
Pros: By keeping Tracy on the show, Jack is actually helping the Republican Party he loves so dearly (and hurting his detested Barack Obama).
Cons: Same as the first round — TGS' ratings soar, his plan fails.And one update for Liz:Keeping Tracy on the Show as Dunston
Pros: Despite the plan-failure and the aid of the Romney campaign, Liz does have one thing to gain from this new ordeal — Tracy's celebrated Dunston role has convinced Hank Hooper to air TGS five nights a week, a schedule that is actually helping Liz's lovelife with Criss… she's turned on by organizing things.And so, Liz abandons her plan and her party in favor of her personal life, something we've never really seen her do before. You deserve it, Liz Lemon. Jack Donaghy and the Democratic Party alike don't hold a candle to your passionate forays with James Marsden. Good for you. Have that baby!
[Photo Credit: NBC]
More:
'30 Rock': Chronicling the Final Chapter — Week 1
'Vampire Diaries' Season Premiere Recap: It's All Coming Back to Me Now
'Jersey Shore' Recap: I Lost My Poor Meatball
From Our Partners:

Josh Hutcherson's Birthday! 20 Reasons We Love the 'Hunger Games' Star
(Moviefone)

(Moviefone)