'30 Rock' Finale Recap: I Will Never Forget You, Rural Juror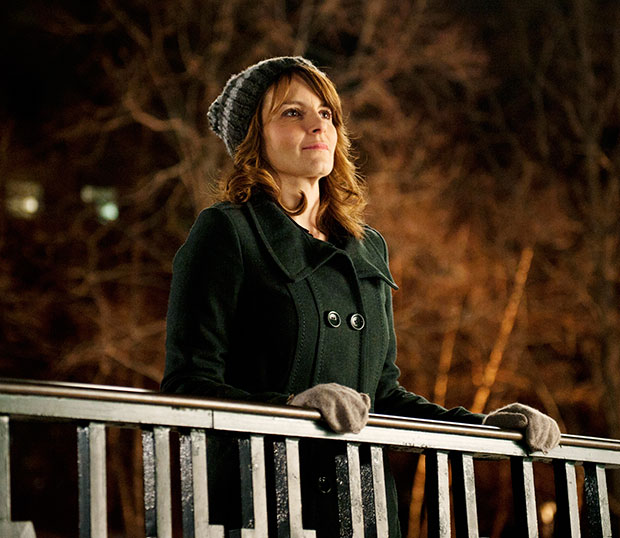 "Seven years ago, I called you up here for one meeting. And you kept coming up." – Jack Donaghy to Liz Lemon
Her show had been overtaken, the jobs of her friends were thrust into peril, and she had just spent an inordinate sum of cash on street vender hot dogs… to prove a lesson to the citizens of New York about not line-cutting. It was the day that Liz Lemon — writer, feminist, workaholic, misanthropist, lover of sandwiches all — met her match: Jack Donaghy — executive, capitalist, workaholic, egotist, wearer of the post-6 tuxedo.
Their initial exchange was hardly a pleasant one, with Jack tossing insulting presumptions by way of Liz and Liz countering with a scowl so sour it'd melt a solid brick of night cheese.
And from there, did the relationship bloom — starting off as a classic case of employee vs. management/artist vs. suit animosity, evolving quickly to a protégée and mentor ordeal, and landing ultimately in the realm of good old codependent friendship. And as with every small screen incarnation of the phenomenon (when it occurs between two adult humans of compatible gender), there was the palpable hint of romantic tension. Will they? Won't they? Should they?
On any other show, they might have. But 30 Rock had different plans for its starring duo. Plans like the co-attendance of events like high school reunions, business conventions riddled with confusing acronyms, and birthday parties for the surviving members of the Hapsburg lineage. Together, Liz and Jack would take on ad hoc Mamma Mias, face the wrath of certified loon Gavin Volure, and dive headfirst into a frenzy that can only be described as Christmas Attack Zone. The better part of this past decade has seen the pair off on some of television's most unique misadventures to date. The relationship concocted between 30 Rock's starring players has made not only for a special kind of comedy, but for a special kind of heartwarming as well.
As such, the long awaited farewell these characters were charged with bidding audiences — not to mention each other — couldn't have been an easy feat to pull off. Melding the inimitable brand of reality-bending, self-skewering, rapid-fire humor with the sentiment and substance that has layered the Liz and Jack camaraderie since Season 1 would be seemingly implausible. How do you do justice not only to the characters individually, but to the chemistry they have built? The unparalleled friendship in which we have reveled for seven years now?
I couldn't spell out the formula for you — though I do imagine every draft of Liz and Jack's big sendoff had some pejorative reference to Top Chef — but I can say with confidence that 30 Rock, as it has done with so many of its spectacular gags, episodes, and, hell, seasons — pulled it off. Perfectly. Following a series of madcap self-realizations and back-to-work high jinks, Liz Lemon finding herself charged with crafting one last episode of TGS with Tracy Jordan to fulfill her contractual obligation to NBC… which is so invested in bringing the TGS ep count to a solid 150, lest it (by its own contractual obligation) be forced to pay Tracy Jordan several million dollars. I don't get it, but hey, I never went to business school.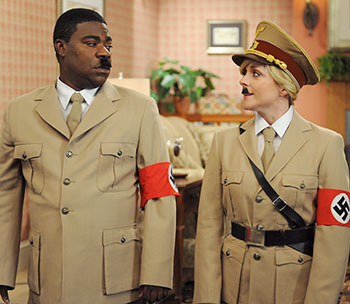 Liz isn't exactly hesitant to return to work — her time spent at home, especially in the hours of her family's absentia (her children at school and Criss having taken a receptionist position in a dentist's office) has begun to drive her mad. But she wants to be rid of TGS once and for all so that she can move on and start anew. Thus, the classic Liz Lemon frustration sets in… especially when she's dealt the usual dose of difficult behavior by her adversary Tracy.
Striving desperately to put on "the big show" — a task with which she has struggled time and time and time and time and time again — Liz finds all parties reliably problematic. Jenna, having sought fame unsuccessfully in dramatic television and Hollywood alike, is focusing her energies on her post-TGS Broadway career… and is finding it hard to tap into her true feelings about leaving the show behind. Pete is maneuvering a covert operation to fake his own death and rid himself of his miserable life once and for all. And Lutz, who has won the right to choose the last free lunch thanks to the name roulette, wants to order Blimpies.
But the biggest problem Liz is facing is not her childish headliner, her self-obsessed second biller, her maniacal producer, or her lackadaisical writers. It is, in fact, her perfectly groomed work husband-slash-uncle: Jack. Caught in the throes of his own identity crises, Jack's renouncement of the workaholic lifestyle catapults Liz straight into the Hollywood sign of a psychological meltdowns. Still hung up on his mother's dying words ("I just want you to be happy"), Jack questions his own satisfaction with his lot in life. Now that he is Kabletown's president, Jack should, ostensibly, be riding high. He's the envy of businessmen everywhere and the bane all left-leaning socialists' existences (Good Sportsmanship Award goes to Nancy Pelosi for a self-mocking cameo). He is a karate master, a spiritual maven, a follicular dynamo. He even managed to convince former lovers Nancy and Elisa (Julianne Moore and Salma Hayek, back and with brand new accents!) into communal sexual congress. Jack has won at pretty much everything. But he's still not… happy.
Thus, he opens up to Liz. He drops some truth bombs on her mind grapes, admitting that his longtime counsel of her, his glorification of work and business, was demonically misguided. Liz, feeling hurt and betrayed, refuses to forgive Jack for his misdirection, abandonment, and personal affronts. More than anything else, it seems that Liz cannot face the man, whom she has held in such high regard, as a failure. Her mentor (whether she has ever been able to refer to him as such or not) has fallen from glory. That's a hard cheesy blaster to swallow.
And while the final episode of TGS picks up steam in its downward spiral, Jack too explores a colossal meltdown. Weeping openly to Jenna, expressing fond appreciation for his underlings, bidding farewell to members of the NBC staff, Jack sends off signs of depression and suicidal behavior, gradually frightening Liz more and more. But one thing at a time.
Liz is able to rectify her lunchtime follies, finally allowing long-suffering Lutz the simple victory of a Blimpies lunch, and is happy to brush off Pete's odd suggestions of his harebrained ploy. But there is another standing problem she must address: the absence of Tracy.