'30 Rock' Is Back, Nerds!: Everything You Need to Know Before the Final Season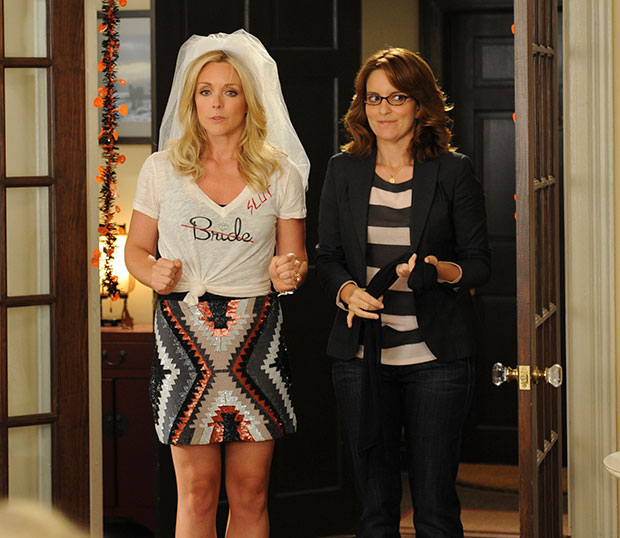 Over the next few months, we'll see new series soar, old series sour, and so much Jersey Shore madness, we'll want to shower. Let's face it: The Fall TV season is intimidating. With dozens of new and returning shows hitting our small screens, we know we have some big choices to make. So, to help you determine what to watch, we're digging deep into the most notable series premiering this season. Where did each show leave off? Where is it headed? And who should you watch it with? Today, we're checking out the return of 30 Rock. But can it pick up the pieces?
Series: 30 Rock
Premiere Date: Thursday, Oct. 4 at 8 PM ET
Number of Seasons: Entering its seventh — and final — season.
Cast: The thinking woman's superhero Tina Fey leads a large, wildly talented, and eclectic ensemble that includes Words with Friends aficionado Alec Baldwin, song-and-dance woman Jane Krakowski, everyman Scott Adsit, human Muppet Jack McBrayer, human sad trombone John Lutz, slacker extraordinaire Judah Friedlander, token hottie Katrina Bowden, and the man who got you pregnant while you were reading this, Tracy Morgan.
Synopsis: Liz Lemon (Fey) is the overworked, underappreciated head writer of a late night sketch comedy show called TGS on NBC (owned by the illustrious KableTown). She's surrounded by her merry (well, sometimes) band of misfits that includes her business tycoon boss Jack Donaghy (Baldwin), the self-absorbed cast members of the show, Tracy and Jenna (Morgan and Krakowski), and fellow loony coworkers like loyal page Kenneth (McBrayer) and intellectual hired goons Grizz and Dot Com (Grizz Chapman and Kevin Brown). Liz is trying to juggle her crazy work life in addition to her equally crazy love life, which has included dating the likes of a beeper salesman who appeared on To Catch a Predator, a handsome doctor with a hook for a hand, Wesley Snipes (not that Wesley Snipes), and a ficus plant that resembled Bon Jovi.
Where We Left Off Last Season: Liz seemed to be on the baby track with her adorable, sane, IKEA-hating, hot dog-selling live-in boyfriend Criss (James Marsden, at long last getting the girl); Jack and Avery (Elizabeth Banks) became happily divorced; Jenna was blissfully engaged to Paul (Will Forte); Kenneth and Hazel (Kristen Schaal) all made us wildly uncomfortable with their first kiss; finally, Tracy chose Tyler Perry as his new role model in life.
What Might Happen This Season: From the looks of that spectacular photo above, Jenna goes through with marrying Paul (who will presumably have the same dress as his bride). Whether or not Liz marries Criss is still up for debate, though pictures released from the set of 30 Rock this summer implied that they — or, at least, she — goes through with adopting a baby. Elsewhere, Jack might finally convince Nancy (Julianne Moore) to move out of Bah-stin and live with him in New York, where he's the CEO of KableTown, while Angie (Sherri Shepherd) and Tracy continue their television dominance. And Dr. Spaceman will, naturally, become the Surgeon General.
You'll Like It If: You like quick-witted comedy that's as smart as it is silly.
You Won't Like It If:You're a dummy, dummy.
Emmy Love: Thus far, 30 Rock has received 57 Primetime Emmy nominations and have gone home with 14. From 2007 to 2009 it won the Emmy for Outstanding Comedy Series, the same three years Alec Baldwin won Outstanding Lead Actor in a Comedy Series. Tina Fey earned Outstanding Lead Actress in a Comedy Series in 2008 and Elaine Stritch won the 2007 Emmy for Outstanding Guest Actress in a Comedy Series for her performance as Jack's unrelentingly judgmental mother Colleen.
Ratings: While 30 Rock has always been an awards show and critical darling, the series never went far beyond its cult status to become a major ratings player. In its first year, it averaged only 5.8 million viewers, while Season 6 had its lower viewership yet with 4.5 million. (It came in at a dismal #130 for the 2011-2012 season). 30 Rock had its biggest ratings year back in Season 3, averaging 7.5 million viewers. Still, despite low ratings, the popularity of Fey, the show's fervent fan base, and the fact that it's available on Watch Instantly on Netflix, kept the show alive.
Key Soundbites: "I want to go to there!", "Blergh!", "HAM!", "What the what?", "Lizzing!"
Key Facial Expression: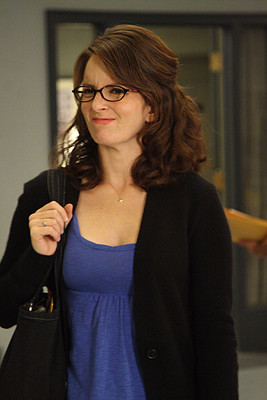 Wine/Food Pairing:Whatever wine Angie throws in your face during an episode of Queen of Jordan, paired with Night Cheese.
What to wear while watching it: A tux… it's on after six — what are you, a farmer?
What to yell at the TV: "Good God, Lemon!"
The Tao of Lemon: "I believe all anyone really wants in this life… is to sit in peace and eat a sandwich."
Inspired Halloween costume: If you're single, go as Liz Lemon as Princess Leia on jury duty. If you're in a couple, go as James Franco and his body pillow Kamiko.
Who to Watch it With: Your equally nerdy, comedy-loving friends.
Who Not to Watch It With: Someone who doesn't know how to shotgun a pizza if the moment calls for it and/or a Canadian.
If You Like This, You'll Love: DVD marathoning Arrested Development, The Larry Sanders Show, Parks and Recreation, and Community
[Photo credit: NBC]
More: 'Boardwalk Empire' Returns: A Deep Dive