'30 Rock' Live: Can You Spot All the Changes Between East & West Coast Broadcasts?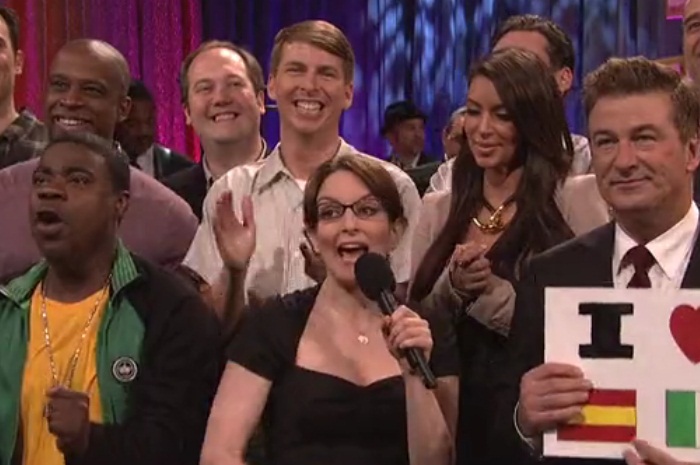 Another 30 Rock live show — another pair of broadcasts with another handful of subtle (and, in some cases, pretty obvious) differences. Just like with the Season 5 live episode, it's worth watching both the East Coast and West Coast broadcasts to see different throwaway one-liners, different cameo appearances, and, perhaps best of all, different screw ups by the cast members ("I'm breaking!"). But for those of you out there who don't exactly have the time to sit through two runs of 30 Rock: Live from Studio 6H, we did it for you.
Paul McCartney vs. Kim Kardashian
East Coast viewers were graced with two brief cameos by Paul McCartney, acting out a head injury and being swept away by Liz Lemon. West Coast viewers got to see Kim Kardashian sneak into Jack Donaghy's bathroom, and increase the TGS viewership by Tweeting a video of it.
30 Rock Theme
Just like on the Season 5 live episode, the duties of singing the 30 Rock theme were shared. On the East Coast, Jane Krakowski sang a version of the song, while on the West Coast, returning player Cheyenne Jackson sang a version.
The Honeymooners Parody Sketch Conclusion
The show's The Honeymooners parody ran almost identically, with the exception of the very last line as delivered by Tina Fey. On the East Coast, during a heart attack, her character's final confession was that she had been sleeping with her makeup lady. On the West Coast, she admitted that she contracted syphilis from Orson Welles.
The Dr. Spaceman Commercials
Both Dr. Spaceman commercials differ to some degree. On the East Coast, both commercials featured Spaceman as a "Nazi Doctor" (who was at first ashamed, then openly proud of this fact). On the West Coast, Spaceman dubbed himself "Hollywood's gay doctor" and a "test tube adult" in his two commercials. A few other jokes in the commercials differed as well, such as Spaceman referencing his inflicted viewers' "claw-like hands" versus their "service monkeys." Still, Dr. Spaceman delivered equal silliness for both coasts.
Lutz's Vomit-Inducing Lunch
Both broadcasts featured the ever-so-clever gag of having Lutz vomit out of nervousness. However, he blamed it on two different meals: on the East Coast, Lutz credited "veal with cheese" as the culprit, whereas on the West Coast, he blamed "a lobster roll and two yogurts."
Rowan & Martin's Laugh-In Parody Sketch Jokes
A handful of jokes changed between broadcasts for the Rowan & Martin's Laugh-In parody. Tracy Morgan's and Scott Adsit's opener on the East Coast involved a joke about Lyndon Johnson, whereas the West Coast broadcast featured an off-color jab at women drivers at the Viet Cong. The bit was followed with two different versions of the Laugh-In catchphrase "Sock it to me!" (East Coast: "Lay it on me!", West Coast: "Do it to it!"). Finally, Alec Baldwin provided two Laugh-In inspired impressions: for the East, Richard Nixon. For the West, Laugh-In star Alan Sues.
30 Rock's faithful friend Jon Hamm made an appearance on both broadcasts (wonder how he got along with Kim Kardashian backstage…), but he played two roles on the East Coast broadcast, and only one on the West Coast. His newscaster role on the West Coast show was taken by another 30 Rock frequent flyer, and an even more suitable candidate for the character: Brian Williams. They both handled male chauvinism like champs.
There were a couple of other differences, such as Fey stumbling over a line on the East Coast broadcast, and Jimmy Fallon (as young Jack Donaghy) stumbling over one on the West Coast. But all in all, both runs were successful, and proof that although 30 Rock is on its way out, the show still has that old comedic spark.
Check out our Live Blog of the East Coast Live Episode!
More:
30 Rock Cast Plays Charades on Fallon
30 Rock Recap: Murphy Brown Lied to Us
Tina Fey Says 30 Rock End is Nigh: The Series' Aging Timeline