'30 Rock' Recap: (French Canadian) Kiss and Make Up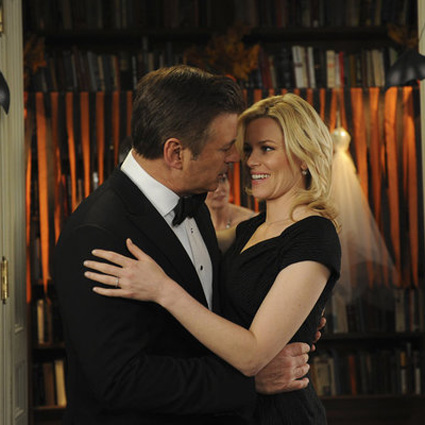 Up until just a few hours before the penultimate Season 6 episode the fate of the future of 30 Rock was up in the air. Were we actually gearing up for the second-to-last ever episode of the Emmy darling? It certainly felt that way between those sinking ratings and Alec Baldwin's comments, it seemed like we were reaching the end of the road with the TGS gang after six wonderfully weird, weird seasons. 
But the renewal gods smiled upon 30 Rock fans (high five!) and are giving the comedy a final, 13-episode seventh season. Still, something else sort of amazing happened. If the show hadn't been renewed one of Liz Lemon's parting words would have been these: "I reject Chris Brown's comeback! Lemon out!" Good God Lemon, what would we have done without her in the fall?
Thankfully, we don't have to ponder that. Liz, in addition to making a bold statement that so many of us have wanted to make about a certain pop star, was tackling the issue of gender role reversals with her boyfriend Criss (a continually impressive James Marsden) in last night's season six finale "The Return of Avery Jessup." (Which, she most certainly did, but more on that later.)
Liz and Criss were renovating their apartment to make room for, possibly, a metaphorical plant. But some problems quickly arose, and not just the fact that it seems like Liz is under the impression babies come out of butts. Criss felt his role as the man of the household threatened as Liz brought in the bucks while he went to yoga and "had lunch with the girls."
Criss promised he'd start to earn his keep beyond the Criss Points System and start selling more hot dogs out of his car. (Sorry, hot dog van with a car engine.) Which, naturally, culminated in a fight between Criss and off-brand, tourist-harassing Sesame Street characters. Sidebar to my non- New York City readers: Not only do these things actually exist, but they are just as creepy and off-putting as 30 Rock so accurately portrayed them. Damn you, Elmar.
Among one of the many reasons why we'll get that Season 7 is that we seem to be edging closer and closer to a deserving happy ending for Liz Lemon. While it seemed like Liz and Criss are still on the track to having their own plant (or at the very least, a Chinese plant or an older plant they're a little afraid of) there was still no surefire knowledge of what's to come. Whether or not Liz makes a life with Criss (which I truly hope she does) to not know the fate of Liz Lemon would have been worse than sitting through a conversation entirely about soccer, jazz, and infidelity.
There was no pondering what would become of Jack and Avery (Elizabeth Banks) who had been separated all season as she was held captive in North Korea leaving Jack to raise their gun-toting, technically Canadian daughter Liddy alone. At long lost, Avery was brought back to the United States and Jack did everything to make sure things would return to normal, including throwing her a ThanksChristmasValenEasterWeenOfJuly party. Of course, "normal" for the Donaghys is playing "psychosexual mind games" to try and figure out which one of them cheated on the other during their separation.
While Jack was desperate to find out if Avery got close with her fellow U.S. captive Scott Scottsman, it was the always-cunning Avery who got Jack to confess to unpure thoughts about an adult Dora the Explorer ("I took her in Madrid…she had flowers in her hair") and his unpure actions with her mother. A deal breaker, ladies? Hardly. In fact, the Donaghys kicked conventional love straight in the ass and planned to renew their vows. All was right in the world again.
Elsewhere Jenna was hoping to say her vows for the first time to Paul for their own sponsored celebrity wedding but ran into a bit of a snag when her sponsor, the Southern Tourism Board dropped out after she couldn't do a Southern accent for a commercial. Turns out Jenna's Southern past is one of the many skeletons in her terrifying closet. But, Kenneth and Tracy came to her rescue to help her train ("AGAIN!") to get the commercial, non-intimate wedding she'd always dreamed of. In the end, it was a knock-off shoe company that was the right fit to sponsor her. So we may just get that Jenna and Paul wedding, after all for the season finale. That is, if Mickey Rourke doesn't come in and ruin the whole thing.
Coming off of last week's inspired and non-stop funny Queen of Jordan episode, this one felt like a bit of a letdown (especially considering how little Liz's story was moved along) but, if anything, that makes knowing that there's still a finale and 13 episodes Season 7 episodes on the way made it a little bit better. That is, if NBC doesn't turn into a website that sells used office supplies before we get there. Fingers crossed that doesn't happen.
Here are some of the other best lines and moments from "The Return of Avery Jessup":
– "Well, I could dip into my 401K is something I've heard old people say in commercials." – Liz to Criss
– "An hour for the year? Am I supposed to just scratch the surface of Channing Tatum's meteoric rise?" – Liz, after Jack suggested she make a one-hour presentation of everything Avery has missed.
– "There's an iPod 3 and a Mitt Romney 4. They worked all the bugs out. He's not killing hobos at night anymore." – Jack's recap for Avery
– "Understandably, she's a little wary of me. I heard her ask her bear who the dye job is." – Avery, regarding Liddy
– "Feminism promised us two things. Fatter dolls and an end to traditional gender roles."- Liz
– "I've been writing a sex column for Cosmo. Cosmo is my 14 year old neighbor. He doesn't know anything." – Jenna
– "Now get in that bed….and let's watch Dance Moms"- Criss to Liz
– "Tracy, Jessica Tandy Zombie is coming to find you. Is that correct?" – Tracy's Siri (Tracy's answer: "Yes, thank you, baby!")
– "Aging star Jenna Maroney beats up Elmo with her…so you own things that's always good…. Christian, that's always a good word…"- Kenneth, reading her Page Six blurb to Jenna
– Frank wearing a SPiN NYC shirt, a nice shout-out to his love Lynn (Susan Sarandon, who the Manhattan Ping Pong parlor).
– Avery is "still furious with Al Gore for stealing George Bush's idea to have an internet."
– Mayor Bloomberg's Halloween costume as Mayor Boo-berg.
– Liz's declaration: "I reject Chris Brown's comeback! Lemon out!" (Sorry that one is so great it's worth mentioning twice.)
What did you think of last night's 30 Rock? Are they setting us up for a happy finale for Criss and Liz? Sound off in the comments section!
[Photo credit: NBC]
More:
30 Rock Recap: All Hail Queen of Jordan!