'30 Rock' Recap: We Found Hornberger in a Hopeless Place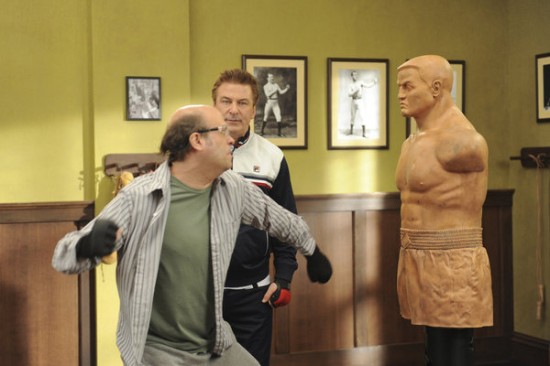 Forget Mad Men or Game of Thrones or The Celebrity Apprentice, the most tortured souls on television may just be from 30 Rock. Case in point: Last night's episode, titled "Nothing Left to Lose" which took three of the most damaged characters, Jenna, Tracy, and Pete ("HORNBERGER!") and paired them off with three of the only marginally less damaged characters Kenneth, Liz, and Jack.
The narcissistic, self-loathing Jenna tried to master the art of revenge on Lutz, Frank, and Toofer after they duped her into thinking she landed a role in Christopher Nolan's live-action Smurfs movies. But even with the "help" of Kenneth's janitorial connections, the Pranksmen could not be bested and Jenna realized revenge wouldn't ease her pain, but the knowledge that she really wasn't the worst person she knew. (Ah, there's the Jenna we love to self-loathe.)
Elsewhere, Tracy, the poster child for abandonment issues, regressed (well, more so) when he regained his sense of smell (because of something lodged up his nose, a la Homer Simpson) Which wouldn't be an issue necessarily if Liz didn't smell exactly like Tracy's father because of using a hair product called Midnight Symphony. Finally getting an obedient Tracy, Liz Dad played with fire for a while until she had to turn Child Tracy back into, well, Man Child Tracy.
But there may have been nothing more pathetic than watching the stoic, successful Jack try in vain to get the contently average Pete man up after reading his distressing work evaluation. Pete, a man who has been so defeated by life (and last night by a dummy at a racquet club) is simply trying to run out the clock unscathed. Honestly, these people all could have wound up on the Lost island.
Still, as much as these characters are tortured on-screen, the show likes to torture its actors a little bit, too. (And not just making Jane Krakowski dress like a Smurf.) Alec Baldwin has picked up countless awards, and deservedly so, for playing the conservative Jack Donaghy, but Tina Fey and the 30 Rock writers still like to throw lines his way that are clearly meant to playfully mess with the liberal star. In last night's episode Baldwin both had to refer to George W. Bush as the "greatest President ever" and imply that Barack Obama isn't American. Of course, Baldwin may be having the last laugh when it comes to politics on the show. The actor dropped a not-so-subtle reference to his possible future mayoral run in New York City. Twist!
Moments and lines that rocked from last night's 30 Rock:
– The revelation that Frank attended a Taylor Swift concert.
– Jenna's 'Free Lyle Menendez' tattoo…that she got in 2007.
– Tracy's celebrity fragrance Desirz smells like "the Knicks, a carefree hobo, a crate with a new giraffe in it, and broccoli." (This could give Tommy Fresh a run for its money.)
– The return of "cam-ah-rah"!
– The return of Dr. Spaceman! ("Being a doctor is exactly like the game Operation.")
– The return of Mickey Rourke references! (He HAS to make a cameo at this point, doesn't he?)
– Liz doodles "Mrs. Liz Lemon-Trebek" on things.
– Kenneth on revenge: "The bible says its wrong but it's the surprise hit of the season on ABC, so I don't know"
– Lutz's grand-nephew is Twilight star Kellan Lutz and they are very close.
– Tracy's on-point Jimmy Fallon impression
– Liz coining the term "Sorkin-esque repartee."
What did you think of last night's 30 Rock? A winner, or in the words of Kenneth, "total ass"? Would you agree these are the most hilariously tragic folks on television? Sound off in the comments section!
[Photo credit: NBC]
More:
Alec Baldwin Confirms Second Live 30 Rock Show
30 Rock Recap: Two Baldwins, One Yankovic, No Rules