'30 Rock' Season Finale Recap: Respawn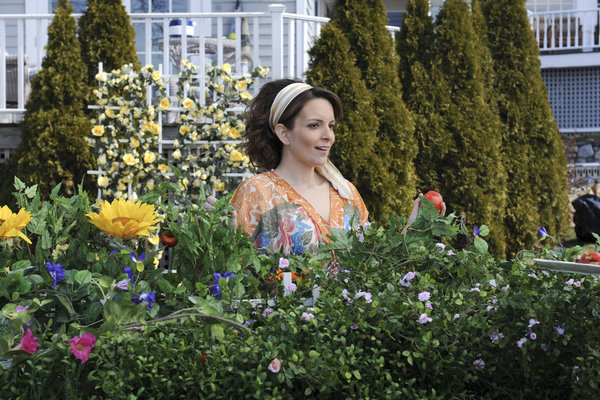 S5E23: I'm sorry to say that 30 Rock did not end its season on a high note. It wasn't really low either, it was sort of disappointing – I guess that sad trombone sound is probably more appropriate. It could have been great, because 30 Rock is such a great show, but it was just alright. It had a few ups and quite a few lulls.
"I'm not sleeping. Last night I sat in front of the TV and ate an entire carton of fioe gras. I could hardly drink my morning shower scotch. I miss Avery." –Jack
This was the part of the episode that I really enjoyed. Since Avery is gone, indefinitely kidnapped by Kim Jong-il, Jack is having a rough time adjusting. Everyone's response is to baby him, but it's not working so Liz says he needs a reset (I like that she starts this off by "being a bummer" – "Bush is a war criminal!") and he sets out to get himself back to normal. Unfortunately, because Kenneth is so sweet, he shows up at Jack's apartment with a home-cooked meal (with potatoes instead of Union soldier meat) and starts a chain-reaction that is both hilarious and disturbing.
Jack ends up replacing Avery with Kenneth, even forcing him to stay for another dinner and spooning and having him dress as Avery in a flowered robe and diamond earrings. This was great because not only did it make Jonathan so upset (for some reason that never ceases to be funny) but it also meant that Kenneth had to eventually truly embody Avery – the mean part of Avery – and berate Jack for abusing Kenneth. Not only with this eerily spot-on, but it was hilarious. It really worked and it may be my favorite Kenneth moment in a long time.
"I'M ALIVE!" –Liz
I think the problem is that Liz's storyline simply fell flat, much like it did last week. The plastic bag representing her death thing was alright, but like I said last week, the bag's monologue killed it. This time around, she's trying to get her Hamptons on and have a normal summer after a shit-storm of a season and witnessing Lutz poop in his Call of Duty marathon diaper in the writers' room, which is understandable.
I did love the moment where she fantasizes about living the grand life next door to Ina Garten, drinking white wine and eating bruschetta by the ocean. That "I'M ALIVE" exclamation before grappling over her shrubs to join Ina was pretty perfect, but it was a slow downward slope from there. Tracy ends up being her neighbor and he blackmails her into friendship by threatening to be a pain in the ass next season if she doesn't. Vacation ruined. So what does she do? She throws a hissy fit in court when she has to appear to fight the fine for destroying "what the city is now claiming was a Jewish tree" last episode.
Like the writers do while playing Call of Duty in order to avoid being hit by their teammates, she has to blow herself up, or respawn. I did enjoy the fact that she used a video game reference to get her life back together, well sort of back together. Of course her interaction with the gavelless judge, or your dishonor as she likes to call him, lands her in 12 weeks of community service which she says is perfect because she gardening outside and learning Spanish. I guess this bothered me because the great thing about Liz Lemon is that she's wacky, but completely relatable and when she goes into these extreme places she loses that relatable quality that I love so much. She's best as a hyperbole of real women, not a caricature.
"I hate to be the stereotypical man, but this is my home and I want to wear this blouse." –Paul
Finally, we have the element that was the most bothersome; as usual, it's Jenna's storyline. She's attempting to spend her summer as the celebrity face of the wool council, but when pictures come out of her walking her cross-dressing boyfriend like a dog, the head of the council is a bit worried. She almost loses her job, but she convinces him to come to dinner with her and Paul so he can see how normal they are.
Of course, this upsets Paul because she asks him to "change" for the dinner – literally meaning change his clothes, but representing the larger change that her spokesperson role would demand from both of them. When the dinner comes, their sitter (a little person dressed like a jester who comes to actually sit on them for some strange fetish) shows up and Paul puts on a show, pretending to dismiss him as disgusting. The wool folks are impressed, but Jenna and Paul are disgusted with themselves so they hatch a plan to get back at them. They go to Jenna's photo shoot in drag and of course the head of the wool council hits on Jenna (really moral for someone insisting on a morality clause, but too easy as a plot device) she turns around and it's Paul. Jenna is dressed as a man that looks like Steve Jobs with a beard and they tell him they want to be themselves.
Not only was this plotline boring, but it wasn't that funny. 30 Rock is best when its absurdity skirts along the line of the normal and this was simply too much. Paul sucking on Jenna's beard was a little suggestive for network TV and it wasn't that funny and the shot of Jenna dressed as a dog while Paul walked her through the park in an S&M mask was just obnoxious.
Like I said up top, it was an okay episode. Like any 30 Rock, it had some great moments but it wasn't the best note to end the season on. I'm not really sure what's going on with Kenneth at the end, but I'm almost positive it was just for comedic effect. However, I guess we'll have to wait until next season.