'30 Rock' Season Premiere Recap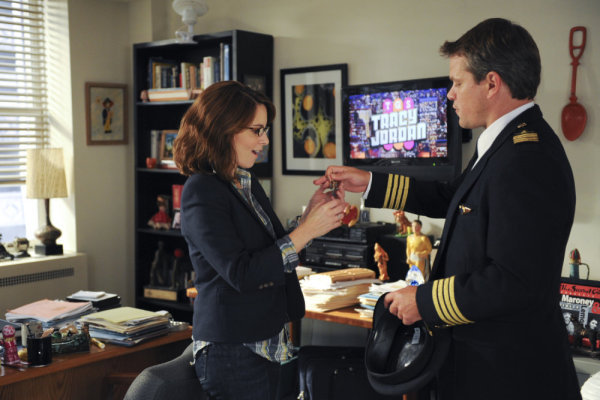 S5: E1 Liz Lemonites can rejoice, she's back and she's snagged herself a hottie. (Seriously though, she needs to shut up about being single. First Jason Sudeikis, then Jon Hamm, and now Matt Damon? She's really working her way up the hot boyfriend ladder.)
Last season, Jack finally put his love triangle out of its misery when he finally chose Avery – whew. Don't get me wrong, I love Julianne Moore and all, but Elizabeth Banks has got serious comedic chops, and her character hosts a show called HotBox – she's clearly the better choice of the two.
Jack and Liz debrief after their long summer vacations, and as usual Jack gives us way too much information and Liz thankfully replaces any mentions of sexual activity with names of food. ("Surf, sun, and…" "Sandwiches?") Then we get the good news, Liz is still dating her soul mate, Carol – that pilot from last season's finale – which means we get to look at his pretty face for a bit longer (score!) Hey, he's funny too, okay?
TGS is back and with that come a few changes, including budget cuts, even though Pete's been reusing his kids' drawings as paper for in-office memos to save money. To make matters worse, pieces of Jenna's contract have kicked in. Everyone is required to make constant eye contact with her and her creepy, Disney princess eyes and she's now a producer. Jack assures Liz it's just a vanity credit like "Executive Producer Ashton Kutcher or Secretary of State Hillary Clinton," but we all know where this is going. Jack also takes this opportunity to rip on NBC – Tina Fey is lucky this show makes so much money for the network, or she's lose half her material.
Now, here comes the drama. Jack's concerned that Liz is keeping her pilot boyfriend at arm's length and, of course, he can't let Liz do things her own way, so he elects to help her with her budding relationship (a word that gives Liz an allergic reaction almost as bad as the word "climax"). He ends up buying out every Starwin (Carol's favorite hotel) room in the city, forcing Liz to let him stay at her place (ruht-roh). Liz takes a minute to clean up the dinner plates in her bathroom – don't act like you've never done the same thing – before her beau can come over. When she states that their relationship is perfect because they still get to be autonomous, Carol plays the girl card and bursts out crying and demanding "I want grownup love!" This whole thing would be totally obnoxious if it weren't for Liz's awesome reaction in a ridiculous, almost Russian accent, "No, it okay. Don't be cry," as she pets his shoulder like a squeamish toddler petting a dog for the first time. ("But they're so perfect for each other! Aw." Shut up.)
We're also forced to hear more about Jack's relationship (enough, already) with Avery as they engage in a battle over paint colors for their home. Jack tries to hold off her paint chip and wallpaper sample assaults so he can emerge victoriously and paint the wall in a shade called "Elk tongue" – trust me, the actual color is as gross as its name. He boasts his use of the Fabian Strategy in which a man retreats instead of engaging in battle in hopes that his enemy will screw up on their own. When Avery sends her gay interior designer to work with Jack, he thinks he's got the whole thing in the bag because he's a "Daddy Bear" and a "prize in the gay community." His feeble and downright awkward (ew) attempts at flirting fail, but the designer helps him come to a new conclusion – Avery's desired conclusion. Even though she doesn't make a single appearance in the episode, she manages to beat him at his own game. Take that, Donaghy.
Those relationships take up most of the show's plot nowadays, but there's one love-line that will never die: Kenneth and Tracy's unbreakable bond. With Kenneth gone, Tracy is hallucinating, seeing his beloved Kenneth everywhere (he got fired from NBC last season, remember?)
But just when we think that we've lost Kenneth forever (I'd be devastated too), Tracy sees him manning the line for The Late Night Show with David Letterman and ignores him because he's sure Kenneth is another hallucination. But it's no mirage, and to prove it, Kenneth dives in front of a cab – what?! Yeah, I don't know where that idea came from either, but Kenneth's actions hardly ever make sense. Tracy professes his love – and a need for someone to take the rice and peas out of his fried rice (he just wants carrots) – but Kenneth refuses and sends Tracy away, heartbroken. (It's a cruel, cruel world we live in.)
The episode wraps up as Pete is abusing Jenna's new title and making her do all his work for him. He has so much free time that he even gets to have sex with his wife – too bad she was asleep. (That whole bit is just too gross for words). Unfortunately for Pete, Jenna's so good at crunching the numbers that she realizes they only need one producer and quits. Sorry Pete, no more creepy sex with your wife – thank God.
Frank asks all the writers a "Would You Rather" question: be with the one you love and wear a pube shirt (what is this, The Sarah Silverman Program?) or be alone and wear whatever. Carol shows up just in time to answer "Pube shirt!" in a breathy unison with Liz and explain away his overemotional behavior – he changes altitude too over four times a day and Geico's inability to choose just one spokesperson makes him angry (it is really annoying, get rid of the googly-eyed money pile already). Liz and Carol decide to move forward in their relationship, and Jack pats her on the back for succeeding with her "adult dude situation."
They leave us with a parting shot of Kenneth, sitting in front of a monitor saying goodnight to all the TGS people like he's reading Goodnight Moon. Womp, womp. We get it; he misses everyone, blah, blah, blah. How about we nip all this drama in the bud, bring Kenneth back, stop worrying about Jack and Avery, and get back to the ridiculous, outrageous, hilarious show that we all know and love? Please?